We Are Tennis by BNP Paribas brings you the best of the past week, on and off the courts, day after day. A week where Simon Halep received her Covid vaccine and where the record for the longest tire push has been broken.
Monday, February 22nd
Managing to get on the podium of the best players in the world, like Daniil Medvedev did (it's his best ranking ever) requires an astounding effort. But then again, climbing up 72 spots to claim the 42nd spot at the ATP Ranking sounds like an impossible mission. So congratulations to Aslan Karatsev, who had never been higher than the 111th spot at the ATP ranking before this week. A special shoutout to Naomi Osaka who took back the second spot at the WTA ranking as well, and to Serena Williams, who hadn't been in the top 10 since her pregnancy. Finally, congratulations to Romain Baudart: at only 22, this runner managed to push an 80 kg tire up for 10 km up the hill leading up to the Hohlandsbourg castle, in Wintzenheim (Haut-Rhin, France).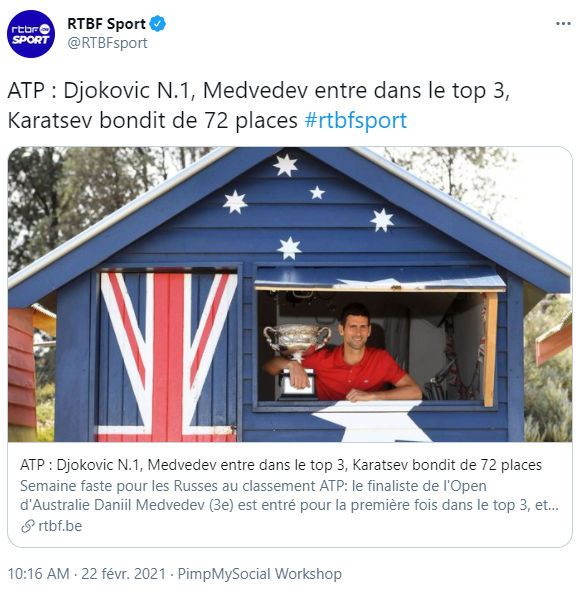 Tuesday, February 23rd
« People doubt me all the time, some will always do. They question everything I say or do, not everyone can like you… Just like everybody else, I have emotions, and it touches you to be unfairly criticized. I did another MRI scan, which showed that the damage was a little more important than after my third-round match against Taylor Fritz. According to the doctors, it's not too bad. But I will have to rest and heal: my abdominal strain has gone from 1,7 centimeters to 2,5. » As if winning another Grand Slam tournament wasn't enough, Novak Djokovic felt the need to set the record straight on the topic of his injury, and the criticism he suffered during the tournament. But while remaining calm, just like the american journalist Bob Barnard who interrupted his live intervention on Fox 5 Washington DC to… pet a dog which came his way. About as stressed as the Serb in the final of a Major tournament.
Wednesday, February 24th
Clint Eastwood has already said it, the world is divided in two categories. There are those who love taking risks, like this North-Korean who swam during six hours to cross the most militarized border in the world to join South Korea. And there are people who like to anticipate eventual problems, like Simona Halep, who received her Covid vaccine, becoming the first player on the circuit to be voluntarily immune to the disease. And we bet you're now wondering which category you belong to.
Thursday, February 25th
Beer, alcohol, and beautiful weather. This is what guides Benoît Paire's life choices, even though he managed to win his first match in Cordoba. But frankly, the result wasn't among his top priorities: « I chose to come to Argentina because in France, the stands are empty. I enjoy playing in front of a crowd and hearing people clapping after a point, I like to have fun with the fans. I'd rather be here: playing outside, on clay, with the sun, the swimming pool, Quilmès… I love Argentines, I like to party, and I like to discover new bars to see what I can drink. As for now, I have to stay at the hotel, in the bubble. But once the tournament is over, I'll go discover the city. » On the other side of the planet, a completely different type of being is, on the contrary, enjoying a solitary life: the australian sheep Baarack, who hadn't been sheared in over five years, was found with more than 35 kg of wool on its back. Not too far from the record, which is 41 kg. At least the Frenchman now has something to drink to.
Friday, February 26th
They're not exactly at the same level, but they seem to share the same rituals: during his defeat against David Goffin in Montpellier, Lorenzo Sonego was seen mimicking Rafael Nadal's mannerism as he precisely lined up his water bottles in front of him between two games. People share dreams, but have different fortunes : while of gamblers tried their luck, a Swiss managed to win the tidy sum of 210 million euros. A record win for the EuroMillions. And more than double the prize money earned by the Spaniard since the start of his tennis career.
Saturday, February 27th
Phew, Lady Gaga got her dogs back! As she was completely broken by the news, the American artist promised 500 000 dollars to the person who would find her two bulldogs which were kidnapped earlier this week. In more interesting news, Iga Swiatek won her second ever title after defeating Belinda Bencic in Adelaide. « Baby there's no other superstar / You know that I'll be / Your Papa-paparazzi ».

Sunday, February 28th
Alexei Popyrin also won a tournament, as he triumphed in Singapore. Nick Kyrgios, on his side, is officially the most fined player of this year's Australian Open: with 9000 dollars out of his pocket, he is largely in front of Alexander Zverev (« only » 6000 dollars). A feat which got him to receive the praise of Nikolay Davydenko - « a lot of children want to copy Nick's style of play » - but also of Boris Becker, who was « impressed by his attitude on the court. I always thought that he should win Wimbledon at least once, with the huge talent that he has. With his serve and his quick tennis, there are so many things he could achieve. » On his side, Yoshihito Nishioka compared the Australian to the charismatic Pokemon Charizard, while Roger Federer would be Pikachu: « Everyone loves Pikachu, it's like Roger on the circuit, with the fans. He's their favorite player, so the comparison stands. » Meanwhile, a tractor was intercepted on the highway in Nièvre (Bourgogne-Franche-Comté, France) after a car chase at… 30 km/h. There are crazier people than Kyrgios on a court.