The Australian Summer of Tennis has come to a close. It was an incredible logistic exercise from the incredible highs to days when you wondered if things would come to a screaming halt under direction by the state government.
Iga Wins Final 2021 Aussie Summer Event
Tennis Australia can be justifiably proud of what they achieved hosting six events the week before the Australian Open, then the Australian Open itself, then staging a smaller women's event the second week of the year's first major and finally the Adelaide International, a late inclusion to the schedule, the week after the Open.
It took incredible strength and fortitude to pull it all off when the doomsayers said it can't happen or shouldn't happen. But they did it and now other tournaments around the world, as well as other sporting events, can take a leaf out of the Australian book.
Iga Swiatek won her second career title, the first since winning the French Open last October, when she claimed the Adelaide International by defeating Belinda Bencic 6-2, 6-2. She now has a 2-1 record in finals.
"I would say that this tournament is kind of the high of the year," Swiatek said. "I'm happy that I had great momentum in the second set because it gave me a lot of confidence and I felt really confident here and really solid on court. I would say it's my best tournament in Australia and a great start to the year."
Swiatek, who moves to a career high ranking of 15, conceded just 22 games across her five matches and did not drop a set making her the first women's title winner to achieve the latter since her own Roland Garros title. She also went through the semis and final without dropping serve once. For Bencic this was her first final since late 2019 and her record in finals slips to 4-7.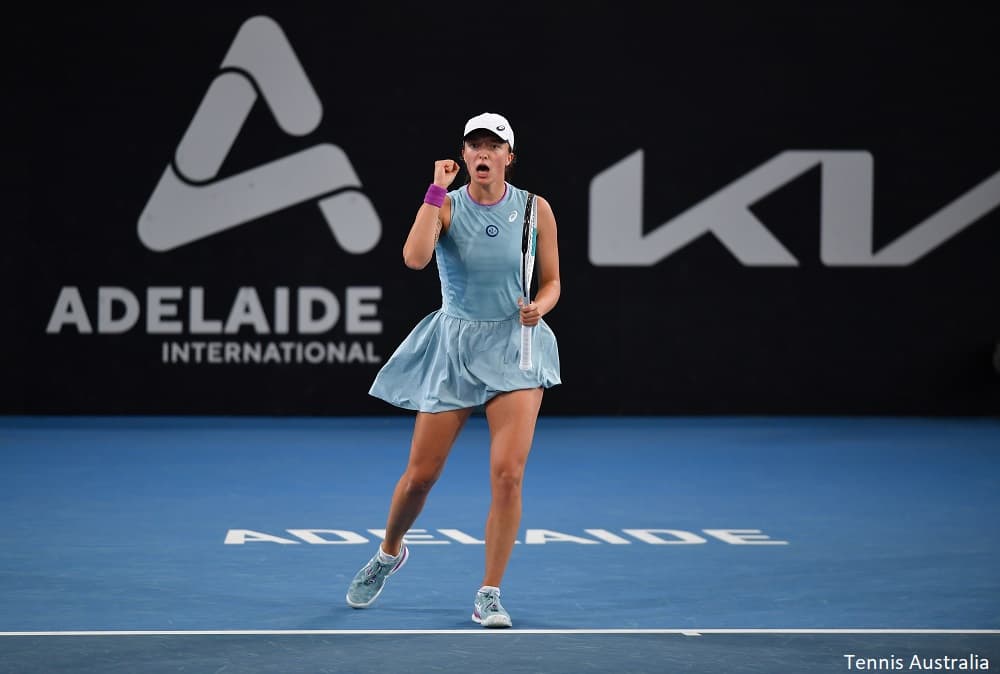 Singapore Sling for Popyrin
Australian Alexei Popyrin has finally realised a dream. The 21-year-old is on cloud nine after winning his very first tour level title from his first tour level final. Popyrin has come back from a set down to overwhelm Alexander Bublik in one hour 24 minutes 4-6, 6-0, 6-2, breaking serve in the final game to claim the Singapore Open. 
The island nation has a one-year licence for the event, and they staged it at the Singapore Sports Hub. It is a location that deserves to have a tennis event.
Popyrin lost serve at 3-2 in the first set and he said there were some careless mistakes in that game, but he was still feeling confident with his level of play and knew that his Kazakh opponent can get down on himself mentally. Popyrin broke serve early in the second set and got on a roll and kept the pressure on in the third as he broke serve in the last game for the championship.
His excitement at the end was worth the price of the admission ticket. This moment is something he has been talking about for a while and finally winning an ATP title could certainly be the career opening he was looking for.
"I don't think it's a feeling I'll ever feel again to be honest," Popyrin said laughing with excitement. "It was an unbelievable feeling to win my first ATP title. Maybe I'll get that feeling if I win my first Grand Salm, hopefully that will happen. This feeling is unbelievable; it's just all the hard work, all the sacrifices, all the dedication. Everybody around me made me get to this moment and it is a little bit of relief, but like overjoyment. It's a whole lot of emotions mixed together making one unbelievable feeling."
Popyrin will rise to a new career high ranking of 82 but he is not concerned with the rankings. He said he never checked them when he had a frustrating year last year and he is not going to look now. As long as he gets the runs, the ranking will take care of itself. "Popy" couldn't stop laughing with excitement.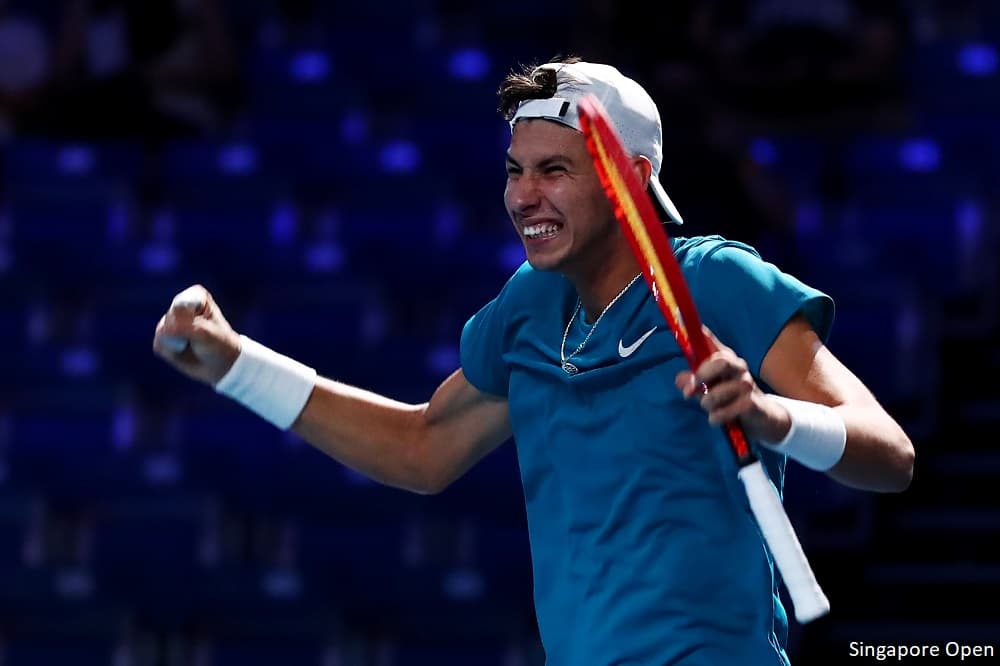 It's Been a While for David
For the first time since October 2017, David Goffin has had the pleasure of lifting a tennis trophy as champion. The second seeded Belgian won the Open Sud de France in Monpellier by beating top seed Roberto Bautista Agut 5-7, 6-4, 6-2 and for Goffin it was his fifth career title.
"It's never easy to win tournaments," Goffin said. "This is my fifth and every tournament that I've won was very special. "I had some opportunities. I've had matches where I had zero chance to win in the final. Sometimes you take it, sometimes not. I've played some finals, but you need to continue, you need to improve your game, you need to fight and I'm happy that it paid off at the end."
This was the fourth consecutive time that Goffin has defeated the Spaniard and it takes their head-to-head to 4-2 in David's favour and he is only the third non-French player after Tomas Berdych in 2012 and Alexander Zverev in 2017 to win this title.
"A final is always different (and) you have to just go for it," Goffin added. "You've already had a good week and you're playing the final. It's the last match of the week, so you have to give everything to try to win the trophy. Otherwise, it's tough to win a tournament. I did it, I raised my level and I'm really happy at the end because it was a tough moment. (There were) tough weeks last season and I'm happy that I'm back with a level like this."