Iga Swiatek dominated at the season-ending championship and took back what she lost a few weeks ago, writes Craig Gabriel
The regular women's tennis year came to an end for 2023 in delayed and dramatic fashion with the WTA Finals. Delayed for sure with the poor weather causing match suspensions and an extra day of play as the tournament had been hastily located in a place that was prone to being at the tail end of hurricane season. Dramatic? Well, depends how you define dramatic.
If you define dramatic as being highlighted by thrills and excitement, then the final of this year's WTA Finals was not even remotely close. If that is the measure, then the last match of the regular season was pathetic. But, if you define dramatic as a display of extraordinary from one side then what was produced on court in Cancun, Mexico was right up your alley. 
One thing cannot be disputed the final was not competitive. It was the most lopsided final at a women's season-ending championship in the history of the year-end finals, which dates back to October 1972 when it was held in Boca Raton, Florida. This year the venue was the Estadio Paradisus (paradise is the English translation which it was not according to the players) with a seating capacity of 4,300, the smallest capacity in the tournament's history, and even then, sadly it was not sold out.
Cancun was the 13th different city to host the tournament; maybe it was destined for issues from the beginning being the 13th.
For the first time in her career Iga Swiatek won the title and her 6-1, 6-0 demolition of Jessica Pegula in 59 minutes, which included eleven consecutive games, earned her something in the vicinity of $3million as she went through the tournament undefeated and did not drop a set.
There was nothing she could do wrong in the final, in fact the whole tournament, while Pegula who had also reached the final match without dropping a set was looking for a hole to crawl into on the small centre court.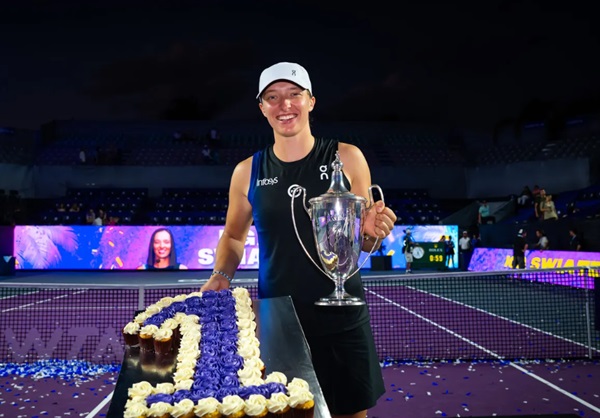 After a bit of a hiccup year, if you can call it that, certainly it was compared to 2022, Swiatek was returned to the world No.1 ranking, a position she lost after 75 consecutive weeks in September. She bowed out of the US Open early and Aryna Sabalenka reached the final which she lost to Coco Gauff, but by finishing deeper Sabalenka gained the top spot for the first time.
Swiatek and Sabalenka were in a race to end the year No.1. The Polish player had achieved that the year before, but it was not something Sabalenka had ever done. When Swiatek beat the Belarusian in the semis of the WTA Finals, that quest was done and dusted for Sabalenka.
"Coming back to world number one, it's a dream come true, for sure," Swiatek said. "I would say I wasn't expecting that right now, this season. I was hoping that maybe next year is gonna be my year, but it seems like you know, just working hard and focusing on the right things at the end worked. So, I'm really happy.
"I'm just really happy and super proud of myself. This week (in Cancun) has been not easy, but I feel like it's a kind of a reflection of the whole season. So, I'm just happy that I could cope with everything well, and I kind of used my experience from all these years to perform well here."
This year the "promotions department" of women's tennis was working to develop a rivalry between Swiatek, Elena Rybakina, Sabalenka, Marketa Vondrousova and maybe Gauff. Swiatek's fleet of foot in Cancun sort of threw that angle out the window with wins over the three other major winners – Sabalenka (Australian Open), Vondrousova (Wimbledon) and Gauff (US Open).
Pegula, who fell at an important hurdle again, said she "overplayed" in the final and did not know why. Pretty simple really: Swiatek was so precise that the American had to go for more to try and stay in touch and with that was forced into overplaying.
Swiatek became the youngest WTA Finals champion since Petra Kvitova in 2011 and she is the second Pole to win the title, in 2015 Agnieszka Radwanska was the champion. And as a side note, Iga and Aga won it with the same coach, Tomasz Wiktorowski.
Let's see what 2024 brings but it would be a better deal for women's tennis to see some element of challenge thrown out on a consistent basis to foster further interest.