They are each other's BFF's as Daniil and Andrey have a tight connection, while Novak stands out from the crowd on his own writes Craig Gabriel.
THAT'S WHAT FRIENDS ARE FOR
It's not easy to have best friends on the tennis tour. The professional sport is so very competitive and intense that it makes things difficult, very difficult. But there is one relationship that has managed to override the potential frictions and awkwardness that could or would rise up. 
That's the connection between Daniil Medvedev an Andrey Rublev who would have to be the most intense individual when in the middle of a match.
They were both asked how they handle things. A cheeky smile came across Daniil.
"Me, usually - depends on the match - but in general I need probably one hour, around this," Medvedev said with reference to calming down after a loss. "Depends on the match. Sometimes two. Sometimes 30 minutes. I kind of laugh about it. For sure I will be disappointed, but I can talk to people, laugh about it.
"I think Andrey needs a little bit more time, but that's just the way he is. To be honest, on court, I don't know how it is for him, for me on court, doesn't exist, friends, enemies. I just try to win the match. I don't think about anything else.

"But when the last point is finished, it's like I feel sorry for him, he lost the match. But it's the same for him. If he beats me, I mean, last year was brutal when he beat me. So, I felt for one or two days he was kind of shy to talk to me, taking care (laughing).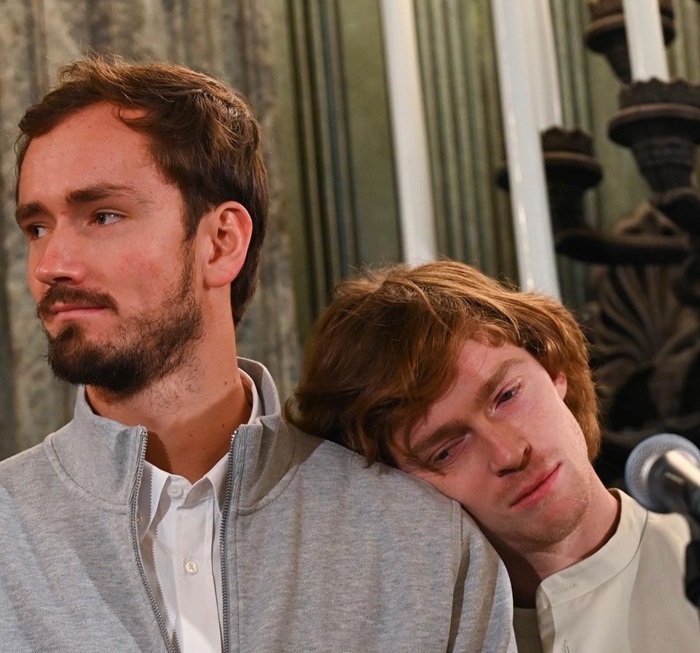 "It's the same. You always try to look at him and see if tomorrow we can talk like normal. I'm going say him good luck, go for it the next matches, and he's probably going to say the same."
Medvedev and Rublev have played one another nine times and  Danya has won six of those and as he said one of the two losses was at the 2022 ATP Finals.
"For sure nothing with our relationship outside the court. I would say in general Daniil first of all is one of the best players and he's playing his best season so far," Rublev said after losing in the round robin competition at this year's ATP Finals.
"Of course, for every player, normally if they are not top five, they're losing to him. If they're top five, it's very tough to beat him. I don't know. In general I feel that we always have some close matches. I don't know. As more I play, even if the score is different, but from baseline I feel every time better and better against him.
"The question is more about the mental part in those important moments, to keep focused, to use those chances when I have these balls, drive forehands, whatever, volleys. When he give you these extra ball, be focused to finish these points."

NOVAK AND NO.1
For Novak Djokovic it is all about history now. The year-end world No.1 ranking for a record extending eighth time and he continues to shatter the record for weeks at No.1 with his 400th week starting on 20 November. He was in a race for the year-end with Carlos Alcaraz and to get the year-end he had to win one match at the ATP Finals and he did that against Holger Rune who one day is likely to be in the No.1 position himself. 
"It's huge. It means a lot obviously. It always has been a huge objective and huge goal of mine to be No. 1 in the world. Other than Grand Slams, that's what counts the most. To finish off the year as No. 1 in the world at this stage of my life and career is something really amazing," Djokovic said.
It's been a remarkable year with the ranking being just one aspect but then to win three of the four majors and reach the final of the fourth and tying all-time record of majors at 24, one would think it's the best year of his career.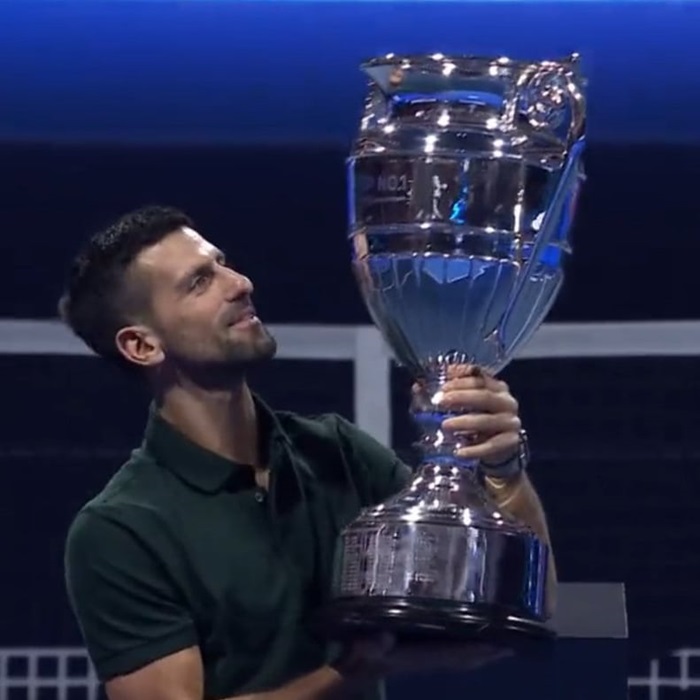 "One of the best years," he said with a smile. "I wouldn't say the best, but one of the best. I mean, the fact that I've won three out of four slams and played a final the fourth and it's still not the best year of my life, it's quite nice to have that kind of situation. I've been feeling great on the court and playing really well."
Alcaraz totally endorsed Djokovic at the top and made it clear that "he deserve it".
"It's unbelievable. I hear that he said it wasn't the best year of his career. It is amazing," Carlos said smiling. "I've been fighting for the No. 1. I had the chances in the last tournament that I've played, and I couldn't take that opportunity. All I can say is congratulations to him, the eighth time that he has the No. 1. I will fight to have the chance in the next year."