After a month of January concluded by Rafael Nadal's 21st Grand Slam and Ashleigh Barty's first title in her country, the month of February was no exception. With a change of world number one, a tireless Andrey Rublev, a few bloody incidents and a war in Ukraine that has had an impact on the tour, here is a look back at 28 turbulent days.
The MVP: Andrey Rublev
Felix Auger-Aliassime had a strange month. On the flip side, in Marseille, the Canadian met and beat his childhood idol, Jo-Wilfried Tsonga. Also on the flip side, the world number 9 was the only man able to hold off Andrey Rublev in the semi-finals in Rotterdam before finally lifting the first trophy of his professional career after nine final losses. On the other side, a week later, the 21 year old could not do anything when he met the Russian metronome in the final of the Open 13. The same Rublev who, last Sunday, followed up with another success in Dubai. Winner of two tournaments in February, the world number 6 took the opportunity to campaign against the war in Ukraine with two actions: a "No War Please" written on a camera and a double played in Marseille with Ukrainian Denys Molchanov. "We are normal people, we are not into politics. Sport brings us together. When you support someone, you get together. That's the most important thing. Peace for everyone," said Andrey Rublev, MVP on and off the court.
The Achievement: Daniil Medvedev
Daniil Medvedev only played four matches in February, but that didn't stop him from achieving a resounding feat: becoming the third Russian world number one in tennis history after Ievgueni Kafelnikov and Marat Safin. Anything else? Yes, this week Medvedev also became the first player outside of the big four (Djokovic, Federer, Murray, Nadal) to claim the top spot since February 2, 2004. To achieve this, the Muscovite, who was beaten in the semi-finals in Acapulco by a Rafael Nadal who is still unbeatable in 2022, was able to count on an unexpected ally: Jiri Vesely, surprise winner of Novak Djokovic in Dubai and who is, by the way, one of only three players -along with Nick Kyrgios and Marat Safin- to have faced the Serbian monster at least twice without ever conceding defeat (Vesely also dominated Djoko in Monte Carlo, in 2016, ed.) Amazing.
The Series: Anett Kontaveit
There is Rafael Nadal, the king of clay. There is also Anett Kontaveit, the queen of indoor. The Estonian once again lived up to her reputation by winning the St. Petersburg tournament -the third WTA 500 of her career- against Maria Sakkari, thus increasing her number of consecutive victories on the surface to twenty. Kontaveit, who won the Ostrava, Moscow and Cluj tournaments in 2021, has not lost on an indoor court since losing to Sara Sorribes Tormo in October 2020. However, there are no indoor Grand Slam tournaments at the moment. Anna Kontaveit is also doing well in the open air, as in her final in Doha last Sunday against Iga Swiatek, who is still waiting for her first slide down of the year.
The Goodbye: Juan Martin del Potro
"I'm happy because my probable last match was on a court and not at a press conference." And what better place to play than in Buenos Aires, with Federico Delbonis as his last opponent, in front of a mother who came to see her son play in a tournament for the first time in her life? So Juan Martin del Potro played the last match of his life and decided to put an end to his immense career. During this final round of matches, the Argentine could not hold back his tears during the last exchanges. Neither could the tennis world.
The Rookie: Carlos Alcaraz
While the older generation continues to put up resistance, the youth is growing. And fast. Carlos Alcaraz, already brilliant at the Australian Open, won the tournament in Rio de Janeiro and this month became the youngest winner in the history of an ATP 500 at 18 years, 9 months and 15 days. As Juan Carlos Ferreor's son likes to break records, he also became the youngest member of the top 20 among active players, ahead of a certain Rafael Nadal. It's only a short step from there to saying that Carlos Alcaraz will have the same success as his elder brother.
The outfit: Serena Williams
When will Serena Williams return from her absence from the circuit since June 29, 2021 and her withdrawal from Wimbledon? No one knows yet. In the meantime, the American is in the stands at the ATP tournament in Delray Beach and is keeping her Instagram account alive, where she has shown off her new jumper. A piece of clothing on which is written a "GOAT" in capital letters on the front and the date of her 37 Grand Slam titles (23 singles and 14 doubles) on the back. Obviously, there was no room to note her two mixed doubles victories. On the other hand, if Serena Williams manages to win her 24th Grand Slam in singles, she should find a place somewhere. Especially since the GOAT question would be answered quickly.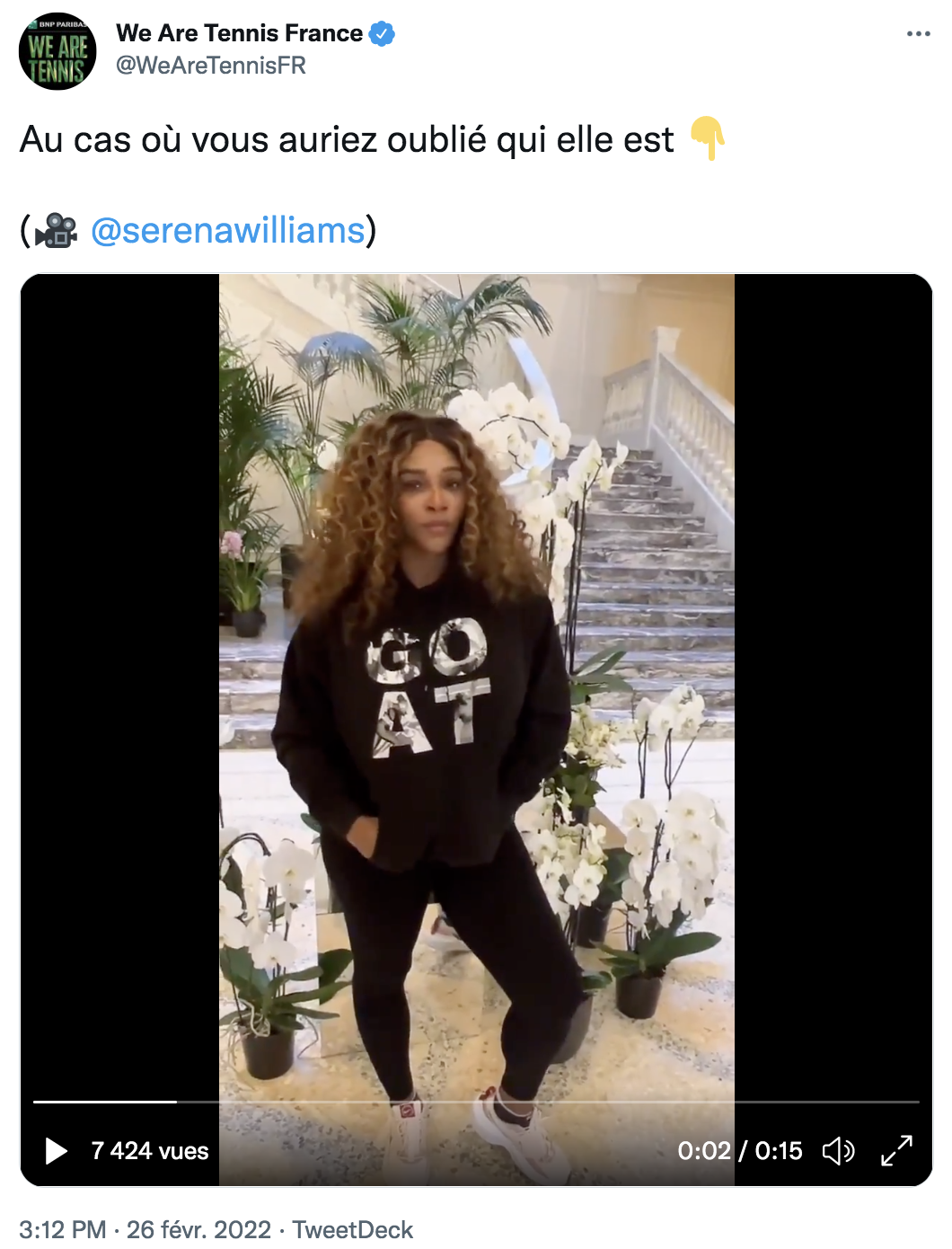 The Frenchman: Benjamin Bonzi
It's hard to be French in this month of February when victories have been discreet. Fortunately, some of them showed their worth. This is the case of Lucas Pouille, who obtained his first victory on the ATP circuit since September 2021 by beating Tallon Griekspoor in Marseille. But also Caroline Garcia, who won against Simona Halep in Doha. Or Harmony Tan, who grabbed the biggest win of her career by beating Madison Keys in Guadalajara. Although these successes were not repeated, one person did manage to string together three victories: Benjamin Bonzi. In Marseille, the Frenchman beat his first top 50 player - Aslan Karatsev - to reach his first ATP Tour semi-final. The story could have been even better if he hadn't broken in the third set against Andrey Rublev. Benoît Paire has lost four of his matches, but he can take comfort in the fact that he can add to his CV that he imitates the Hulk perfectly.
The Rally: Cori Gauff
There are two ways to react to a double fault: to dwell on it or to move on quickly. Coco Gauff has opted for the latter. Just like her rally against Paula Badosa in Doha, where she wiped the floor without ever breaking before turning the tables and winning the point. Then the match.
The match: John Isner - Reilly Opelka
There was little doubt that the semi-final of the ATP 250 in Dallas between Reilly Opelka and John Isner would be a tie-break. The two Americans were on a ten-game winning streak going into the match. Bingo: as expected, there were two more tie-breaks in this match won by Reilly Opelka (7-6, 7-6). It looked like just another match between the two men. Except that this one went down in history. And three times over. First of all, Opelka made 39 aces - a record for a two-set match - and then the 60 aces made by the duo. But above all, the tie-break ended at 24-22, the longest in the history of the ATP Tour! John Isner certainly likes it when it lasts a long time.
The book: Alizé Cornet
The Australian Open reminded us that Alizé Cornet is not yet retired. That doesn't stop her from preparing her post-career. This one should also take place with a pen in hand since the Frenchwoman, who had already written her autobiography Sans Compromis in 2020, has announced the release of her first novel next May. A book entitled La Valse des jours which would be "a family saga in homage to the women in my life". A reference to the L5?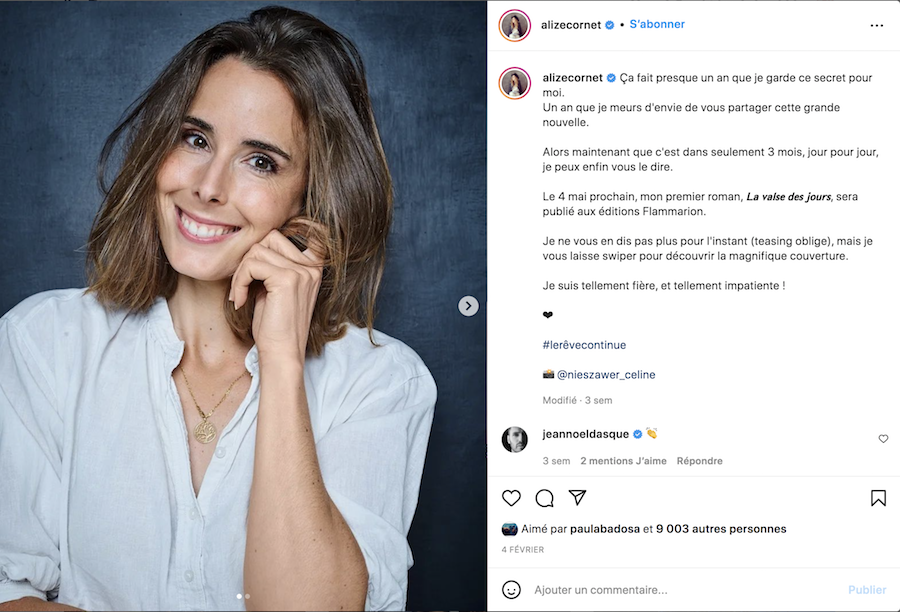 The story: Dayana Yastremska
As is often the case when she has a break between tournaments, Dayana Yastremska goes to Odessa in Ukraine to recharge her batteries and train. Except that, unlike usual, one of her last nights was disrupted by bombings, as she told L'Equipe: "We hid in the underground car park of our building and waited. We also spent the next night there. It was really scary. I saw this war with my own eyes. I heard it. I saw how terrifying it was. When I saw the missiles exploding, it was chilling. You don't know where they're going to fall, you don't know what to do, everyone is panicking and trying to hide in the basement to survive. There were a lot of children, single women... It's so unreal! You can't really understand what a missile strike is without living it, without feeling it. Usually, war is seen in a film. But this film has become reality." Finally, Dayana Yastremska managed to leave Ukraine with her 15-year-old sister for France and Lyon, where she is playing in a tournament this week, leaving behind her parents in Odessa and symbolising a tennis world that is uniting for peace.