We Are Tennis by BNP Paribas brings you the best of the past week, on and off the courts, day after day. A week where the top seeds dropped like flies in the women's draw at Roland Garros, where French tennis took a serious beating and where Patrick Sébastien launched a crossword magazine. Yes, all of that.
Monday, May 31st
"Jeux vous aime". A French play on words which sums up this second day at the 2021 edition of Roland Garros, with Roger Federer's very promising start, and a heated duel between Casper Ruud and Benoit Paire, which the Norwegian ended up winning. "Jeux vous aime" is also the name of the crossword magazine launched by Patrick Sebastien, who is, as always, full of surprises. Between Naomi Osaka and the French Open, the atmosphere seems however based on a love/hate relationship, as the Japanese decided to withdraw from the tournament, after the controversy sparked by her decision to boycott press conferences in order to "preserve her mental health". Stay strong, Naomi.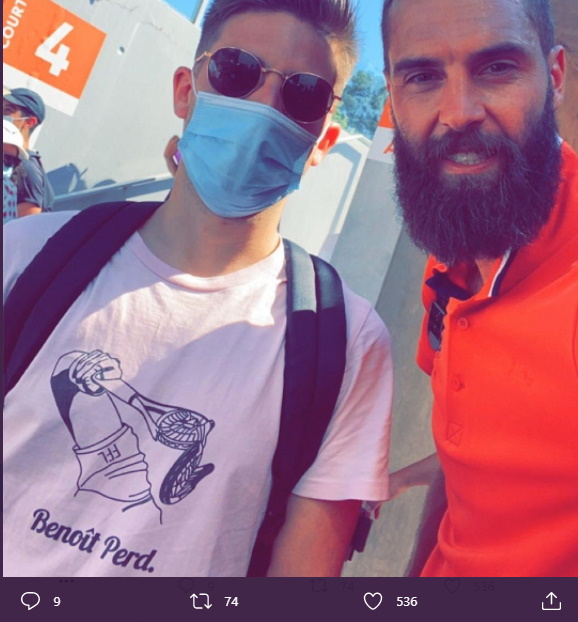 Tuesday, June 1st
According to an American study, waking up an hour before your usual time decreases risks of depression by 23%. Still, Gael Monfils needed to play a whole set before waking up, and winning his first match at the Porte d'Auteuil in four sets, against Albert Ramos-Vinolas. It wasn't enough to save French tennis from depression, with only three players managing to qualify for the second round, the worst result since the start of the Open era (1968). The other victim of the day? Andrey Rublev, who crumbled under the pressure and the beautiful shots produced by Jan-Lennard Struff. In other news, and great ones now, Carla Suarez Navarro made her return to competition after her battle against cancer.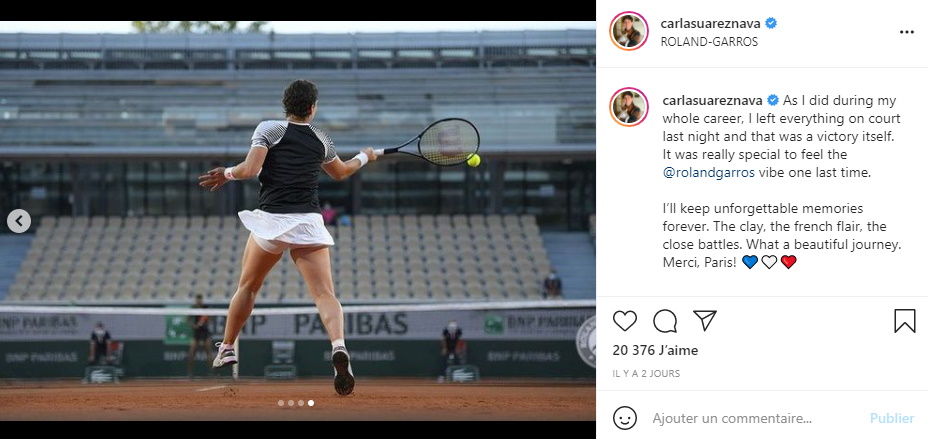 Wednesday, June 2nd
Some wins are inspiring. After lifting the Champions League with Chelsea, Antonio Rudiger decided to name his daughter Aaliyah Trophy Rudiger. Yes, "Trophy". Why not, after all? Meanwhile, Serena Williams, Daniil Medvedev, Stefanos Tsitsipas and Alexander Zverev played their first matches at Roland-Garros, while Petra Kvitova had to withdraw from the tournament after a fall during her press conference. Naomi Osaka was right: the press can hurt you.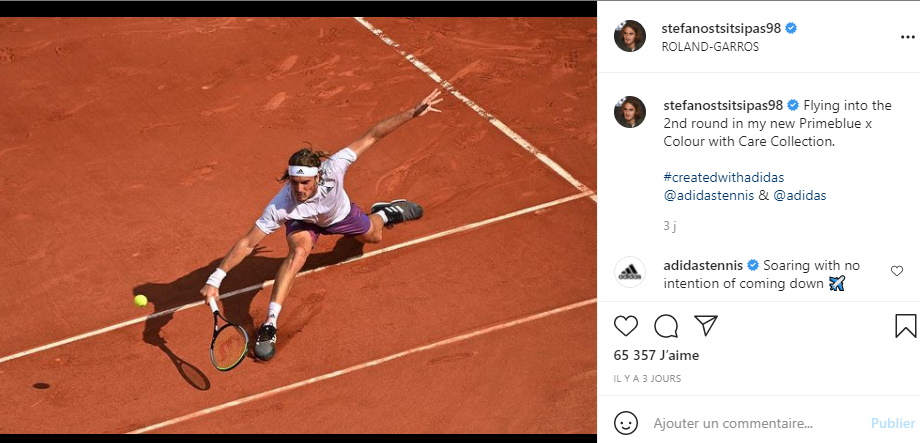 Thursday, June 3rd
200 years after the death of Napoleon, France met its Waterloo: there will be no French player in the third round at Roland-Garros. An unprecedented situation. On there side, Italians and Germans are having a great tournament in Paris, and Spaniards enjoyed the promising beginnings of the young Carlos Alcaraz, 18, who impressed the spectators as he defeated Nikoloz Basilashvili. Although he's no longer a teenager, Roger Federer was told off by the umpire and received a warning during his match against Marin Cilic. Hand in your parent-teacher contact book, Roger! 
Friday, June 4th
Naomi Osaka withdrawing from the tournament, Ashleigh Barty pulling out as well... The women's draw saw its superstars dropping like flies, as it also lost the seed number 3, Aryna Sabalenka, who was defeated by Anastasia Pavlyuchenkova. Serena Williams then started to dream about a 24th Grand Slam tournament. But here's the real American performance of the day: a 17-year old teenager created a buzz as she pushed back a bear in her garden, to protect her four dogs. That takes some courage. And a bit of madness, too.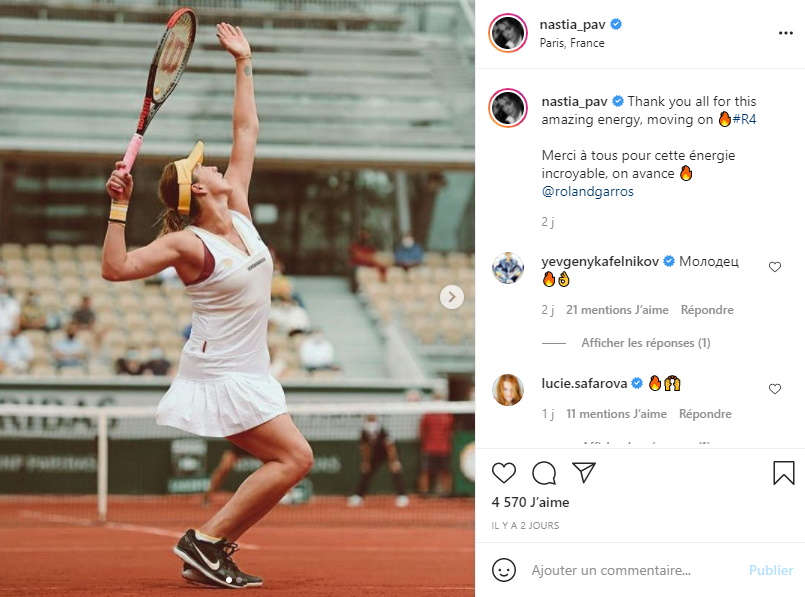 Saturday, June 5th
If Rafael Nadal and Novak Djokovic carried on their walk in the park as they easily qualified for the fourth round. Federer, on his side, had to battle until after midnight to defeat Dominik Koepfer. A huge performance for the Swiss, who is almost 40, but which was too much, as Federer, who wishes to win Wimbledon one last time, decided to pull out from the tournament before his match against Matteo Berrettini. In other words, Roland-Garros is becoming an exhibition tournament…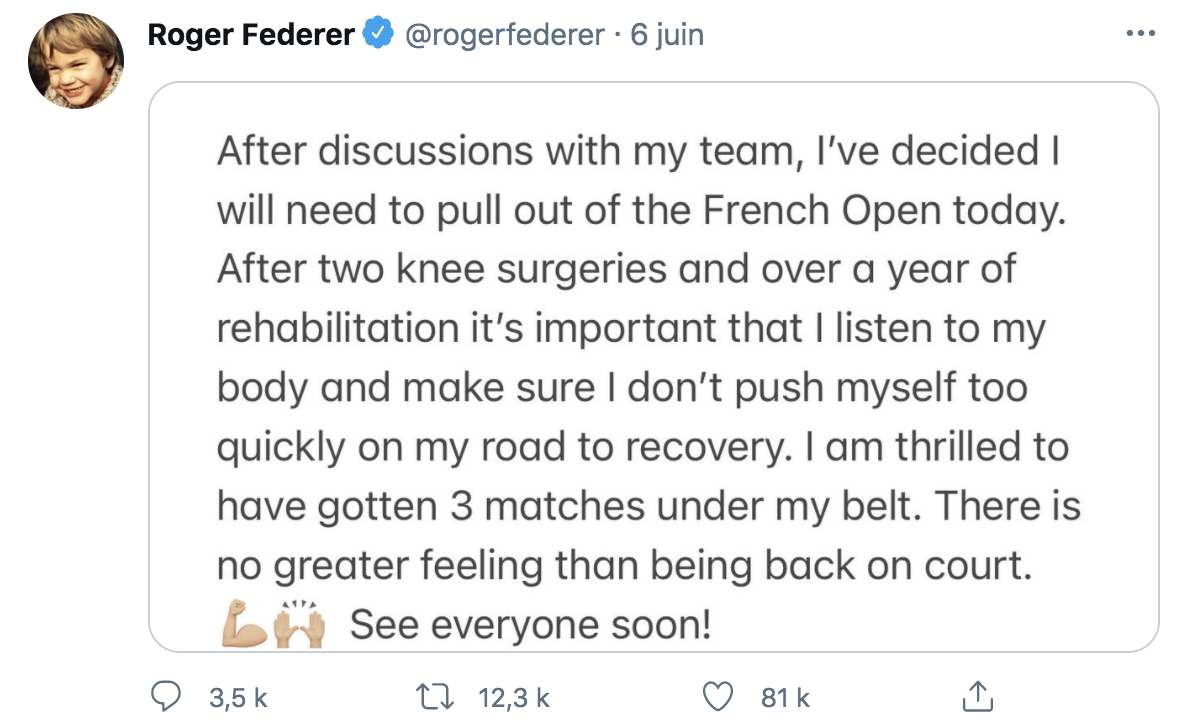 Sunday, June 6th
It was the 77th anniversary of the Normandy landings, but also a happy day for the couple Harry-Meghan Markle, as they welcomed their daughter, who is named Lilibet Diana. Here were the good news. In other news, Daniil Medvedev and Stefanos Tsitsipas taught Cristian Garin and Pablo Carreno Busta a lesson, and both reached the second week at Roland-Garros. In the women's draw, Elena Rybakina defeated Serena Williams, and opened the door for a great surprise in the tournament. Unless Iga Swiatek carries on with her demonstration.