We Are Tennis by BNP Paribas brings you the best of the past week, on and off the courts, day after day. A week where Roger Federer came back on the court, where Garbine Muguruza clinched the eighth title of her career and where a tweet was put up for auction for more than two million euros. Yes, two million euros.
Monday, March 8th
At this rate, Roger Federer could risk no longer having legitimate arguments to claim that he is the best player in tennis history. After seeing Rafael Nadal equal his record of the most Grand Slam titles won, the Swiss saw Novak Djokovic break another one of his records: the most weeks spent as the world number 1 (311 for the Serb). Here's the other event of the day: Clara Tauson, who won the Lyon Open last week, jumped 43 spots up the WTA ranking (the Dane is now the world number 96). Even more astonishing, a flying boat was seen over the Channel and created a buzz on the social networks. No worries, it's just an optical illusion created because of the weather conditions. Unlike Djokovic's supremacy, which is definitely not an illusion.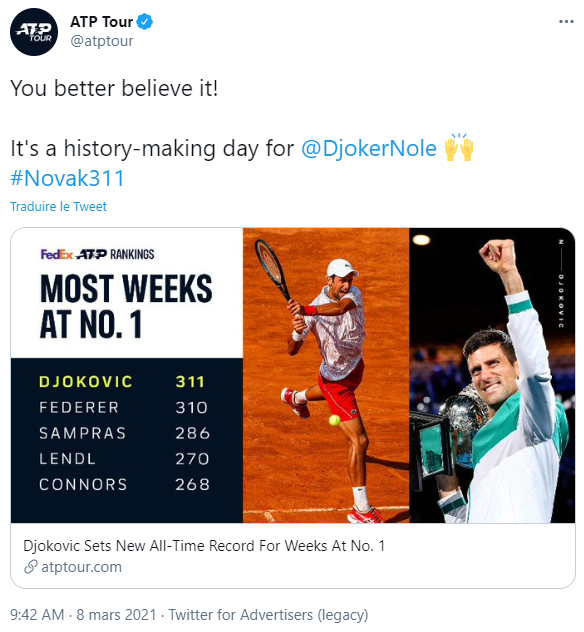 Tuesday, March 9th
Let the drums roll, and watch the crown. Is it the king? No, just a young prince. While Roger Federer is expected on the court tomorrow, in Doha, against Daniel Evans, Lucas Pouille won his first match on the ATP circuit in Marseille, the first since… october 2019. Still with exceptional feats, the runner Karim El Hayani broke the record for the fastest semi-marathon run barefoot, on snow, around Beauport Lake, in Québec. One hour, and thirty-six minutes: we know someone who really likes to suffer.
Wednesday, March 10th
Today, it was time for Roger's return, after 405 days spent off the courts, before defeating Evans in three sets. If the Swiss didn't seem in a rush to come back, it's because he wanted to make sure that he could hold the rhythm: "You can't come back until you're sure that you can play for two and a half hours, it's as simple as that. I think that tennis is a little bit underrated, at that level. If I'm not running, I'm not going to win a single point because you can't just hit winners with both your forehands and your backhands." Even when you're called Federer? One skill which the King can probably not do, is the one shown by Tim Pütz this week: after dropping his racquet while defending, the German saw the grip hit his left eye, and was forced to abandon his doubles match. Posted on Twitter, the footage is, for now, not worth as much as the first tweet ever posted, in March 2006 (« just setting up my twttr »), which was put up for auction for…2,1 million euros. 22 very expensive letters.
Thursday, March 11th
BREAKING NEWS: OSAKA IS RETIRING! Phew, it's "only" Mari. The current world number 340, whose best ever ranking is the 280th spot at the ATP ranking, and who is also Naomi's older sister, decided to retire, giving a fright to the inattentive fans. On his side, Andrey Rublev reached the semi-finals in Doha…without playing a single match, as he was the seed number 3 (which enabled him to skip the first round), and then saw Richard Gasquet and Marton Fucsovics both withdraw from the tournament. An unprecedented situation since 1990, and the creation of the ATP Tour. An unexpected performance, just like this 40 000 euros donation made by an anonymous Frenchman to the state to "reduce the public deficit". As there are still 180 billion euros to find, wouldn't the young Russian like to chip in by donating his prize money?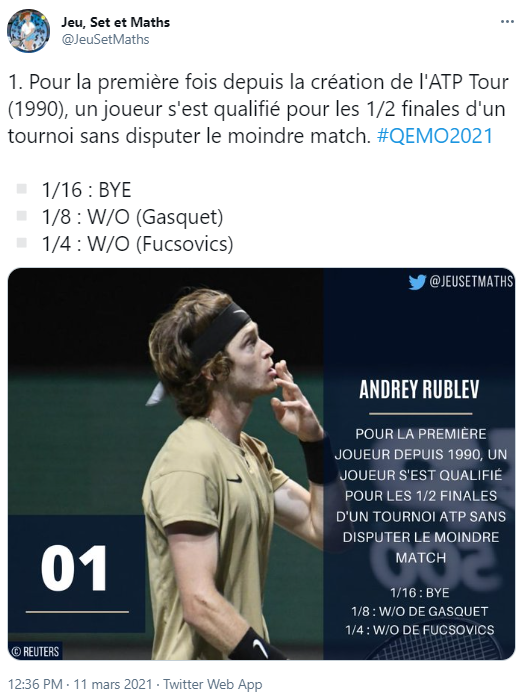 Friday, March 12th
"I'm not going to speak about the ATP circuit which has become sad, boring and ridiculous. I know, you're going to say : 'You don't realize how lucky you are, bla-bla-bla.' But playing in empty stadiums with no atmosphere, that's not why I play tennis. Having to stay either at the hotel or at the tennis club, and not being allowed to go out, as you risk a fine or an exclusion…Where's the joy of travelling ? For me, tennis has become a tasteless job.'" Benoît Paire sounds as happy as ever. Fans in Dubaï were also feeling blue, as Andy Murray, Nadal and Federer will not be showing up. However, there were some good news in Le Havre, France, as a citizen was finally reimbursed, for a crazy water bill he received in…2009. He had to wait twelve years to get his 28 948 euros back. A nice warm bath, to forget about the damper?

Saturday, March 13th
An eighth title for Garbiñe Muguruza! In Dubai, the Spaniard won the eighth trophy of her career after defeating Barbora Krejčíková. Nikoloz Basilashvili, on his side, only won his fourth after a dreamy week in Qatar (he defeated Federer, before dominating Roberto Bautista Agut in the final). Speaking of which, is lifting a trophy still one of Gael Monfils' ambitions? The Frenchman seems to know what he wants to do after his career as a video showed him executing intensive dance moves. Quick and fluid steps which probably scared the French Post, which is more renowned for its slowness: a letter took a whole week to travel 25 kilometers between Clamensane and Sisteron, two towns in the Alpes-de-Haute-Provence region. A speed of 3,57 km/day which enabled the postman to enjoy the scenery and focus on himself, probably.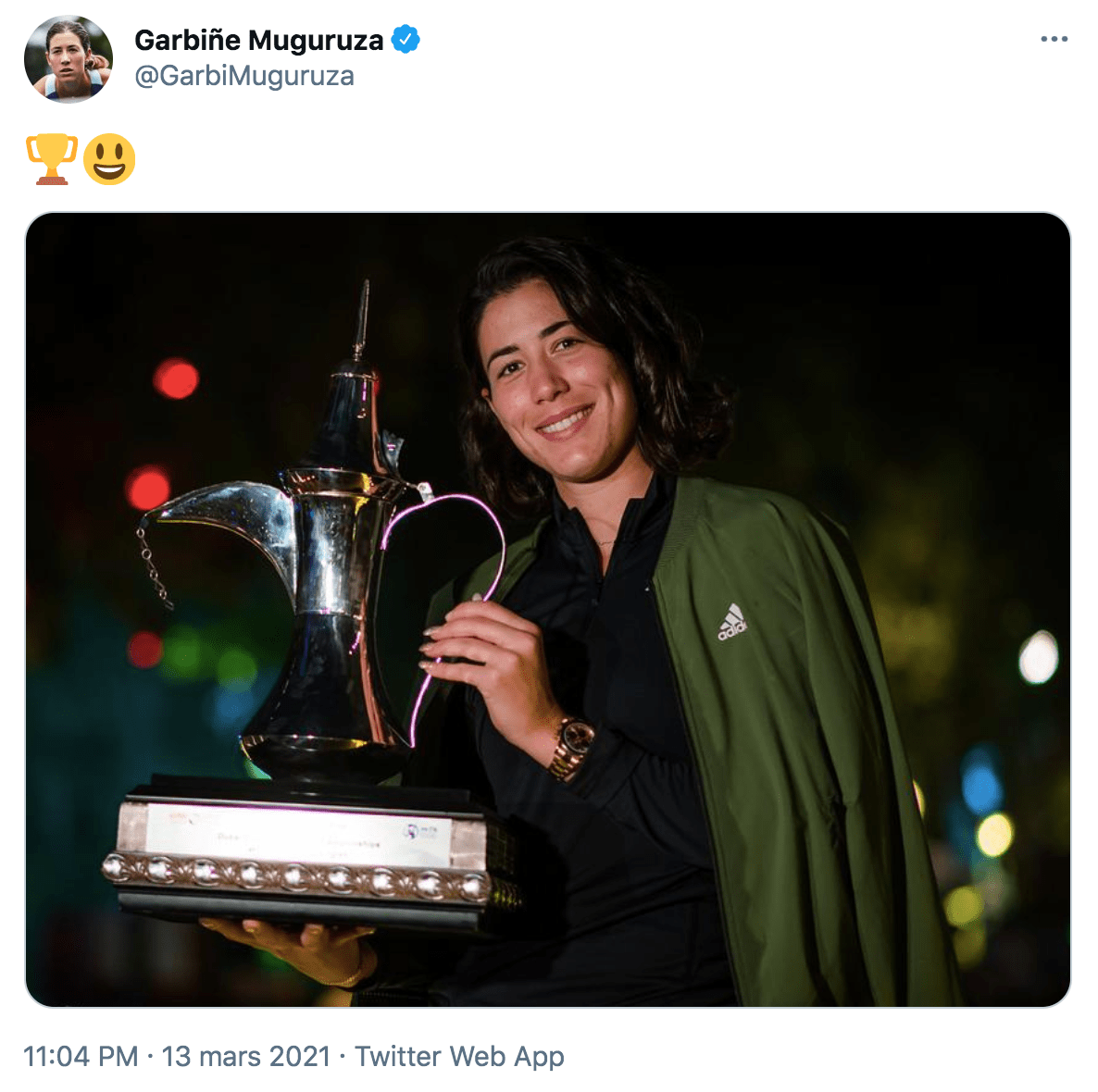 Sunday, March 14th
If you are a male, and that you suddenly rush to the ER as your knee is painful after a fall, careful : after a few tests, you could find out that you are suffering from a very rare disease…which turns your penis into a bone. This is what happened to a 63-year old man in the US, as the doctors at Lincoln Hospital in New York told him that there was an abnormal calcification on his genital organ. Not enough to make Sara Sorribes Tormo or Daniil Medvedev doubt themselves, as they respectively triumphed at the Abierto de Guadalajara and at the Marseille Open 13, defeating Eugenie Bouchard and Pierre-Hugues Herbert on their way to glory.