We Are Tennis by BNP Paribas brings you the best of the past week, on but also off the courts. A week where Medvedev claimed at the Masters, Tomic received some naughty screenshots and a King Cobra crossed the path of an unlucky Brit.
Monday, November 16th
As the final tournament of this chaotic 2020 tennis season, the London ATP finals saw the eight best players in the world face each other. On the second day, Medvedev defeated Zverev (with a winning underarm serve) and Djokovic dominated Schwartzman. The Serb took the opportunity to once again claim that it was time to put an end to the Best of five format, including during Grand Slam tournaments… In women's tennis, it was already time for holidays… or to get back in training, like Kvitova, who's already preparing for 2021.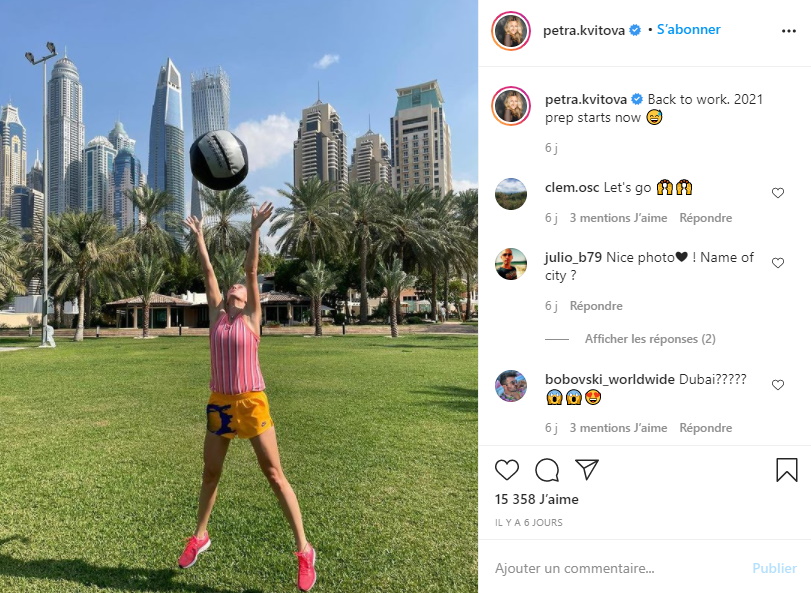 Tuesday, November 17th
While the Spanish football team destroyed Germany by winning 6-0, Thiem defeated Nadal in London. In the other match of the day, Tsitsipas won a hard-fought battle against Rublev. Zverev, on his side, had a little dig at Djokovic the reformer as he said: « You can't change tennis just like that (…), tennis remains a physical sport (…). Grand Slams have to be played in the best of five format. » But the funniest dig of the day came from Julien Benneteau, who reacted to Donald Trump's sore loser tweet by making fun of himself as he has never won a single trophy. Still with humor: the french government authorized the selling of Christmas trees during lockdown even though people can't buy baubles or Christmas wreaths in shops.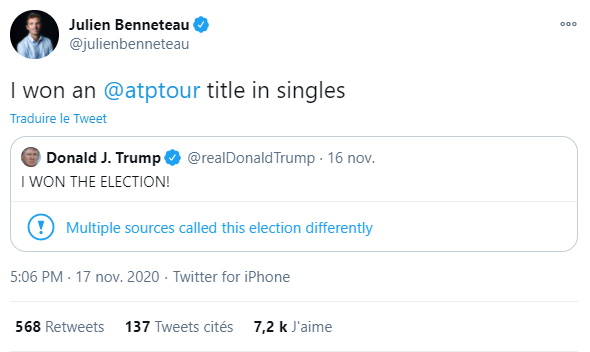 Wednesday, November 18th
While we now know the first two players who managed to qualify for the semi-finals in London (Medvedev and Thiem) and the first two who got knocked out (Rublev and Schwartzman), Stan Wawrinka is already training for next season. His buddy Benoît Paire is also looking forward to the future and seems to be (at a little) determined to stop his 2020 excesses. It's not the case at all however for Bernard Tomic who seems to have definitely put his racquets away along with his goals as a professional tennis players to get into… eroticism - or even more… - with his girlfriend, a specialist of the genre. Another way to have fun apparently, which Pope Francis seems to enjoy, as his Instagram account liked a photo of a Brazilian bikini model wearing clothes resembling a school uniform.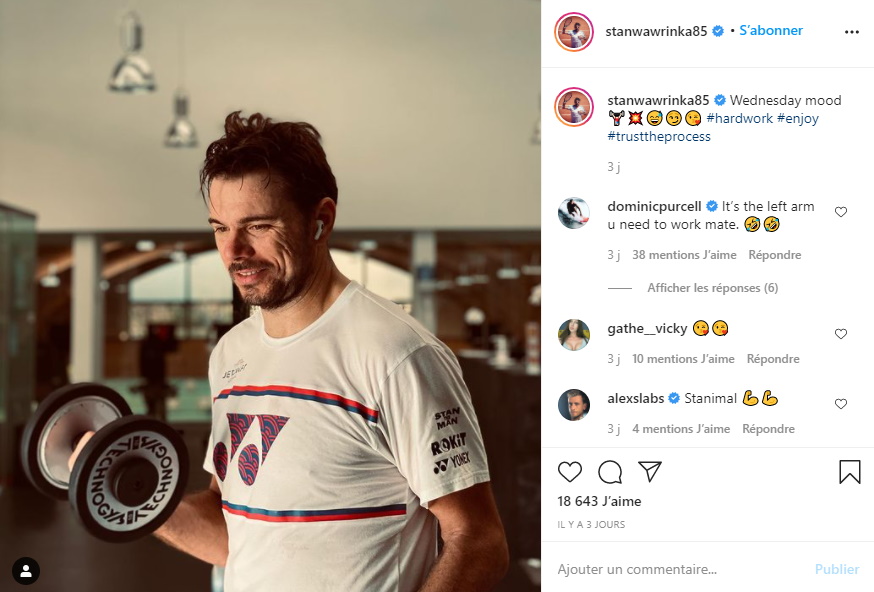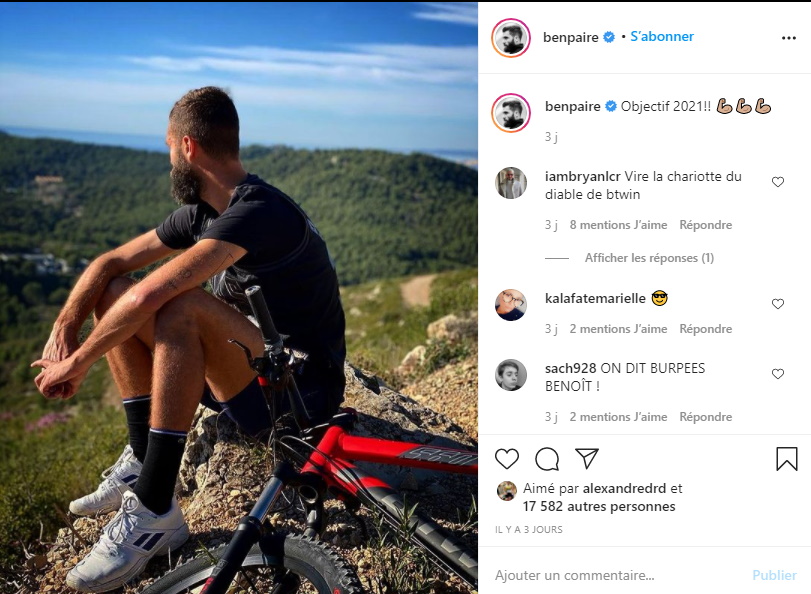 Thursday, November 19th
It was a huge day for gamers, as the PS5 was finally launched, and for hedonists, with the launch of this year's french wine, Beaujolais Nouveau. It was also a big day for Rafael Nadal, who qualified for the semi-finals of the ATP Finals. Far from London, and from the final four of the last tournament of the year, Denis Shapovalov introduced his very cute cat to the world.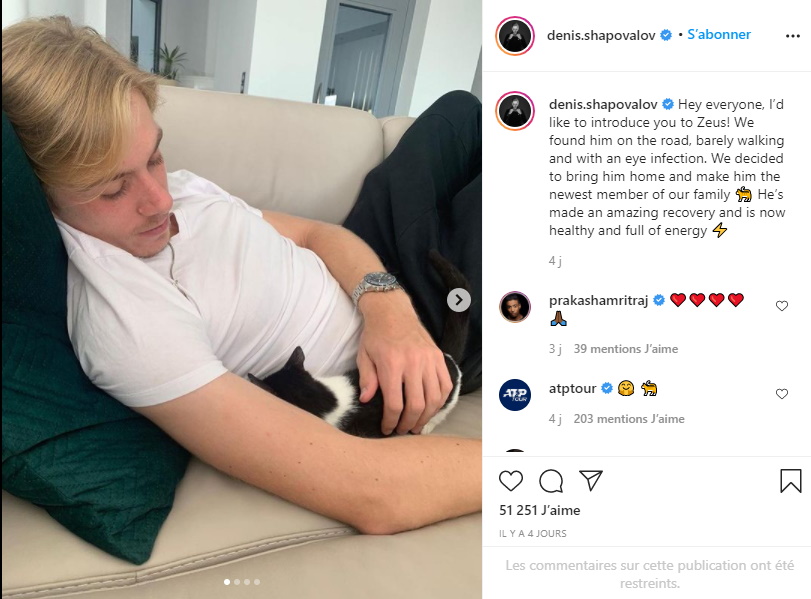 Friday, November 20th
Some people are starting to get tired of this year 2020, so they're finding new ways to kill time. An example of that? Two Russian fighter pilots were sanctioned for having drawn a penis in the sky with the smoke coming out of their reactors. Much calmer, and safer, Garbine Muguruza has gone back to physical training. Let's just hope that the 2021 will start on time in the southern hemisphere, as the organizers of the Australian Open shared some doubts of theirs, especially regarding the current travelling restrictions. While waiting for the next big meeting in Melbourne, let's get back to London: Djokovic was the last one to qualify for the semi-finals of the ATP Finals after defeating Zverev. Best of 3 > Best of 5 sets.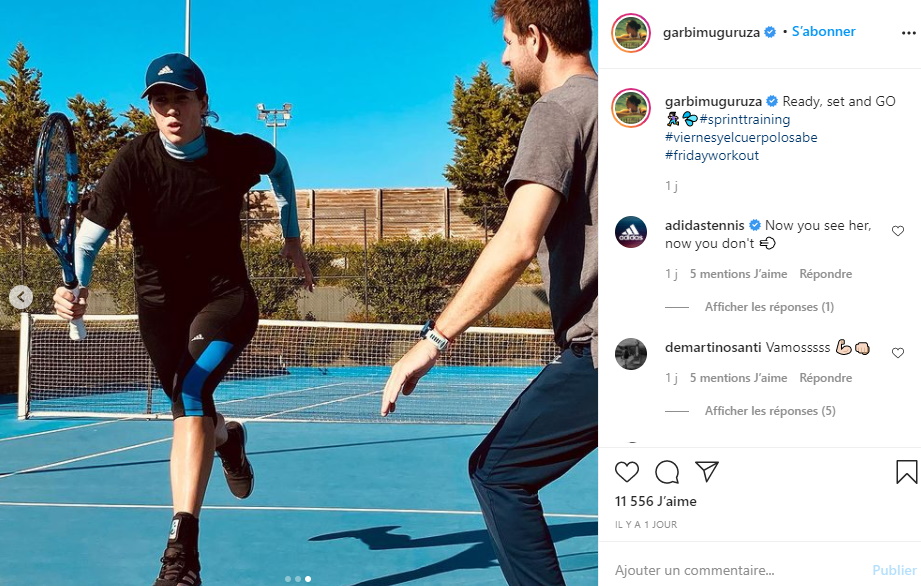 Saturday, November 21st
Aren't we secretly witnessing the end of a reign? Maybe, maybe not. Anyhow, the youngest players won the two semi-finals of the ATP Finals: Thiem and Medvedev respectively defeated Djokovic and Nadal, like a passing of the baton between the 80's generation, which won't last forever, and the 90's generation, who has decided to take over the throne. In women's tennis, this Saturday was all about relaxing, with examples given by Svitolina or Pliskova. Less relaxed, a man was arrested in France with his exemption certificate on which he stated that he needed to « break a man's jaw ». Unfortunately for him, it didn't seem like an essential need during lockdown.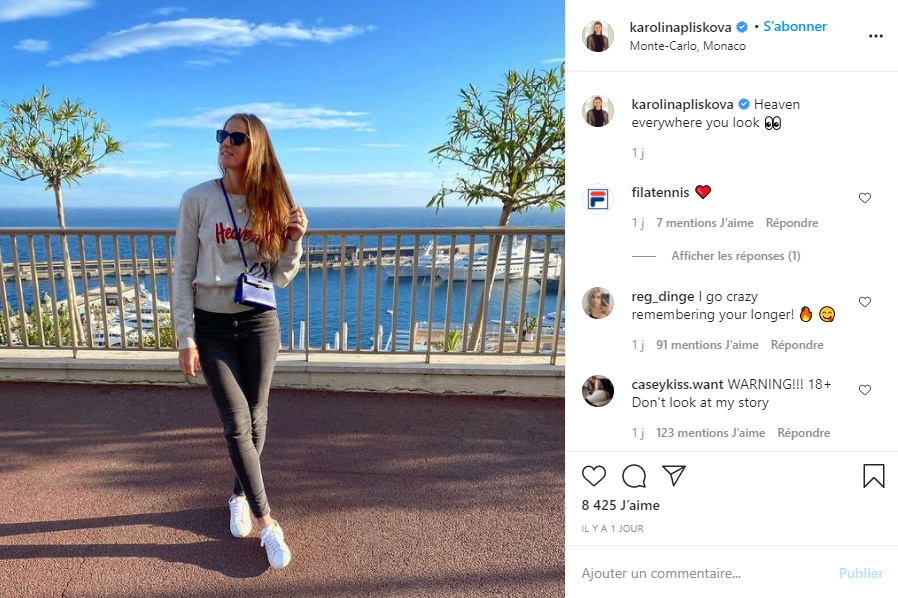 Sunday, November 22nd
« A British man who had already experienced Covid, dengue fever and malaria is blinded after king cobra bite »: you won't find a better press title today. Even if « a nativity figure representing professor Raoult is seen in a bakery in Var, France » is not bad either. And what about this one: « Medvedev, the new tsar of world tennis? » The Russian defeated the odds against Dominic Thiem, as he won the ATP Finals after a dreamy week which saw him defeat the three best players in the world. A great ending to this 2020 tennis season.