We Are Tennis by BNP Paribas brings you the best of the past week, on and off the courts, day after day. A week where the prodigy Carlos Alcaraz celebrated his birthday in front of his idol and where nonuplets were born.
Monday, May 3rd
The week kicked off in brilliant fashion, with a Belgian farmer who allowed himself to move the border between his country and France, without knowing it. To be able to move his tractor, the farmer moved the border marker, which weighs 150 kilos, and made Belgium 2,29 meters bigger. Smart. Dominic Thiem, on his side, started his week by destroying Benoit Paire in an interview: "I don't understand. If you don't want to play, just stay home. If you're not motivated, no one is forcing you to play. I think that the best thing to do is what I did : I took some time off, I didn't go to three or four tournaments…And at one point, motivation comes back to you. Once you get on the court, you need to be able to compete, even if you're not at 100%. But if you don't want to play, go on holiday." Paire's answer? "I need to work to go on holiday." A constant enigma.
Tuesday, May 4th
And welcome to…nonuplets ! In Morocco, Halima Cissé, a 25-year old Malian woman, gave birth to nine children, in only one pregnancy. Enough to fill up the stands of the ATP and WTA Rome Opens, where spectators will be allowed back in from the fourth round on. However, there's no need to go to Budapest: Covid forced the International Federation (ITF) to find a new host-city for the 2021 edition of the Billie Jean Cup, the new format of the old Fed Cup. A never-ending headache.
Wednesday, May 5th
Biella, Italy. In order to dry a court, in the middle of the Challenger tournament organized in Piedmont, the organizes chose to use…flames. If it's forbidden in France, the use of flames is actually not so rare. Meanwhile, after winning a 9th generation Mitsubishi Lancer Evolution in a contest, the Brit Adam Griffiths also played with fire while testing his new vehicle with too much enthusiasm. The result? A crash, and 35 000 euros gone up in smoke.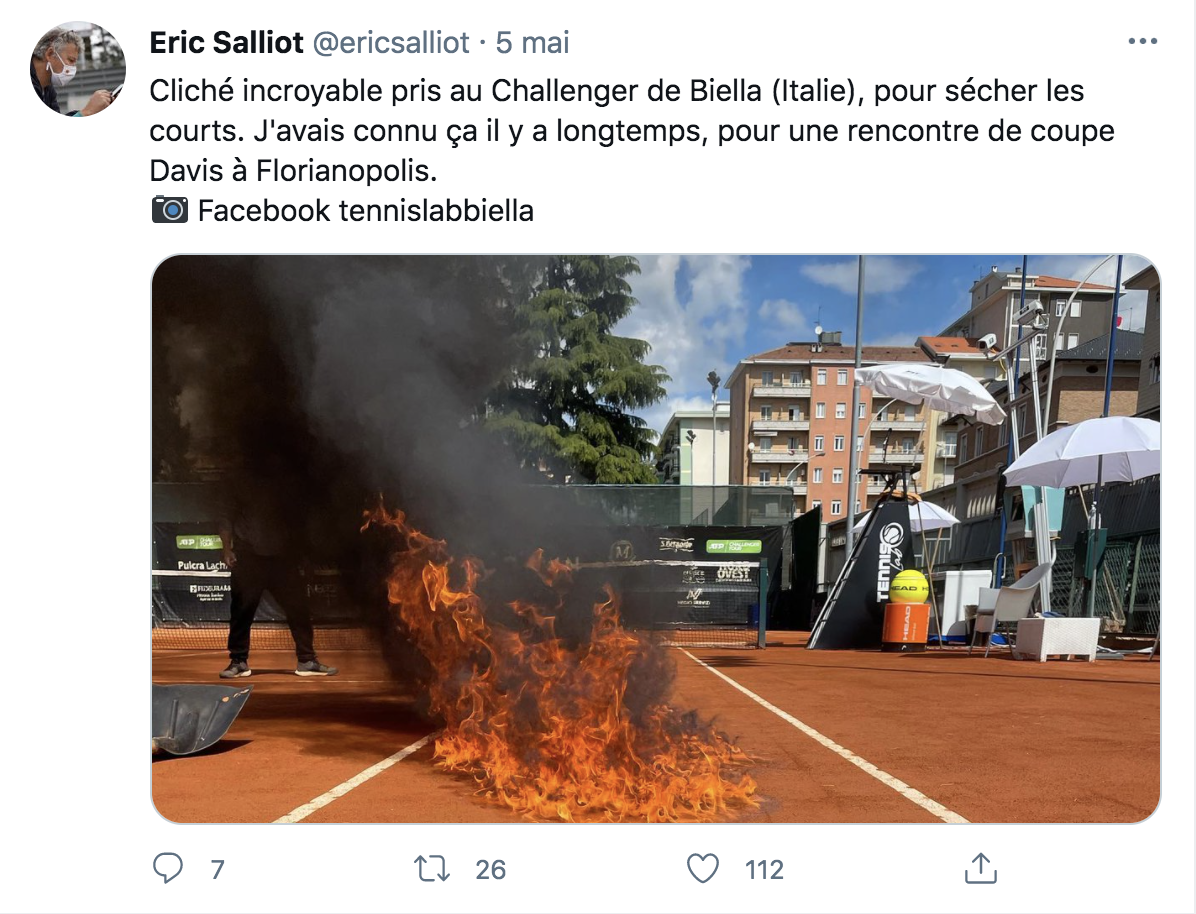 Thursday, May 6th
The beautiful story of the week, without a doubt: having been separated by Covid, which stopped people from travelling from Sweden to Norway, 73-year old twins, Ola and Pontus Berglund, have been meeting up at the border every Saturday for more than a year to spend a bit of time together. However, Andrey Rublev doesn't want to spend another second with John Isner: the most frustrating server on the circuit produced 89 aces in three rounds in Madrid, including 29 against the Russian to knock him out of the tournament. But when will he ever stop?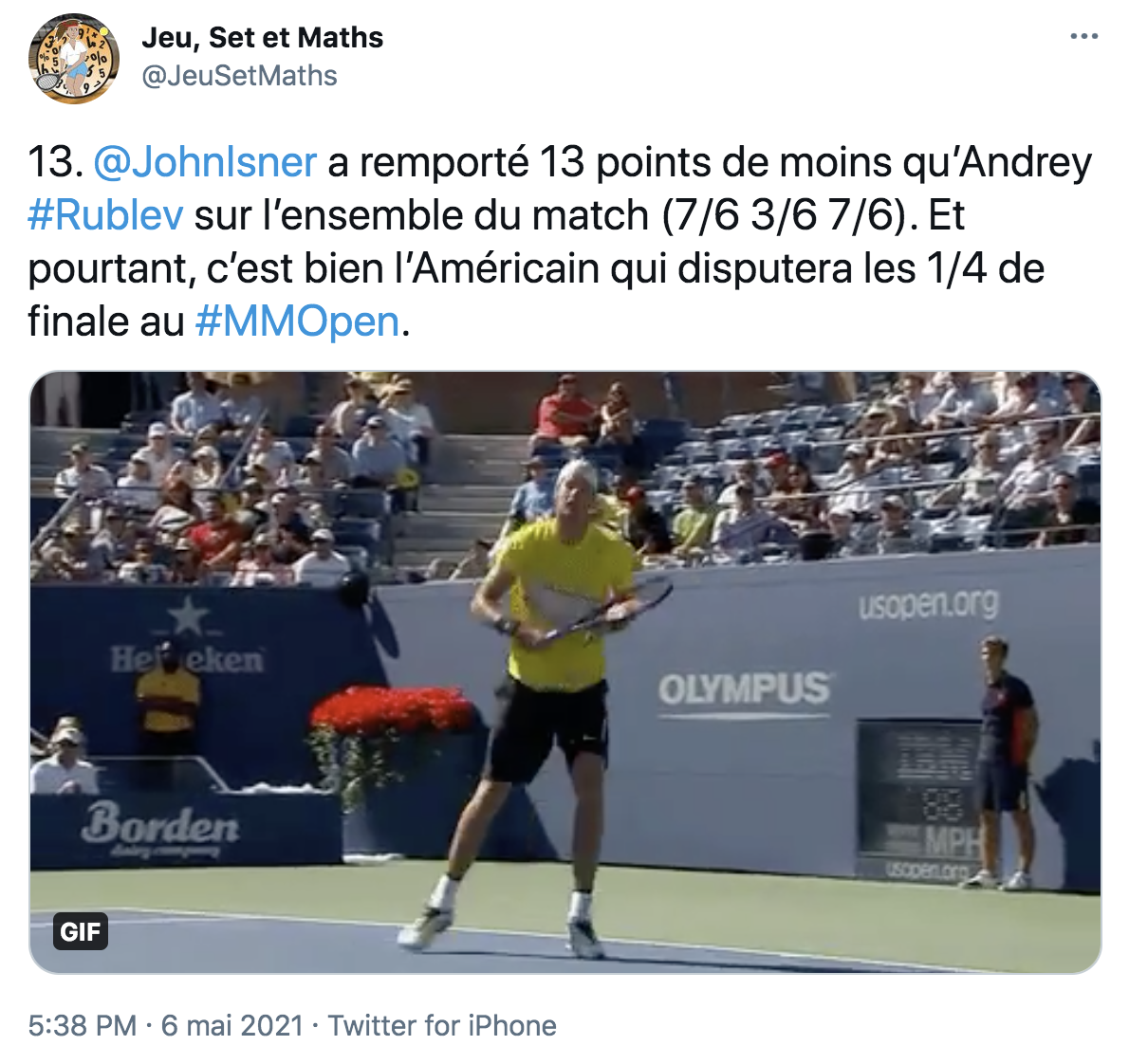 Friday, May 7th
If Isner showed that he was brilliant at serving, Casper Ruud, on his side, isn't doing too bad either. He played 31 consecutive games where he was serving without conceding a single break point in Spain, which enabled him to reach his third consecutive Masters 1000 semi-final on clay. Huge surprise however: Rafael Nadal was knocked out by Alexander Zverev. It wasn't enough to see the king of clay get angry, as the Spaniard made Manuela Navarro's dream come true by meeting up with her after his defeat. And that came after celebrating Carlos Alcaraz's birthday, who he defeated the day before. "I did what I wanted to do before I die, I'm very happy. I can't believe it, my legs are shaking. He's so humble, he's a beautiful person, said the 95-year old lady, who is suffering from Alzheimer's. It doesn't matter if he lost, I saw him. That's what I wanted: to meet him in person." You sometimes need to wait to see the spiritual guide find the right path, and these lorry drivers from Dublin can only agree, after ending up at the Cherbourg-Manche airport, instead of the Cherbourg-en-Cotentin port, because of their GPS device. Nobody's perfect, even if the world number 2 often makes us believe the contrary.
Saturday, May 8th
While Thomas Pesquet advertised Coldplay's new single by playing Higher Power for the first time from space, Stanislas Wawrinka had a nighttime practice on the Philippe-Chatrier court. The Swiss posted a picture at 3:43 on hi social networks. But it was during daytime that Aryna Sabalenka lifted her trophy in Madrid, after defeating Ashleigh Barty in the final. On top of losing the first set 6-0, the Australian lost the last eleven points in the third set and saw her series of sixteen consecutive wins brutally end.
Sunday, May 9th
As temperatures are starting to rise, and summer is slowly arriving, the highest swimming pool in the world is opening in Dubai. With a 340 euros entry fee, the pool is on the 77th floor of the Adress Beach Resort, 300 meters up in the air…Approximately the heights reached by Zverev as he defeated Matteo Berrettini in Madrid to clinch the title. The German is definitely on cloud nine…