Tennis has never seen anything like it before and maybe the sport will not see it again. Well, let's hope not. Six tournaments were played in one week at the same venue, one week before the year's first major. What was a logistical nightmare that saw critics rally around, turned into a masterful coup by Tennis Australia.
Hundreds of players gained match practice playing tournaments before the Australian Open having spent two weeks in quarantine after arriving on 17 charter flights from seven cities around the world.
What has been achieved is a model to be admired and examples could very well be learned for the rest of the tennis season as well as by the Olympic Games in Tokyo. The players in their vast majority praised the achievements of Tournament Director Craig Tiley and his team who worked tirelessly to stage these events – the ATP Cup, the Yarra Valley Classic, the Murray River Open, the Gippsland Trophy, the Great Ocean Road Open and the Grampians Trophy. The last event was added especially for those women payers who were placed in hard quarantine.
All the names of the events are acknowledging regional areas in the state of Victoria and the place names that were chosen are being recognised for the bushfires that ravaged them twelve months ago.
YARRA VALLEY OPEN
She was playing her first tournament in a year and Ash Barty has come back strongly. She claimed her ninth career title by defeating Garbine Muguruza 7-6, 6-4 and Barty had to work hard for it. In both sets she was down service breaks - in fact twice in the first set with Muguruza serving for the set at 5-4. It was at those times that Ash picked up the aggression in her game to eventually close it out.
The victory was her third from four matches with Garbine. It was a year ago they last played and Barty won a quarterfinal in Doha which was the last event she was in. The trophy she hoisted was unusual, it was a wombat, a marsupial unique to Australia. The trophy, her second in Australia, was carved from wood by a young indigenous artist and Barty, who has indigenous ancestry, was particularly pleased.
"It's very cool," she said. "Obviously when you talk about how the trophy is made, a very touching almost tribute to my heritage, and very cool to have some indigenous are, pure art, as a trophy, is very cool."

"For me, I love the opportunity of playing at home. I love playing in Australia. I feel like if there's a tournament here, I grab it with both hands and try to do the best that I can. (Certainly) getting matches under your belt is important, particularly after an extended period off for me. Any time I get to play at home, I love to play in Australia and I love to play in front of my friends and family and try to prepare as best as I can that way leading into the Australian Open."
Barty enjoyed the benefit of a walkover from Serena Williams in the semis while Muguruza played well all week. A point here and there may have changed the direction of the final and she was pleased with her form, especially turning tables on Sofia Kenin, in the semis, who she lost to in last years Australian Open final, which was the last time the Spaniard had reached a final.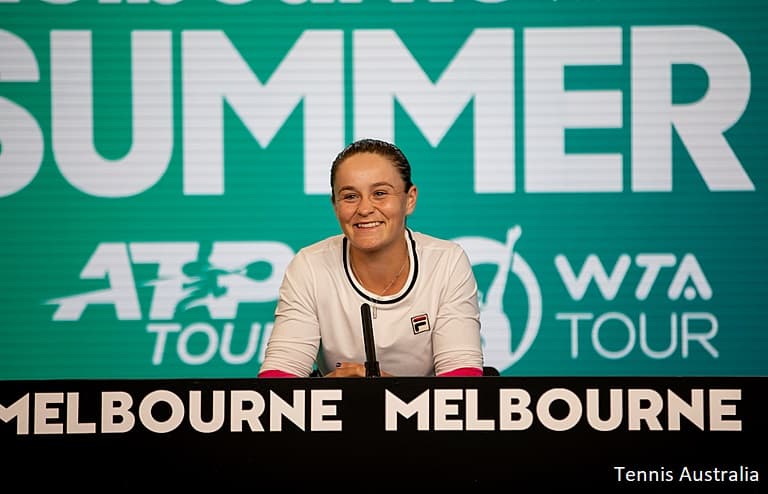 ATP CUP
Russia claimed the second ATP Cup to be played. In its inaugural year in 2020 the event had 24 nations with Brisbane, Perth and Sydney used as host cities. This time there were twelve teams and the whole event was in Melbourne. 
Russia with Daniil Medvedev and Andrey Rublev were amazing in the final against Italy. The two players totally dominated proceedings. Rublev was like a tornado against Fabio Fognini beating him 61 62 and then Medvedev nailed the coffin shut with a 6-4, 6-2 victory over Matteo Berrettini.
Medvedev extended his win streak to 14 with this win and he now has ten victories over top ten players. He said:
"That's great. I can't tell you anything else. Usually, I'm easy answering questions just it's a really big achievement; it's a big boost in confidence."
Last year's champion nation Serbia with Novak Djokovic failed to make the semis. Their fate came down to a shoot out with Germany and it went to a deciding doubles match which Germany won, putting them into the semis where they faced Russia. 
On the other side last year's finalists Spain were supposed to have Rafa Nadal as part of the team but he sat on the sidelines the whole time due to back muscles that had tightened. In the semis they lost both singles to Italy.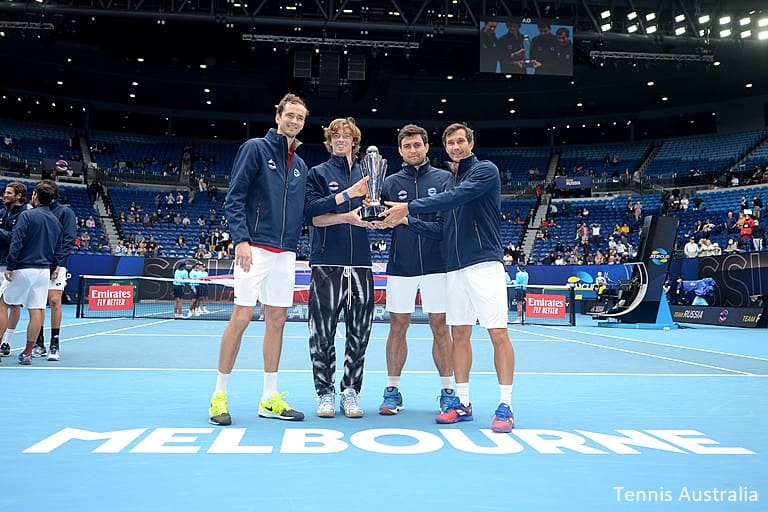 MURRAY RIVER OPEN and GREAT OCEAN ROAD OPEN
Whoever was to win the Murray River Open would be winning their first career title. Dan Evans was in his third career final while Felix Auger-Aliassime was playing his seventh – third time lucky or lucky seven. 
At 30, Evans scored his first title, defeating the Canadian 6-2, 6-3 and became the twelfth British man to win a singles title in the open era.
"I'm not stupid, you know. I'm lucky Stan (Wawrinka) pulled out, and all respect to Jeremy Chardy (who he played in the semis), it's an easier match than Wawrinka. But you've still got to take your chances and there's no better practice than matches for me. I'm delighted how this went. It was a good day."
The Great Ocean Road Open was an all-Italian affair as one of the most exciting prospects in tennis, 19-year-old Jannik Sinner won his second title by beating Stefano Travaglia 7-6, 6-4.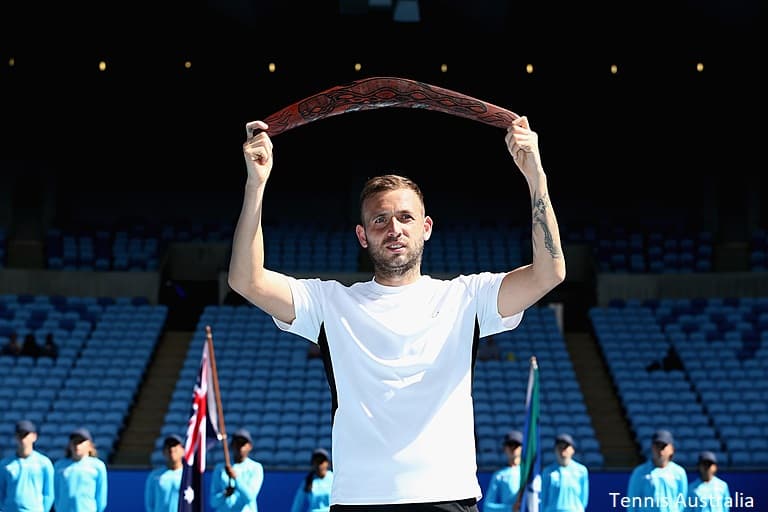 GIPPSLAND TROPHY and GRAMPIANS TROPHY
Elise Mertens, playing her tenth final claimed her sixth title when she beat Kaia Kanepi 6-4, 6-1. This was the Belgian's 26th match win and she has won more matches than any other woman since the tour restarted last August. Mertens got the benefit of Naomi Osaka giving her a walkover but as Dan Evans said you jump on any chances you get.
The final of the Grampians Trophy was not played as time caught up with the program. This was the event that was last minute for players from hard quarantine. It ended with two finalists Ann Li and Anett Kontaveit sharing the spoils.