It is thanks to an awkward moment followed by a rant that this tennis player took the top of We Are Tennis funny ranking this week. Who is it? Just click to find it.
Selfie gate, safety controversy, debate on arbitration... And first rounds passed smoothly: Roger Federer has animated the beginning of Roland Garros. Enough to occupy the top spot in our ranking this week, before a Nadal focused on his Decima goal and a very glamorous Sharapova, as always.
1- Roger Federer (+2).
Two victories in three sets to start the fortnight: Roger Federer played it safe for the beginning of the tournament. The big games, that will surely be for the second week. Meanwhile, the Swiss started the tournament in tourist mode, with a Photoshop specialty.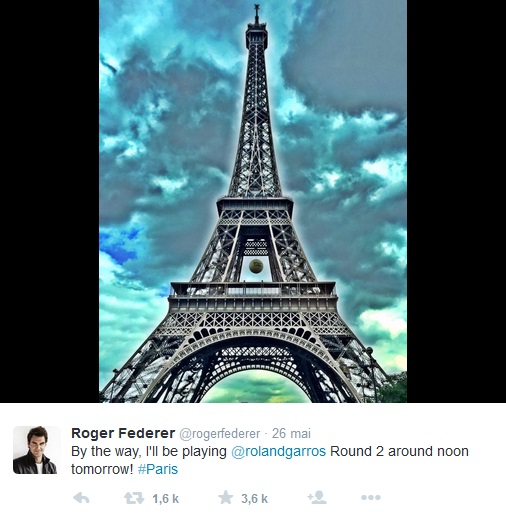 More than his sports results, it's the attitude, a bit tense, of Roger Federer that earned him the first place in this week's rankings. We obviously think about his refusal to take a selfie with a cheeky kid who entered the court without permission.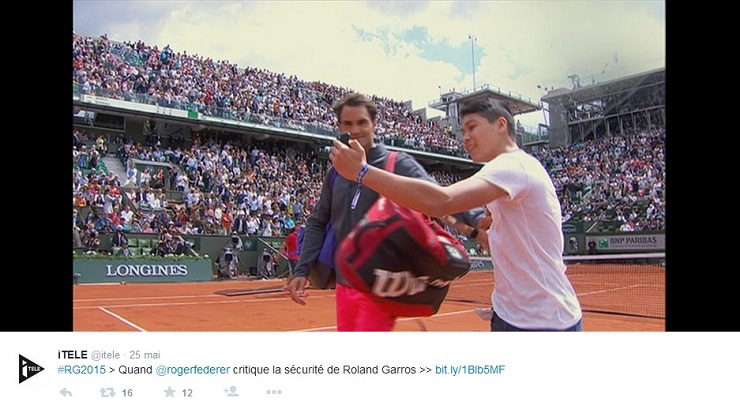 Embarrassing moment followed by a moral lesson at the press conference. A controversy that that amused the cyclist Chris Froome, accustomed to the warm atmosphere of the big tours.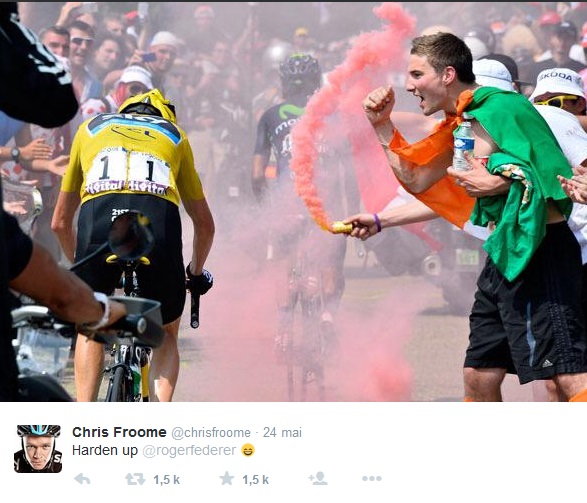 Not enough to upset the placid Federer, who knows he can count on many supporters at the French Open, such as Angus Young of AC/DC. Rock'n'Roger!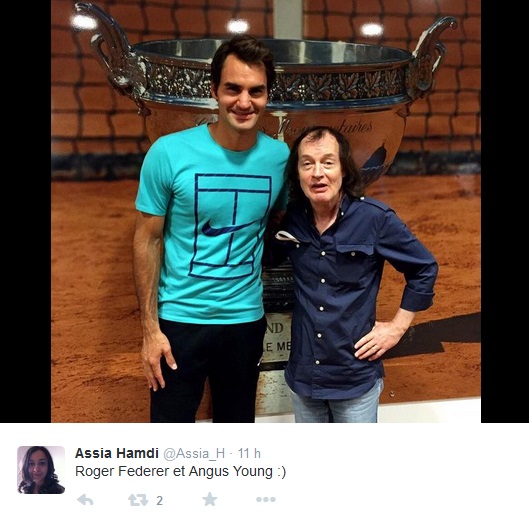 2- Rafael Nadal (+7).
Rafael Nadal is expected to perform and he knows it: this Roland Garros tournament, it's a bit like his second home. This year, he aims for a tenth victory in eleven participations. The ninth, won last year, was officially put back into play during a ceremony in which the Spaniard posed along Maria Sharapova, winner in 2014 in women.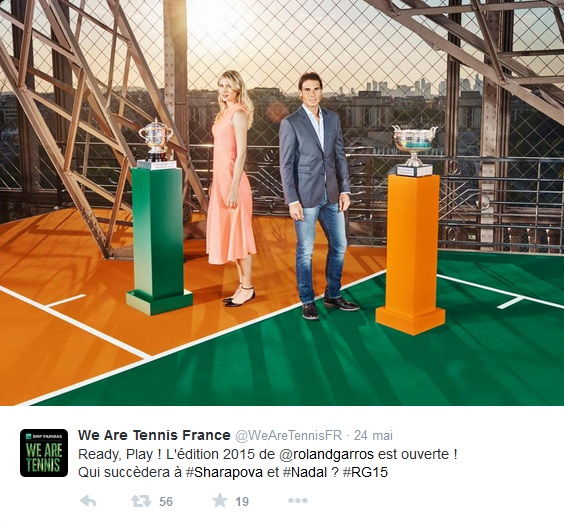 Nadal also announced the opening of his brand new Instagram account by posting a picture of him... on Twitter. Why not.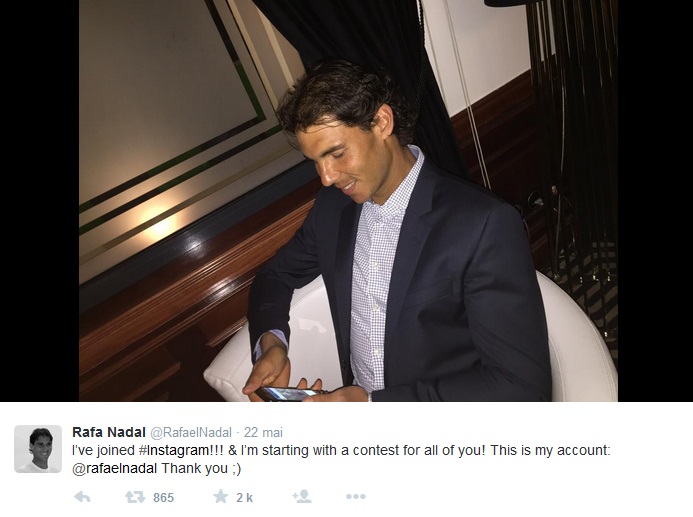 If he doesn't master social networks as well as other tennis players (like Djokovic for example), it is not what his fans expect of him. And his fans are extremely numerous in Paris, see for yourself!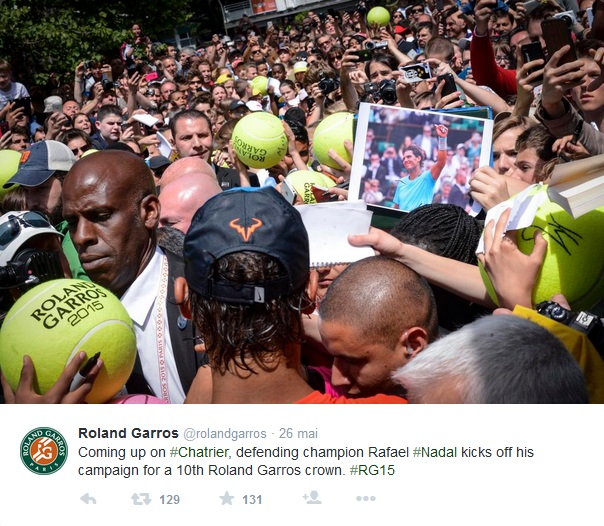 3- Maria Sharapova (-1).
The defending champion started her Parisian fortnight as she knows how to do so well: by striking a pose with for the occasion for a very special orange outfit. Well it's all about ochre, right?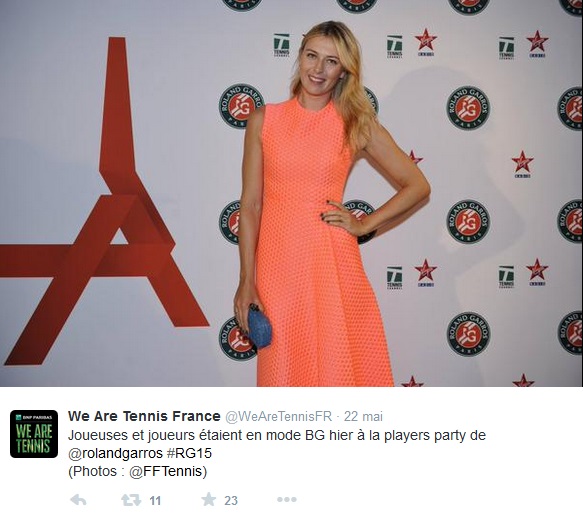 On the court, however, the big trend this year seems to be striped French sailor shirts. Tribute to Brittany or Jean Paul Gaultier? She herself gave the answer on Twitter...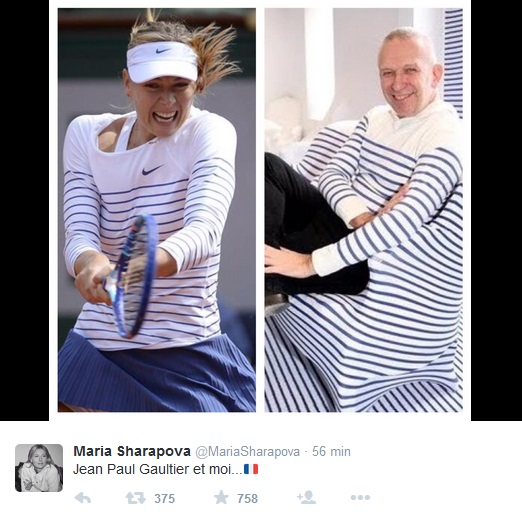 Undisputed star of women's tennis, the Russian is a respected businesswoman, as evidenced by the front page of the Financial Times last weekend. Maria is looking very serious with a steely eye.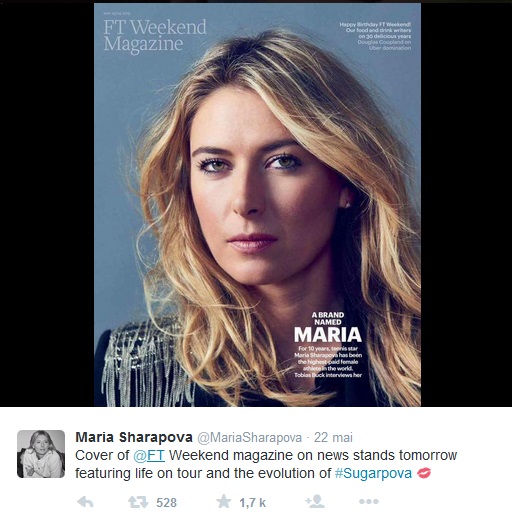 The Russian is so serious that she doesn't have time to play the tourist. Or just a little, from afar and in a taxi!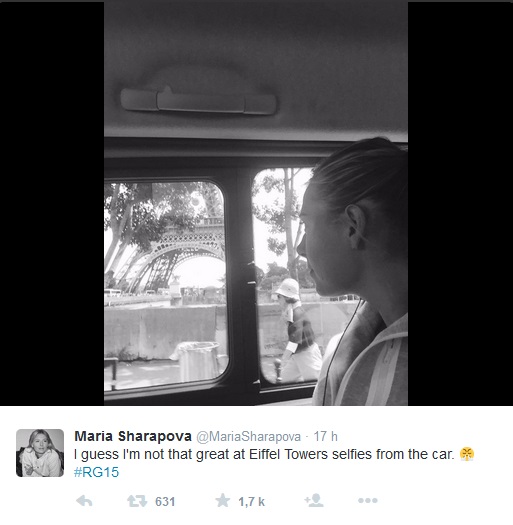 4- Novak Djokovic (-3).
News from the Djoker, anyone? The former number 1 of our ranking remains in very good position. Not only because he's the best racquet in hand at the moment but also because it's the nicest. The proof.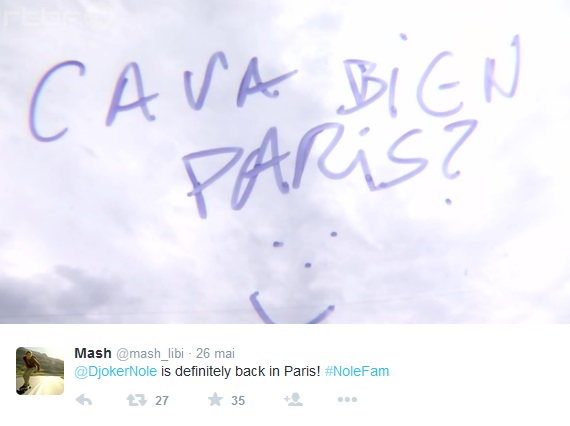 But Djoko is just a simple man, with guilty pleasures, like watching the Eurovision Song Contest with his compatriots.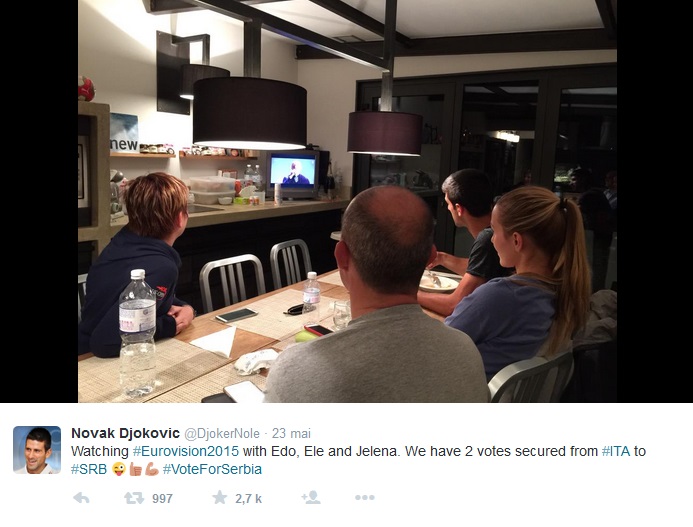 A tacky moment quickly made up for with this picture taken in the taxi taking him to the Stade de France, tickets for an AC/DC concert in hand.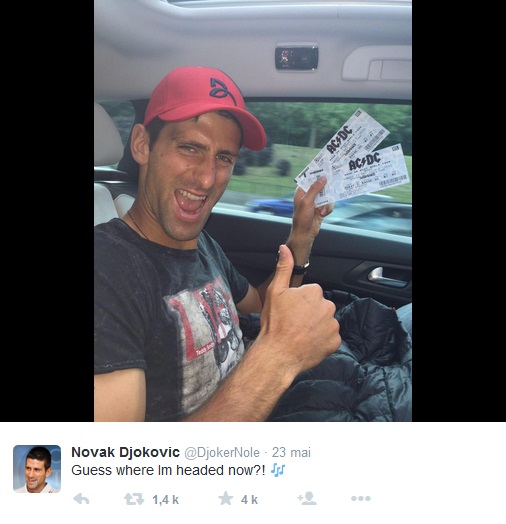 Happy like a kid.
5- Gaël Monfils (NE).
Gaël Monfils on clay, at home in Paris, it's something we will never get bored of.
Since he's at home, he can also play FIFA 15 with his friends between games.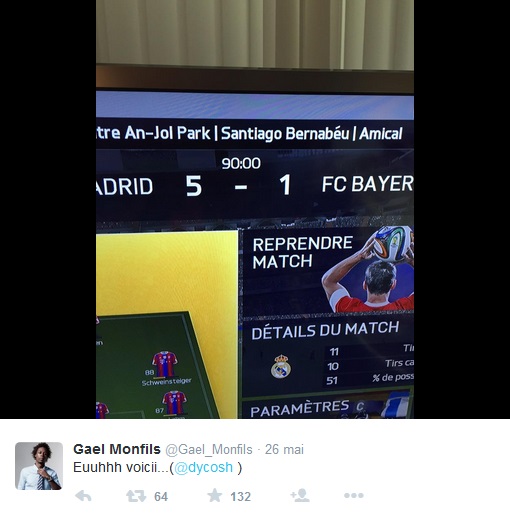 But the "Monf '' doesn't forget his Caribbean roots and when he gets annoyed by a bad shot and talks to his family in the stands, he talks in Creole!
We didn't understand everything but he did not look very pleased with himself and the inconstancy of his opponent...
6- Benoît Paire (NE).
Other French in the spotlight at the beginning of fortnight, the fiery Benoit Paire, who won the electric shock of the second round against Fabio Fognini. An opponent about whom he said, as an expert: "He's crazier than me, even though I am quite deranged myself!" A hell of a prankster this Benoît, don't you agree Roger?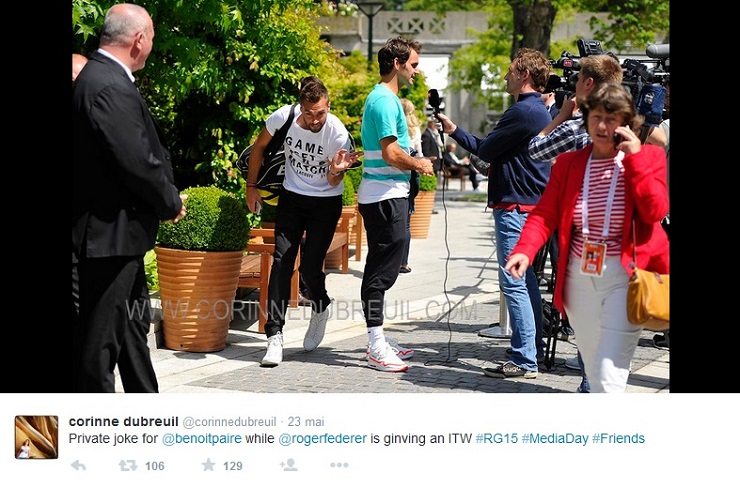 Meanwhile, it was in the stands that the match between Paire and Fognini degenerated. At least for a few seconds...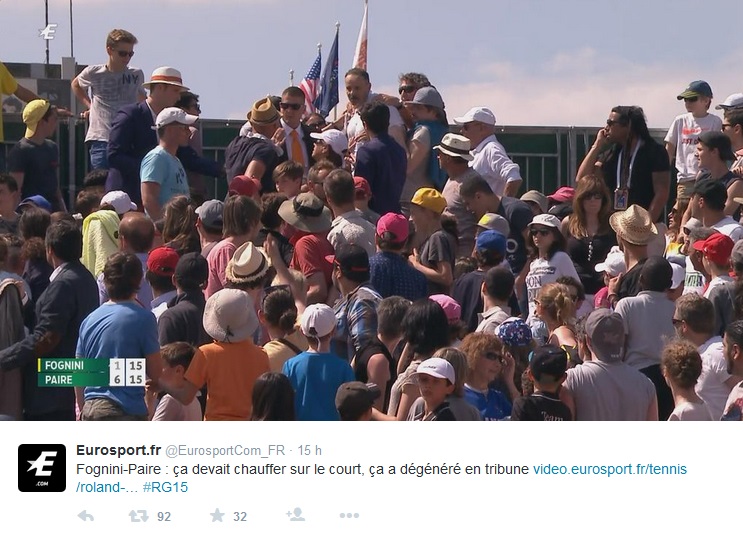 Not enough to destabilize the French, who seems to have matured. After his victory in the second round, he expressed his desire to reach the second week. We sincerely wish him to achieve this goal.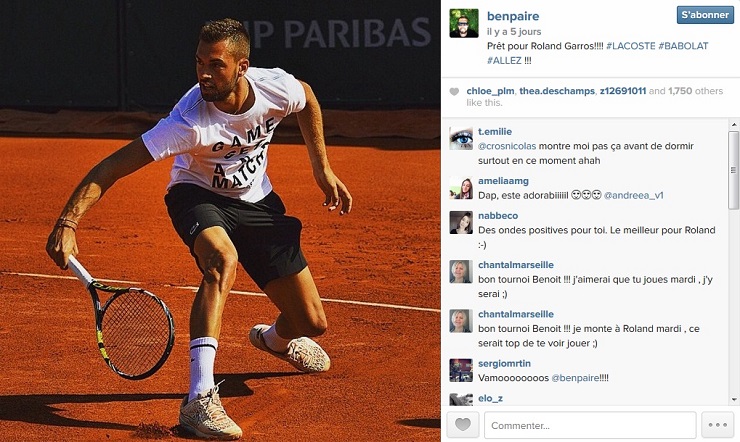 7- Kristina Mladenovic (NE).
A French woman in the spotlight this time, which is rare these days but still well deserved for "Kiki" Mladenovic, author of one of the best performance so far this week with the elimination of the Canadian Eugenie Bouchard, who isn't at her best right now...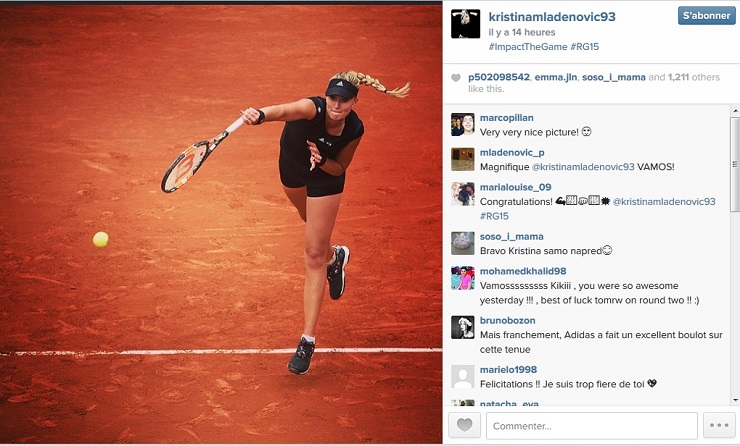 Mladenovic, who, as a bonus, passed the first round of the doubles tournament with her sparring partner, the Hungarian Timea Babos. A very efficient duo with three victories in 2015 already, Dubai, Marrakech and Rome.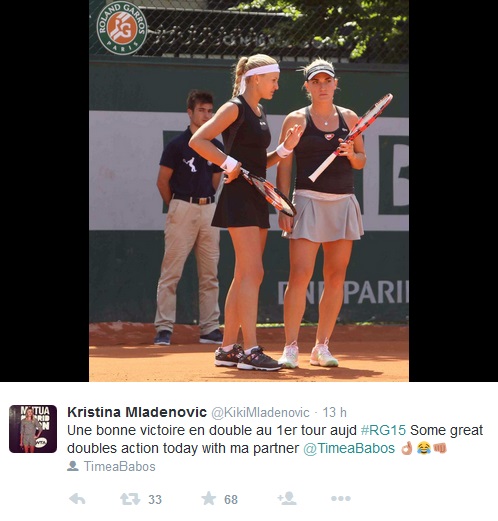 8- Jack Sock (NE).
Another big sensation of the first round: the elimination of the player seeded number 10, Grigor Dimitrov, by the American Jack Sock. "Baby Federer" has even been swept away in straight sets (7/6, 6/2, 6/3)! The American is playing the Parisian tournament with a heavy heart since he has a sick grandfather to whom he paid tribute.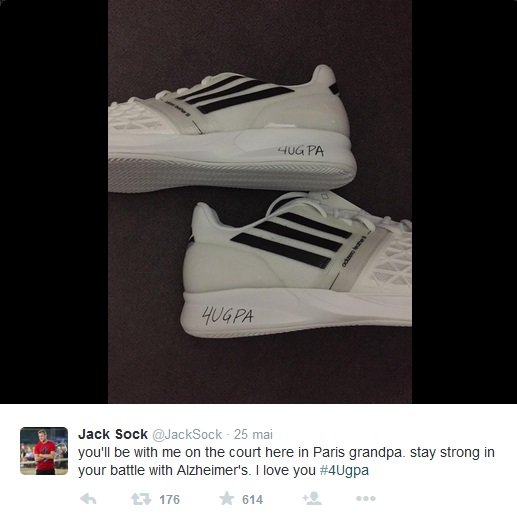 Jack Sock: a man with a big heart, definitely. Another proof? He volunteered for an initiation to doubles tennis in wheelchair with Nick Kyrgios. Enough to delight the Parisian public.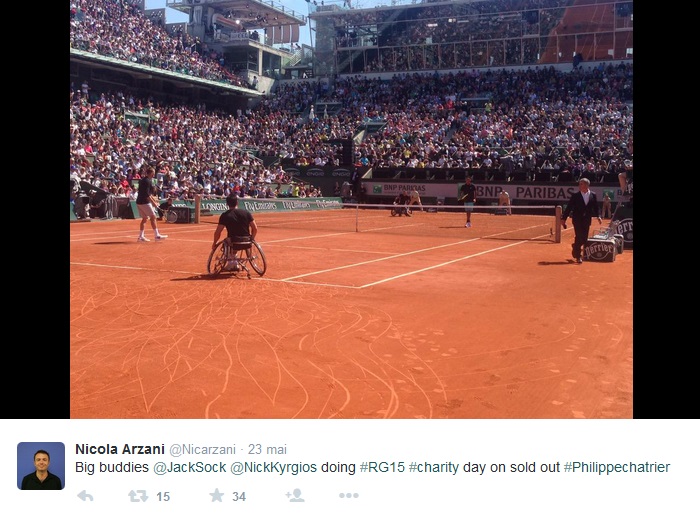 9- Andy Murray (-4).
Nice outsider of the tournament, Andy Murray lived a very smooth first round concluded 6/3 6/3 6/1 against the Argentine Arguello, lucky loser. With, for the newly married Scot, a secret weapon, or rather a somewhat special shoe: the ring tied in the shoelaces!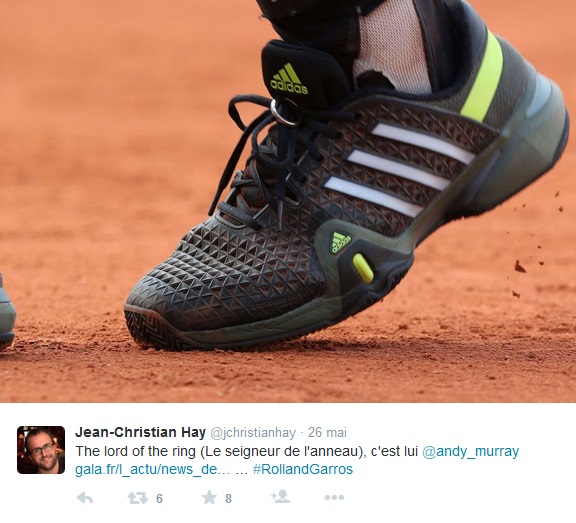 While waiting for more challenging matches, Murray can enjoy the tournament as a spectator to encourage his very young compatriot Kyle Edmund. A support that paid off with the elimination in five sets of the French Stephane Robert. Edmund however, could not face Kyrgios as planned in the second round since he had to withdraw, due to an abs weakness.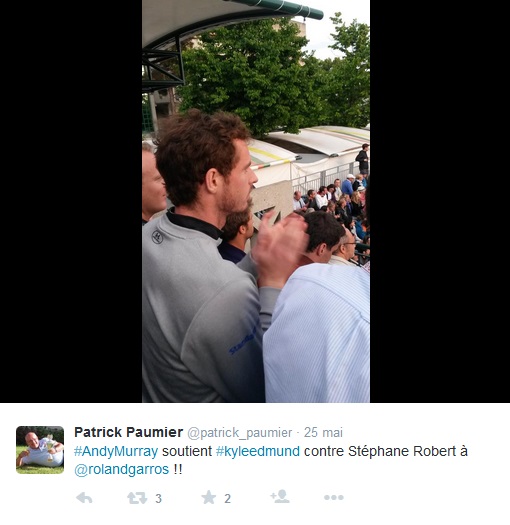 10- Mikhail Youzhny (NE).
Bad boy of the tour episode I, with the incredible withdrawal of the Russian Youzhny from his entry in the tournament. The reason? So irritated, he hit his forehead with his racquet so hard that he hurt himself! The worst part is that it's not the first time this happened to him... At some point, he could be interesting to calm down and chill, right?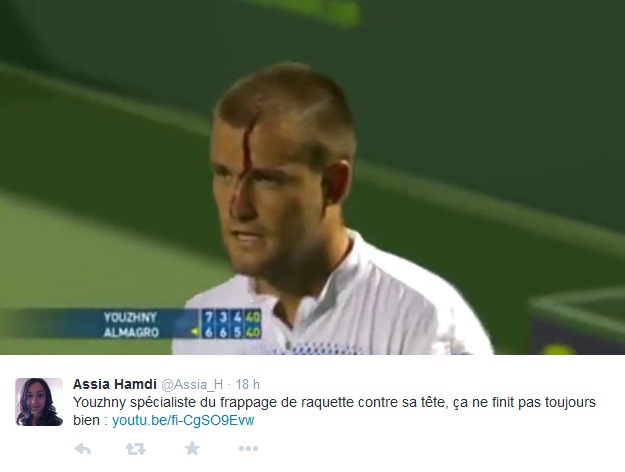 11- Jerzy Janowicz (NE).
Bad boy of week, episode II, with the tense opposition between Jerzy Janowicz and Maxime Hamou, during which they called each other names and ended with a handshake quite... manly.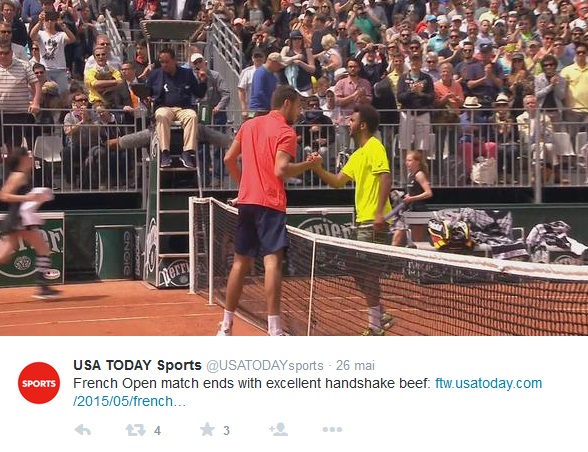 "In the second or third set, he did a full power return on a service called fault and the ball went forty centimetres away from me. He could have apologized later but he didn't" said Hamou after the game. The French was avenged in the second round, the Pole was eliminated of the tournament by the Argentine Mayer. Boom.
12- Illya Marchenko (NE).
It's possible that you didn't know Illya Marchenko. No one will hold it against you: out of the qualifications, the Ukrainian fought a great battle with Berlocq but was defeated in five sets after leading two sets to none (4/6 3/6 6/3 7/5 6/2). But people will remember him for being the worst dressed player of this Roland Garros 2015.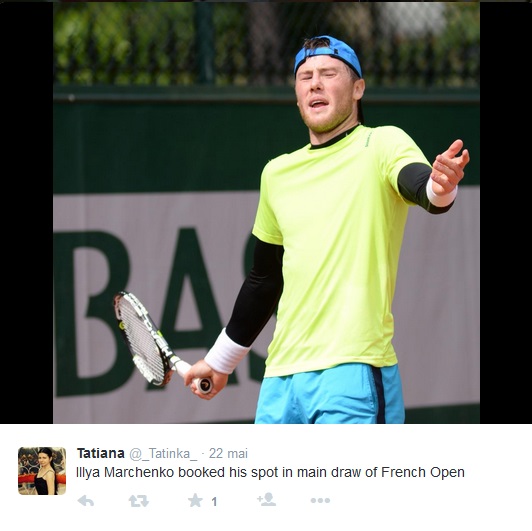 Well done, good performance.
13- Nicolas Mahut (NE).
Another French making noise at the beginning of the tournament: Mahut, more used to fast surfaces, won against the whimsical Gulbis in the second round, but managing to stay focused wasn't always easy, as he admitted afterwards: "It's difficult to play against him, because the pace is completely broken. You think he's going to serve and finally he starts talking, to people, to the umpire, to the birds... "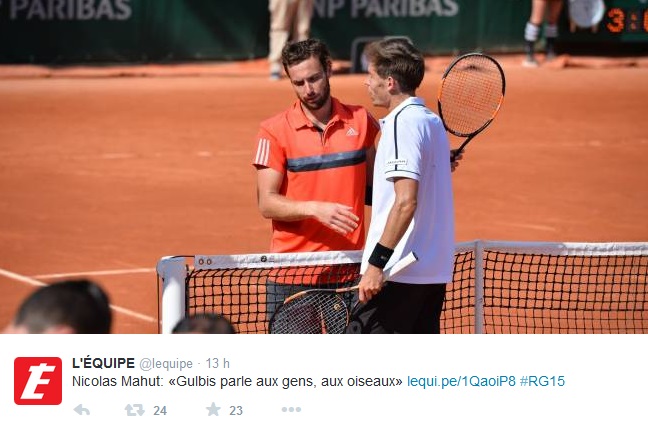 A Mahut who doesn't forget where he comes from and who greeted the performance of his favourite football club, the SCO Angers, just promoted to French First division.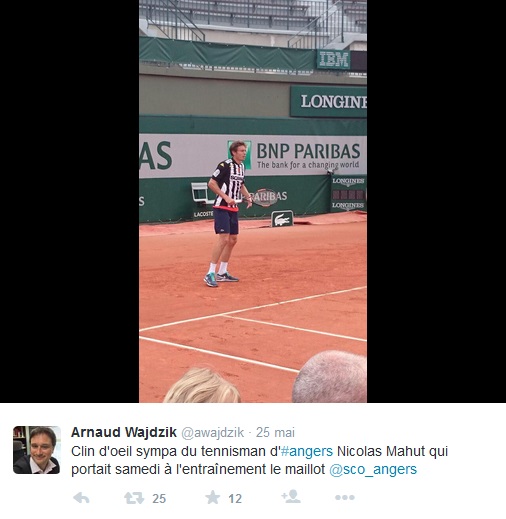 Next step, a picture of him in the singing corner?
14- Serena Williams (-8).
Serious match for the world number 1, except this laughter during her easy victory in the first round against the Czech Hlavackova (6/2 6/3).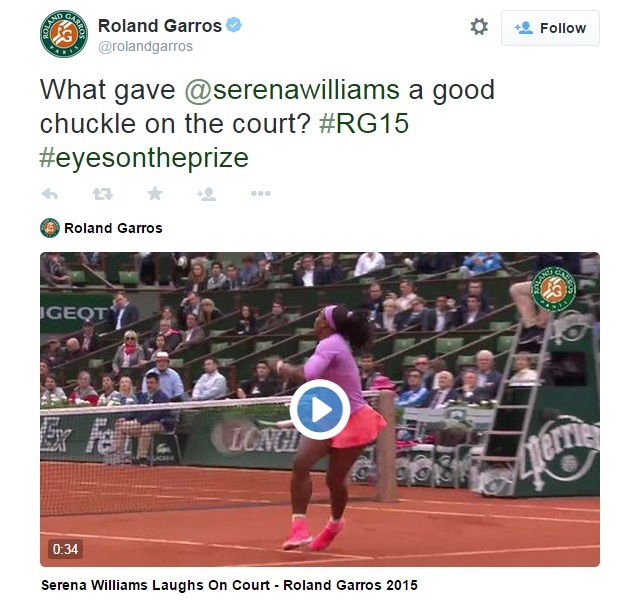 Just before the tournament, we also saw Serena parade in her suite…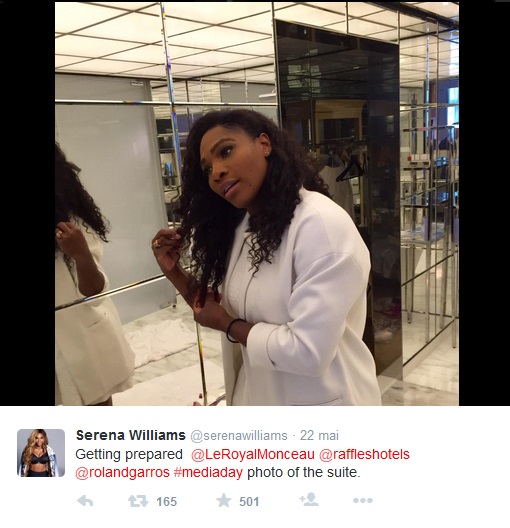 …Before posing in front of the Eiffel Tower for a sponsor.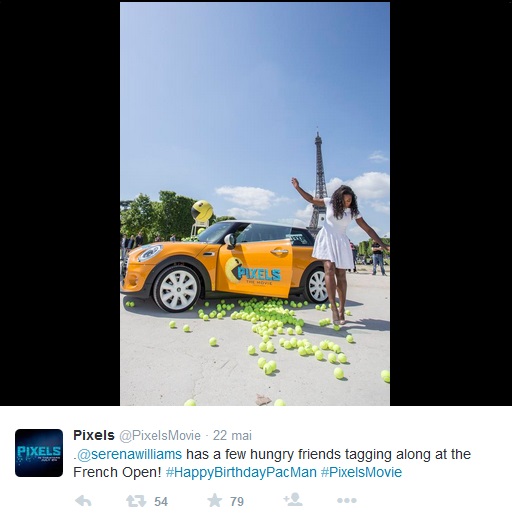 Apparently, it was to celebrate Pac man, that officially turned 35 last week. Happy birthday!
15- Jürgen Melzer (NE).
While we're at it, Jürgen Melzer, one of the old hand of the tour also celebrated his birthday this week.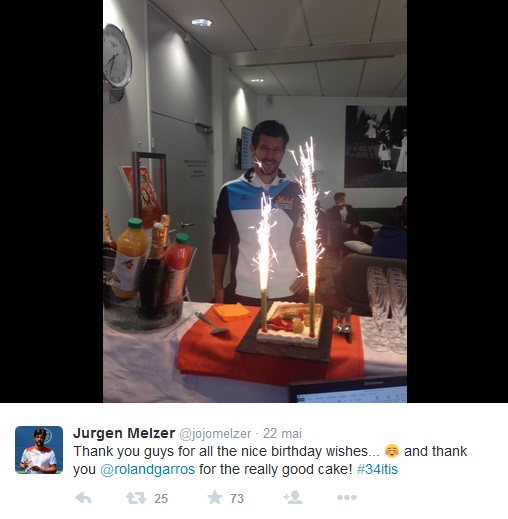 Melzer is supported at Roland-Garros by his family, came in number to support him. But also by Bastian Schweinsteiger, the Bayern Munich and Nationalmannschaft midfielder.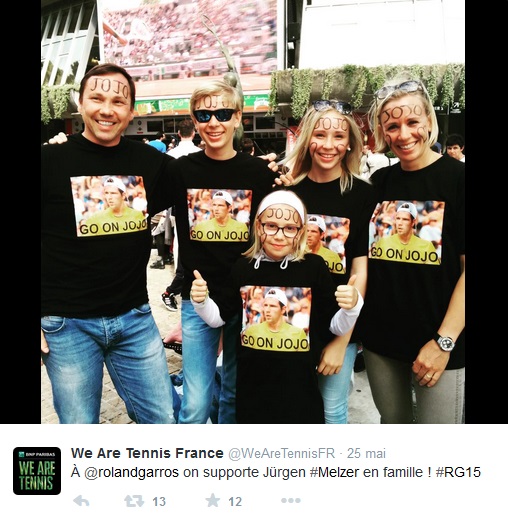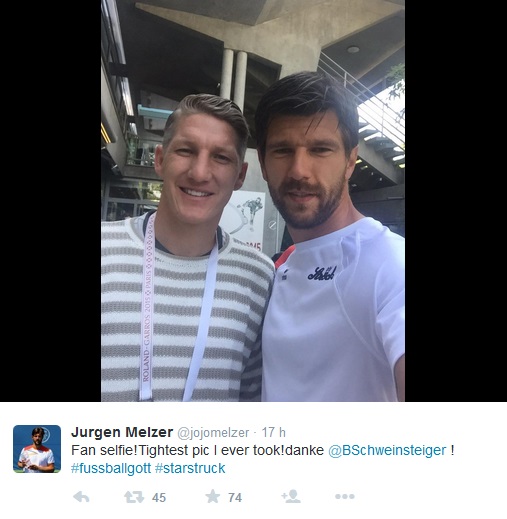 Supporters than allowed the German to get rid of Adrian Mannarino in the first round (7/6 6/3 7/6).
Out:
Wawrinka, Fognini, Wozniacki, Kyrgios, Vesnina, Berdych, Na Li, Baghdatis