Chris Evert won 18 majors during her illustrious career and Roland Garros was her most successful. The tennis legend has picked a Spaniard to win the men's singles at the French Open, which is just around the corner writes Craig Gabriel.
Chris Evert knows a thing or two about winning Roland Garros, after all she did win seven of them between 1974 and 1986 which is more than any other woman. So, when she makes a statement about her thoughts going into this year's French Open, you pay attention.
Evert has anointed Carlos Alcaraz as the favourite for Roland Garros which starts on 28 May and has bypassed Novak Djokovic and Rafa Nadal. She feels they can't be considered the favourites ahead of the just turned 20-year-old and now that Alcaraz has won Madrid, there is even more reason to make him favourite.
The 18-time major winner was speaking on Eurosport and strongly feels Alcaraz will lift his second career major title, the Coupe des Mousquetaires on Court Philippe Chatrier on 11 June. One of the points she cites is both Rafa and Novak have been troubled by injuries, although Djokovic has now been practicing in Marbella where he has a place without any support on his injured elbow.
"When I look at Novak and Rafa, there are question marks about their health," Chrissie said. "These two have been the greatest clay court players of the last few years, but as they get older, they get a little bit injured, and we don't know what their status will be. So, I think Alcaraz is primed for this title at the French Open.
"Like everyone else, I am jumping on the bandwagon with Carlos because we have never seen a player with so much passion and so much hunger in such a long time. The guy has it all; he's got the athleticism, the skillset, he knows defence, he knows offence and he has no weaknesses.
"To me, if he keeps himself healthy and hungry, I think the title is his.
"If Novak and Rafa were not injured, I would have a different view and when Rafa is 80 years old, I wouldn't rule him out from winning the French Open! So, I am not dismissing them, but I just feel their preparation isn't great, but Novak and Rafa have superior experience.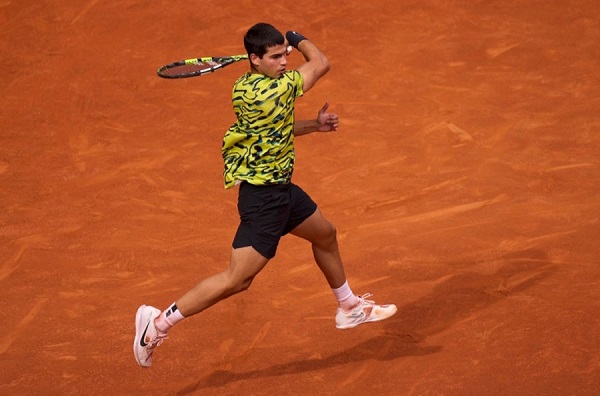 "They know better than anyone how to navigate their careers and they know how to manage their emotions. They also favour the majors more than anyone.
"They could come out of the starting gate playing vintage tennis, but on current form, you would have to slightly favour Alcaraz."
This year would be only the third time Alcaraz will be playing Roland Garros compared to the 19th for both Nadal and Djokovic (first year was 2005 which Nadal won, and Djokovic lost second round) with Rafa winning 14 titles and has only been beaten there three times (he withdrew mid-tournament on one occasion).
Chrissie also suggested it would be so interesting and fascinating to be able to witness Alcaraz face both Djokovic and Nadal in best of five-set match on the Roland Garros clay.
"Wouldn't it be great to see Alcaraz playing a healthy Nadal," added Evert. "If you ask me what match I'd like to see, I'd say Rafa v Carlos, second only to Novak and Carlos.
"We could see some outsiders coming through. Jannik Sinner has come a long way and working with Darren Cahill has made him more professional and made him stronger physically.
"He has gone toe-to-toe with Carlos a few times, but I would still back Alcaraz to come through and take the title given what we have seen on the court in the first weeks of this clay-court season."
Alcaraz was a quarterfinalist at last year's Roland Garros, but he is such a different player now. The maturity and experience he has developed in the last twelve months are incredible. Since winning the US Open, he has been the standout in men's tennis.
 
More information about
Players
Tennis Legends
Tournament