The United Cup is the first mixed teams event that has seen the ATP and WTA come together and it is being staged by Tennis Australia. Craig Gabriel has an overview of tennis' newest tournament.
Tennis bids welcome to a brand new event, a mixed event, the United Cup and for the first time a mixed teams event is being played across three cities – Sydney, Brisbane and Perth. $US15million and valuable ranking points are on offer to the 18 nations that will contest the tournament with the finals to be staged at the Ken Rosewall Arena in Sydney.
In the round robin preliminaries Sydney will play host to Australia, Spain, Germany, the USA, the Czech Republic and Germany. Brisbane's Pat Rafer Arena is the base for Italy, Brazil, Switzerland, Norway, Poland and Kazakhstan while France, Greece, Argentina, Belgium, Croatia and Bulgaria will take to the courts in Perth.
Normally a brand new tournament, especially one as big as this, takes the better part of a year to assemble and logistically it is a huge effort but this jigsaw puzzle has been created from nothing in barely three months, including the creation of a 15 kilo trophy that would normally take 12 weeks to make but was only ordered from Thomas Lyte, the silversmiths and goldsmiths company with a Royal Warrant to Her Late Majesty Queen Elizabeth, with way less than that time before the first ball was hit.
"To put together an event like this, the ink only dried on the contact with the tours, mid to late October, so everything you see from the brand to the trophy to the court design to the team benches with touch screens where captains can see 16 feeds from around the court have come together very quickly," Tournament Director Stephen Farrow said.
"Even ideas we came up with a week or two ago are now actually happening. It's all very exciting and it was great to see it taking shape. With the trophy, Thomas Lyte managed to make it in eleven weeks. There's a lot of symbolism in there like bringing together the men and the women and there's a bowl that symbolises sharing, there's a lot of reflective surfaces to reflect the dynamism of the sport. It is 24ct gold plated on sterling silver and it's something we are really proud of and it's really, really special and we are very excited about it all.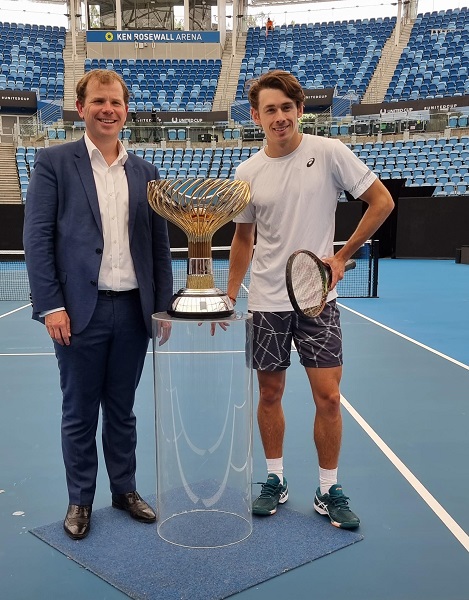 "There is plenty of national pride on the line and all of us at Tennis Australia and the ATP and WTA felt that this is something that tennis has needed to have for a long time. Tennis is in such a fortunate position to have fantastic high-profile athletes in both the male and female sides of the game, and to bring them together is something we are really excited about."
There are nine (at time of writing) players in the top 10 – Taylor Fritz, Jessica Pegula, Rafa Nadal, Casper Ruud, Caro Garcia, Iga Swiatek, Hubert Hurkacz, Stefanos Tsitsipas and Maria Sakkari with three nations, Spain, USA and Greece with a top 10 man and woman in their sides. On top of that players in the United Cup have won 31 grand slam singles titles and 24 grand slam doubles titles.
Alex De Minaur who will be joined by Ajla Tomljanovic and Jason Kubler (Nick Kyrgios withdrew due to injury the day before the event started) as part of the Australian team was on hand for the trophy's unveiling in Sydney, having arrived from Spain the night before.
"It's always extra special when you are representing your country (and) as I have said in the past, I don't think there is a greater honour than representing your country," De Minaur said . "It just brings the best out of me and being here in Sydney in front of friends and family, on an amazing court where I have had so many great memories is going to be one to add to. A new tournament, a new experience for a lot of (players), there's a lot of excitement around the grounds and I'm excited to be part of Team Australia."
Here is a breakdown of which nations meet in the round robin
ARG v FRA and CRO
AUS v GBR and ESP
BEL v GRE and BUL
BRA v ITA and NOR
BUL v BEL and GRE
CRO v ARG and FRA
CZE v GER and USA
ESP v AUS and GER
FRA v ARG and CRO
GBR v AUS and ESP
GER v CZE and USA
GRE v BEL and BUL
ITA v BRA and NOR
KAZ v POL and SUI
NOR v ITA and BRA
POL v KAZ and SUI
SUI v KAZ and POL
USA v CZE and GER
When the round robin competition ends the top nations will then assemble in Sydney for the finals.