Tennis at the highest levels is one of the great sporting challenges and the drive and dedication of the elite is a highlight of the sport to watch and marvel at, while following the different career paths of players like Novak Djokovic and Andy Murray writes Craig Gabriel.
Tennis at the highest levels can be such a contrast and conflicting and things can change so quickly. The past weekend is such a case in point. It does not seem that long ago that the likes of Novak Djokovic and Andy Murray were squaring off in the finals of majors or Roger Federer and Rafa Nadal played some of the greatest finals the majors have ever witnessed.
Roger is no longer on the courts challenging. Rafa has just has more surgery. Novak won a title. Andy also won a title. However, the difference in those titles is as vast as the Grand Canyon, but still those titles have incredible significance to the two men, one week apart in age, who won them.
Djokovic's third crown at Roland Garros was amazing. It provided him with the men's record of 23 majors, tying him with Serena Williams and leaving him one behind Margaret Court's all-time record, a record he could very well break at the US Open which would then make him just the third man, after Don Budge and Rod Laver (twice) to win the ultimate prize in tennis, the calendar Grand Slam. 
On the other side of the English Channel in Surbiton, a suburban enclave in the south west of London was holding its usual Challenger tournament which sort of kick starts the grass court season and usually provides early dismissals from the French Open to get their first sniff of the grass. 
Red clay and lush green grass the only natural surfaces the sport is played on are poles apart and it takes a bit of getting used to. The transition can be awkward going from the higher bounce of the ball, with a slightly slower pace, to the low bounce on the ball on a surface when the ball tends to skid. For many players playing on grass would be like watching a cow on an ice rink.
Few players have mastered the surface while some have made history on it. It does tend to take a bit long to get used to it as the grass season is so short. Some even skip the clay season to firm up their footing on grass. Ivan Lendl would do that in his latter years and his charge Andy Murray has done the same.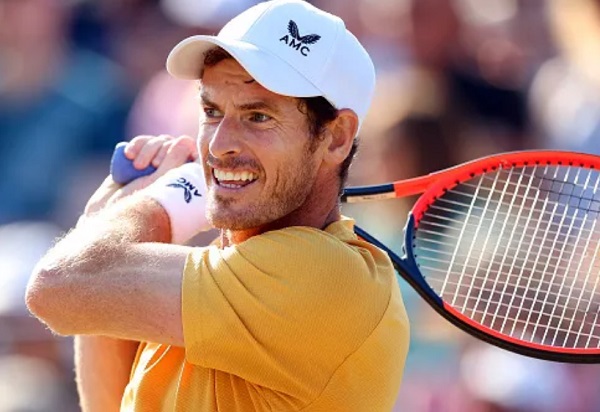 So, while Novak created his history on the clay, Andy was celebrating his grass victory in Surbiton. And it was an important win for the 36-year-old, and historic, maybe not in the same vein as Djokovic's Paris victory but historic nonetheless, in that he became the oldest man to win a grass court Challenger title.
Andy said his wife Kim helped provide his with additional inspiration when he received a text message from her which helped put things into greater perspective for one of the most down-to-earth players in tennis while also congratulating Djokovic for his feat of excellence.
"Obviously I would love to be competing for Grand Slams and to be in that position (but) I am also aware that what they have done is incredible and what he is doing at his age is brilliant," Murray said. "We have completely different journeys and what happened with my hip when I was in the peak of my career was really unfortunate.
"But I got a message from my wife when I was driving (to Surbiton) saying she had seen Novak on the news that he won in Paris and said she was so proud that I was still grinding it out in Challengers and still working as hard as I ever have done and that means a lot to me.
"You can't always compare yourself to other people and to people who are more successful than you. I probably learned that more as I got older. (and) when I was in my mid-20s I would always get asked, 'When are you going to win things, all these guys around you are always winning', and I always wanted what they had.
"Once I started to accept that I shouldn't be comparing myself against other people and I should just focus on my own journey and working as hard as I can to achieve the goals I want to, that's all you can do and that's what I'm doing.

"Whether I win another Grand Slam or winning Challengers is the peak for me now, I am okay with that because I am doing what I love to do.
"I was happy for Novak on Sunday and what he has achieved is incredible. When I look back, the fact I was winning my Slams and Olympics against those players is brilliant and I'll be very proud of that."
And so he should be. Andy added: "Maybe he can take his eye off the ball for the next few weeks heading into Wimbledon!"