The last major of the year is upon us, the US Open, which will carry over $US60million in total prizemoney. Craig Gabriel previews the next couple of weeks at Flushing Meadow.
Approximately 50 weeks ago there were two sensational moments at the US Open. Emma Raducanu, all of 18 years of age and playing just her second major, came through the qualifying rounds and created one of the most phenomenal moments of tennis history by winning the championship. Barely three months before she had completed her school final exams. 
A day later Novak Djokovic was one win away from becoming only the third man in history to win the actual Grand Slam. He was aiming to join American Don Budge and Australian Rod Laver who is the only player to have achieved that feat twice. Daniil Medvedev was across the net, and he had other ideas. The Russian played the match of his life and turned Djokovic's dream into a nightmare.
Raducanu has not won another tournament since that September evening. Anyone who thought otherwise was crazy. She is still learning what she has to do and she is getting used to the attention and understanding how to handle things. She certainly should not be expected to win the Open again this year and disappointingly and annoyingly people will label her a one-hit wonder. That would be so incredibly wrong.
"I played really good tennis (in Cincinnati). I was swinging with the freedom that I started to tap into this week. And I did really enjoy this week, like if I made an error, it was almost a positive thing, like, good, you are kind of going for it. It paid off a lot more than it didn't," Raducanu said of her wins over Serena Williams and Vika Azarenka as well as her loss to Jessica Pegula.
"I also think, honestly, that my opponents have been playing a lot better this year, and I'm rewatching my matches from the US Open, and there are certain moments where I was given a lot of gifts or maybe they got a bit tight, or, you know, something like that. I think I have improved actually as a player. I'm finding this sort of freedom in my swinging; I think that I achieved something great, of course, but it was, like, I was playing completely free and I'm starting to do that again."
For Medvedev it was a brutal first match in Montreal when he lost to Nick Kyrgios, which came the week after winning the much smaller event in Los Cabos, but in Cincinnati the world No.1 appeared to have got himself back on track and there is more effectiveness with his serve. Additionally, his defensive game was on the money.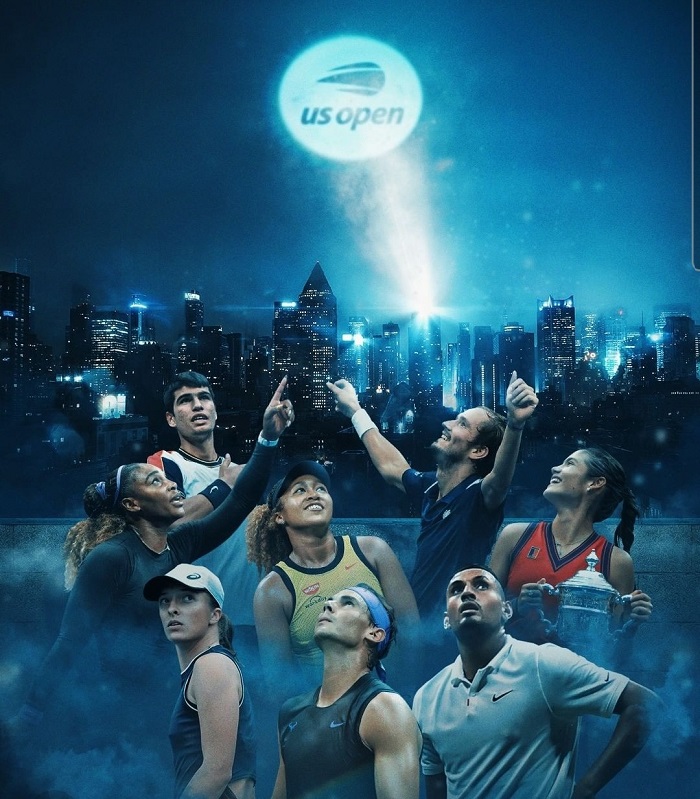 "I hope to play well in US Open. When I say 'well', it's to try to be the winner," Medvedev, the world No.1, said, "but there are a lot of guys like Nick (Kyrgios), like Carlos (Alcaraz), who can win the US Open. Stefanos (Tsitsipas), Rafa (Nadal). A lot of good guys. I want to show my best tennis."
The US Open is obviously going to have the spotlight on Serena Williams. The 23-time major winner will be playing her last event. Her announcement in Vogue while not unexpected still took the tennis community by surprise. Serena does things her way and there is nothing wrong with that.
It was 1998 that she played the Open for the first time and the year after she won it for the first time. She has won the title six times and this year will be her 21st time playing the tournament. Her return so far has been far from encouraging but for her sake with her farewell, let's hope she is able to put on quite a show but certainly a fairy-tale ending is not likely.
A point not lost on Andy Murray: "It's a time to celebrate her career and everything she's done for the sport, because it's been immense. I don't know how many other players have had that sort of impact on the game. She's been great for tennis. It will be sad."
World No.1 Iga Swiatek, who has been frustrated with the US Open balls and made it clear she does not like the ones that will be used for the women's event at the Open which are different to those for the men's event, seems to have gone off the boil a bit lately. The first half of the year she was outstanding but since winning the French Open she has lost all four tournaments she has played – Wimbledon, Warsaw, Toronto and Cincinnati and only reached the quarters of one. Stepping out at the Open should make a difference for her.
Nick Kyrgios has rightly shot into contention for the US Open with the incredibly tennis he has been playing. It's his last event before heading home for a break. New York is the type of scenario that is right up his alley. He loves the atmosphere and if he gets some night matches, then get ready for show time. Those will be matches to remember. Can he go all the way? Absolutely!
Rafa Nadal last played at the US Open in 2019 and he is so looking forward to going back and just hopes he will be 100% physically. He said after his loss in Cincinnati: "It's a Grand Slam. It's a different kind of tournament. But at the same time, it's tennis. If I am not playing well, probably I will follow the same route than here.
"I need to move forward and just start to think about the energy that the crowd give me in New York. I know it's a very special place for me, and I enjoy it, unforgettable moments there, and I gonna try my very best every single day to be ready for that."
Stefanos Tsitsipas, Carlos Alcaraz, who Kyrgios has picked for the title, Casper Ruud will create a major buzz, all of them along with Medvedev and Nadal are in contention for the No.1 ranking, and then there is the stoic Kazakh Elena Rybakina who will be expected to progress despite a low seeding; she knows all about that sort of positioning, she ended up winning Wimbledon.