Roger Federer and Serena Williams are are both retired (sorry Serena) and the king and queen of off-court earnings but Novak Djokovic is by far the king when it comes to on-court earnings and this is what this story is about writes Craig Gabriel
It is no secret some tennis players make squillions of money both on and off the court. When Ivan Lendl and Martina Navratilova ended their careers their on-court earnings were each about $20million and one wondered if that figure would be topped. Well, they have been more than topped; they were smashed quite some time ago.
The likes of Roger Federer, Serena Williams, Naomi Osaka are money trees, well figuratively anyway. However, when it comes to on court earnings no one, that's absolutely no one, can touch Novak Djokovic as his official earnings could very well be more than God's; he has earned over $160million. There are seven zeros in that figure.
Before he had even reached the final at the recent ATP Finals, it was put to Djokovic that the ATP information sheets suggest that he's got earnings that are more than God's had. 
At the Finals if he went through the tournament with a 5-0 record, he stood to earn a record prize cheque of $4,740,300. The records show he did just that so there was a curiosity if the dollar signs come into his mind at all before, during or after a match.
"No. Only euros. Only euros and dinars," he said laughing. "(Zlatan) Ibrahimovic said something (recently). It was so funny. He was playing in L.A. Galaxy at the time a few years ago and a journalist asked him if he refused $100 million to move to another football club. He said, 'Yes.'

"But the journalist said, 'That's a lot of money. Isn't that important?' (Ibrahimovic) said, "Money is not important. A lot of money is important. And $100 million is not enough." That was pretty funny. Not that I'm thinking this way, don't get me wrong.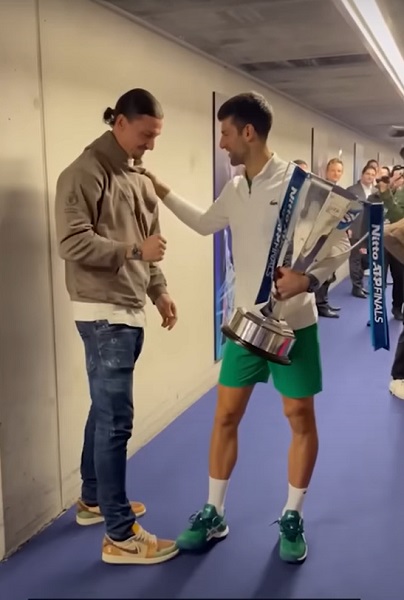 "Look, it's all public information. Of course, people can see how much we are earning. What the media is not writing about is all the taxes and also the other expenses. But that's fine. I cannot sit here and talk about money as an issue in my life or anything like that. I've been very blessed and lucky. It comes as a consequence of my tennis and the success that I've had, along with my family and my team.
"I think that every euro that I've earned was through hard sweat and tears. I don't take anything for granted because I know how it feels like having zero on the table, five family members, war, sanctions. Let's not forget where I come from, in which kind of era I was growing up.

"I know exactly the opposite side, which helps me in life I think to appreciate everything I earn, more."
A Russian Twitter post created a chart that is not official by any means but for the sake of this, it is interesting. Across 2020-2022. Here is a chart of the top four men and the top four women showing the money they have made and the number of matches they have played and what they earned for each match.
MEN (earnings in millions)
Novak Djokovic    $25,546    157    =$162,713
Daniil Medvedev  $15,282    178    =$85,854
Rafa Nadal           $12,802    110    =$116,381
Alexander Zverev $12,378    152    =$81,434

WOMEN
Iga Swiatek        $14,059    148    =$94,993
Ons Jabeur        $7,552      167    =$45,221
Ash Barty           $7,313      75      =$97,506
Naomi Osaka     $6,759      66      =$102,409