Wimbledon, the third major of the year, is so different and so awe inspiring that it can affect players in different ways and to be playing on grass the least used surface on the tour is a challenge. American TV network ESPN arranged a call with tennis legends John McEnroe, who is part of Team BNP Paribas Mac1 with the John McEnroe Tennis Academy, and Chrissie Evert to preview Wimbledon 2023 and Craig Gabriel spoke with them.
Q. Is Novak Djokovic the clear favourite here? Can anyone beat him? What would it mean if we get a Carlos Alcaraz-Novak Djokovic final? How good would that be for the sport? 
McENROE: Absolutely Novak a big favourite. No question about that. Alcaraz is learning quick, as you saw at Queen's, if you watched any of that event. As far as how it would be for the sport, it would be obviously good for the sport that our tennis best players played. I do believe what would be even better for our sport down the road would be a couple American men in the mix.
EVERT: I think, besides Novak's tennis skills, which we all see, he knows that every time he walks out on the court, he is mentally and emotionally stronger than any opponent he's ever played, with maybe the exception of Rafa Nadal, who isn't in the tournament. He feels a challenge. He likes the challenge of playing younger guys. He is the best five-set player. He values every point better than anybody. He's had more experience on the grass. So, yes, he is the favourite for me. 
 
Q. What about Elena Rybakina? She's had some high highs this year and a couple of low lows, particularly the exit from Berlin. How do you rate her chances this time around? Does the Berlin exit give you pause about how she's going to be able to handle the surface? 
EVERT: Well, I mean, I think any time there's an injury this close to Wimbledon, it gives anybody pause. You definitely have to be 100% physically to play seven matches and to do things with your body that you're not accustomed to doing versus a hard court or a clay court. You have to be adaptable, flexible, you have to be able to move on some slick courts. It all kind of screams you better be careful with your body and you better have that good balance.I also feel like one other thing she has going against her, it's always tough to defend your title. I just feel like she's shown a little vulnerability this year. She's got the perfect game for grass when everything is working, but everything has to be working. She played a great, great match when she won the tournament, but at the same time I don't know if she's at that top form right now. I see Aryna Sabalenka and Iga Swiatek. I only see the other players getting better and better. I wouldn't put her on the top of my list, even though she's defending champion (but) I really can't make a definitive statement on that.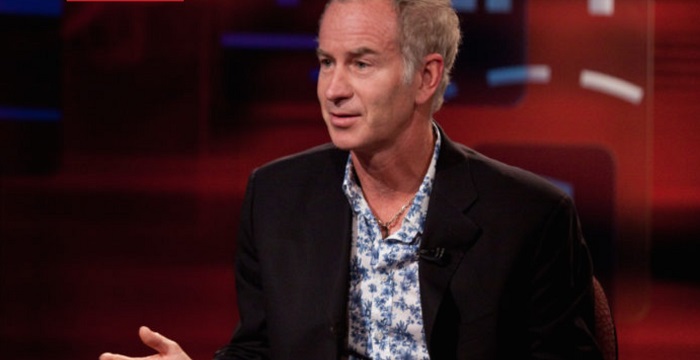 Q. How differently does the grass plays nowadays compared to when you were in your primes and what role that may play in extending the longevity and dominance of someone like Novak?
EVERT: Grass courts have changed a lot. I mean, they're playing more like a hard court. They're harder. There's a lot more groundstrokes being played. In my day, John's day, it was mainly about serve and volley because the ball stayed low, was fast. It was faster, it stayed lower. Players just wanted to get to the net. That's why when you look at all the serve-and-volleyers were winning Wimbledon. Since it's playing more like a hard court, you're going to see the players with really good groundstrokes at least be in the match and do better. Where I think there's a challenge is grass is so different with the moving and the bounces and how you use your body and your mindset, it's so different than hard courts and clay courts. It's very tricky, it's very challenging. 
McENROE: The people that can add that adaptability and finish points at net successfully, like an Alcaraz, for example, who is a really good volleyer, Novak learned it, so did Rafa. Those players... I believe that's why Frances Tiafoe has a shot because he's skilled at net. That will help you get over the hump at Wimbledon. Yes, it's more homogenized. Yes, it's more like hard courts. The bounce is higher, but there's still a nuance that only a few get it. Look at Casper Ruud, for example. He's regarding this as he's showing up, hoping for the best. He could be out in the first round or two. Stefanos Tsitsipas doesn't seem to be comfortable at all, can't figure out how to play on the grass. There's an opening. There's many guys that don't even understand it, or girls for that matter. That's why it's pretty narrowed down who can actually win it. That's why Novak can afford not to play any tournament because he's so confident, he understands what it takes, he doesn't feel the need to play any warmup matches and he still wins it almost every year.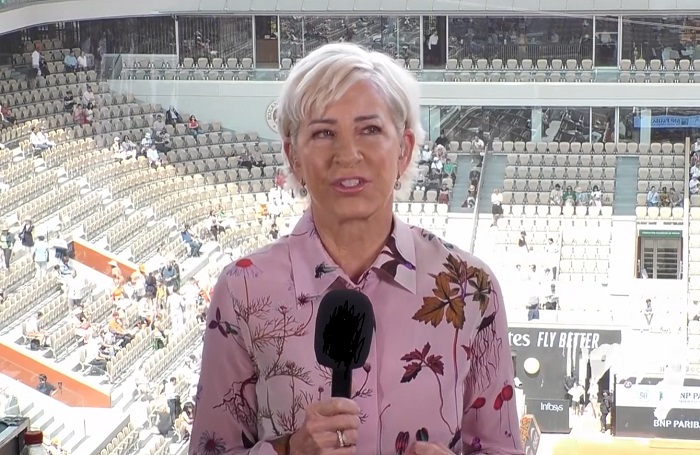 Q. Is Swiatek more vulnerable on grass than other surfaces? 
EVERT: 100%, yes. I think her record reflects that. It's not just my thoughts, it's her best Wimbledon result I believe was the fourth round. She's won tournaments on hard court. She's won tournaments on clay courts, Grand Slams, majors. She has such great court coverage in the sense of she can slide, her legs are very crucial, the court coverage is very crucial in her game. In order for her to really get set for the ball, she has to know how to move and she has to be very comfortable and her footing has to be solid. Footing is not necessarily solid on the grass. So, I think that and the fact that she can't really at this point feel super confident on the grass. I think she feels confident. She's No. 1 in the world, the best player in the world, but this surface may take away a little bit of her strength, which is her moving because of the sliding. Also, I think if you're going to win Wimbledon, you've got to have a big serve, you've got to win free points off that serve. The players have been attacking her second serve a little bit. She doesn't have that big Sabalenka, Rybakina first serve. I'm nitpicking here because she's No. 1 in the world and she's great, and I think she can win Wimbledon, don't get me wrong.
 
Q. At Queen's Club, I asked Andy Murray what his number one feeling was about Wimbledon, his number one overriding memory of Wimbledon. Chrissie, John, with all you managed to achieve at the All England, is there one memory that really stands out? 
EVERT: Okay, first of all, you've been around a long time, Craig. You were around in my day. Second of all, that's like asking, 'What is the best match you ever played, best major?' I don't have one, okay? I mean, I could say having tea with Princess Diana, I could say things like that. I was honoured to do that. But the overriding thought that I have at Wimbledon is I'm almost prouder of my three Wimbledon wins than I am any other major because my game was not suited for grass, and I found a way to win. I tweaked a lot of things and I adapted, and I learned. I feel like my best wins and my best tennis came at Wimbledon because I played out of the box for me. Again, I think I'm most proud of that, my achievements at Wimbledon.
McENROE: Mine would be easy. It would be the (Bjorn) Borg match in '80 that I lost. I do have one match that people ask me a hundred times more than any other match I ever played that asked me about or say they were there. That was certainly my most memorable moment at Wimbledon.