We Are Tennis by BNP Paribas brings you the best of the past week, on and off the courts, day after day. A week that saw Novak Djokovic broke his teeth on the Grail, Daniil Medvedev did a salmon dive, Emma Raducanu made history and the preparation of the World Cup tiramisu started.
Monday September 6th
He could be beautiful one day, jerk the next. He was crazy, a tender rogue and an ace. No, we are not talking about Benoit Paire, but about Jean-Paul Belmondo, who died at the age of 88. In New York, the US Open continues to be a hotly contested tournament, especially in the women's table, where 18-year-old Emma Raducanu, who came through the qualifying rounds, is jumping over the hurdles one by one with amazing ease. Novak Djokovic, meanwhile, is bending in sequences, but doesn't fall in his quest for a historic Grand Slam. Against Jenson Brooksby, a 20-year-old with a magnificent touch, the Serb was down 6-1 in the first set but came through in four sets. Again, again!
Tuesday September 7th
Quebecers have many passions in life: ice hockey, extreme temperatures, the poutine, great outdoors... We must definitely add tennis to this list, and Tuesday, September 7, 2021 will go down in history, as Felix Auger-Aliassime qualified for the first Grand Slam semi-final of his career by ousting a physically diminished Carlos Alcaraz, who was forced to retire. At the same time, Leylah Fernandez imitated him by dominating Elina Svitolina-Monfils, while the Rennes Open was filled up with Andy Murray, Richard Gasquet, Gilles Simon, Lucas Pouille, Fernando Verdasco and Arthur Rinderknech. Not bad for a Challenger! Still celebration: in Michigan, Christine Duval, an unemployed woman, becomes a millionaire thanks to a lottery organised to encourage the population to be vaccinated against Covid-19. What a life.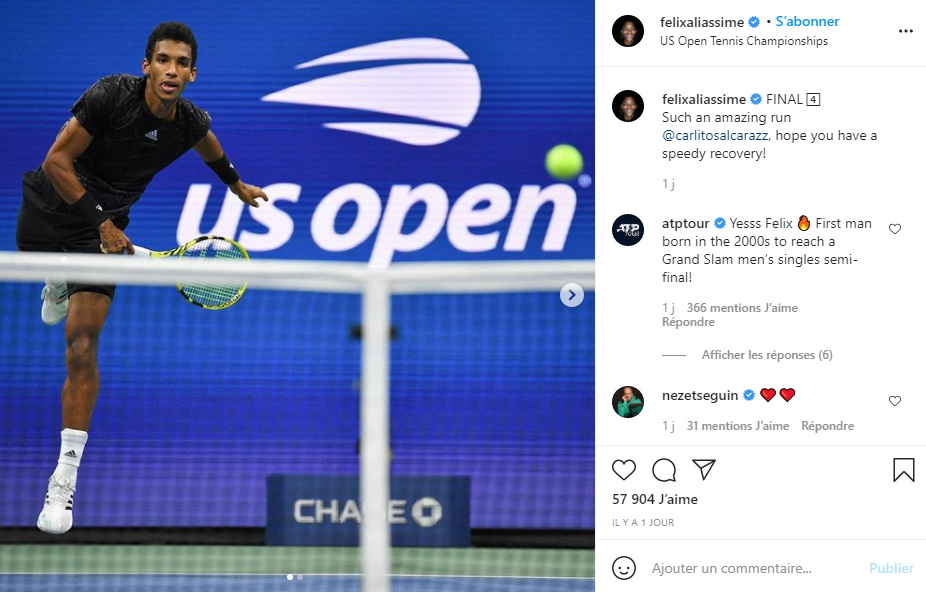 Wednesday September 8th
For the first time in its history, Pornhub reports a subscriber registered in space. Stefanos Tsitsipas also decided to take some time out and relax in a cornfield to meditate after the numerous criticisms he received at the US Open for his frequent bathroom breaks. At the same time, Djokovic continued his "one against everyone" mission, dominating Matteo Berrettini in four sets and getting ready to meet Alexander Zverev in the last four. Brrrr.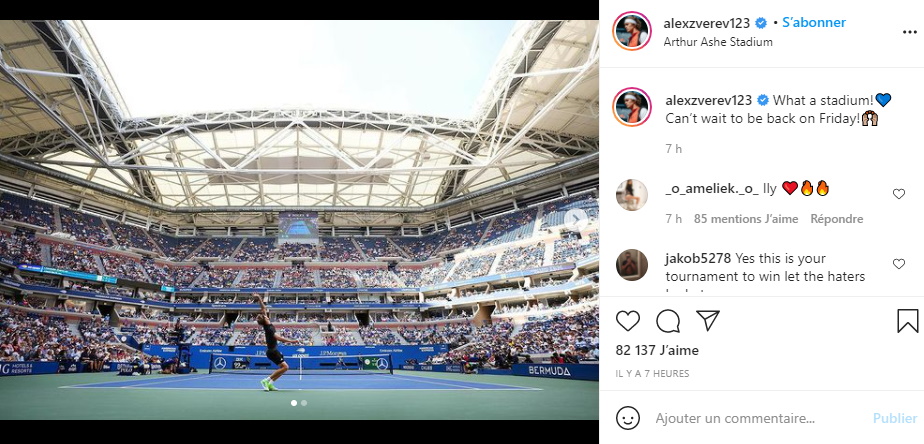 Thursday September 9th
Dominic Thiem tooks a photo in a cornfield to gently tackle Tsitsipas and his love of breaks. At Flushing Meadows, the earth continues to tremble under the blows of the Raducanu-Fernandez duo, both 37 years old and qualified for the final of a US Open 2021 that will be full of great stories and twists. Jealous Lionel Messi scored a hat-trick for Argentina and broke the record for most goals scored by a player for a South American team (79 goals in 153 appearances), which was previously held by Pele.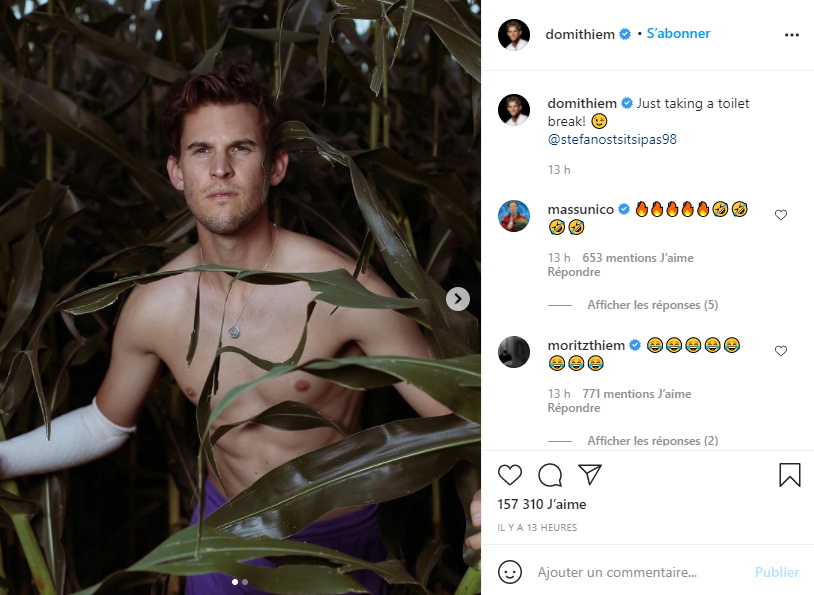 Friday September 10th
A special call for candidates to become a juror for the Tiramisu World Cup, which will take place in Treviso, Italy, from 8 to 10 October. On the US Open stage, Daniil Medvedev has the edge over Felix Auger-Aliassime, who is still learning, but who is approaching his first major final, while Novak Djokovic has won a long tug-of-war with Zverev. One step closer for the Serb...
Saturday September 11th
A dinginess. It is impossible to find a better word to describe Emma Raducanu's victory in this US Open. The 18 year old Briton was ranked 150th in the world when she arrived in New York three weeks ago to play in the qualifying rounds. She went through ten matches without losing a set. No woman or man before her had ever won a Grand Slam in the qualifying rounds. This was only her second appearance at a major tournament, after Wimbledon earlier this summer. She is now the 23rd player in the world. The loser of the day, Leylah Fernandez, is now 28th. Both girls were not even born when the twin towers of the World Trade Center collapsed on 11 September 2001. During her post-match speech, Leylah Fernandez paid tribute to the victims of the horrific attack, wishing for the future to be "as strong and resilient as New York". It was an emotional moment as Flushing Meadows holds its darling for a long time to come.
Sunday September 12th
And Djoko finally gave in. Exhausted both physically and morally by his mission to achieve his famous calendar Grand Slam, the Serbian fell to someone stronger than him in the US Open final: Daniil Medvedev, winner in three sets of his first major tournament, and certainly not the last. Medvedev did everything right on Arthur Ashe Court: his match, his victory celebration (the salmon one, inspired by the FIFA video game) and his post-match speech, a combination of great class ("for me you are the greatest player of all time", a sweet word addressed to the loser of the day) and humour ("It's our wedding anniversary with my wife. All fortnight I didn't know what to give her as a present. Today, I told myself that if I lost, I wouldn't have time to find something. So I had to win. I love you Dasha!") As for Djoko, he appeared almost relieved to be done with this gruelling fortnight, moved as rarely in a press conference. "I felt something I never felt here in New York. I didn't expect it. Their love, their support, I'll remember it for the rest of my life. It was as strong as winning a twenty-first major. They touched my heart. It was magical." This US Open was magical.