We Are Tennis by BNP Paribas brings you the best of the past week, on and off the courts, day after day. A week where Roger Federer shone thanks to an auction and in which a lady from Dijon threw a fortune into a fountain before going for a swim.
Monday June 21st
Starting a week with one's head in a bucket is never pleasant. It is actually what happens to Rafael Nadal, whose coach, Carlos Moya, justifies the former's absence from Wimbledon and the Olympic Games: "The tournament on clay has been very difficult, with a lot of physical and mental pressure. Rafa finished exhausted and he's going to take a well deserved break. It is a marathon, a long distance race during which difficult decisions have to be made and he decided that the best thing to do was to stop now to come back stronger. Two years ago, Rafa had reached a point of great mental exhaustion from which it had been difficult to recover and he revealed he was nearing that state of fatigue once more. He can not afford to play a grand slam is he 's not 100 %." If Nadal pulls a face, some Chinese employees from Canon have been forced to smile so that the doors of their firm open. The joys of facial recognition!

Tuesday June 22nd
Two years after having his nose put out of joint on the grass of Wimbledon in a final won by Roger Federer, Novak Djokovic is back on grass, in doubles. In Majorca, the Serb, partnered with Carlos Gomez-Herrera, achieves a victory thanks to a super tie-break. Not really a backward step for the boss, but not great progress, the opposite to a plane en route from Toulouse to Fez which leaves about 50 passengers behind because of a departure 15 minutes too early. Enough to inspire Djoker 's future opponents?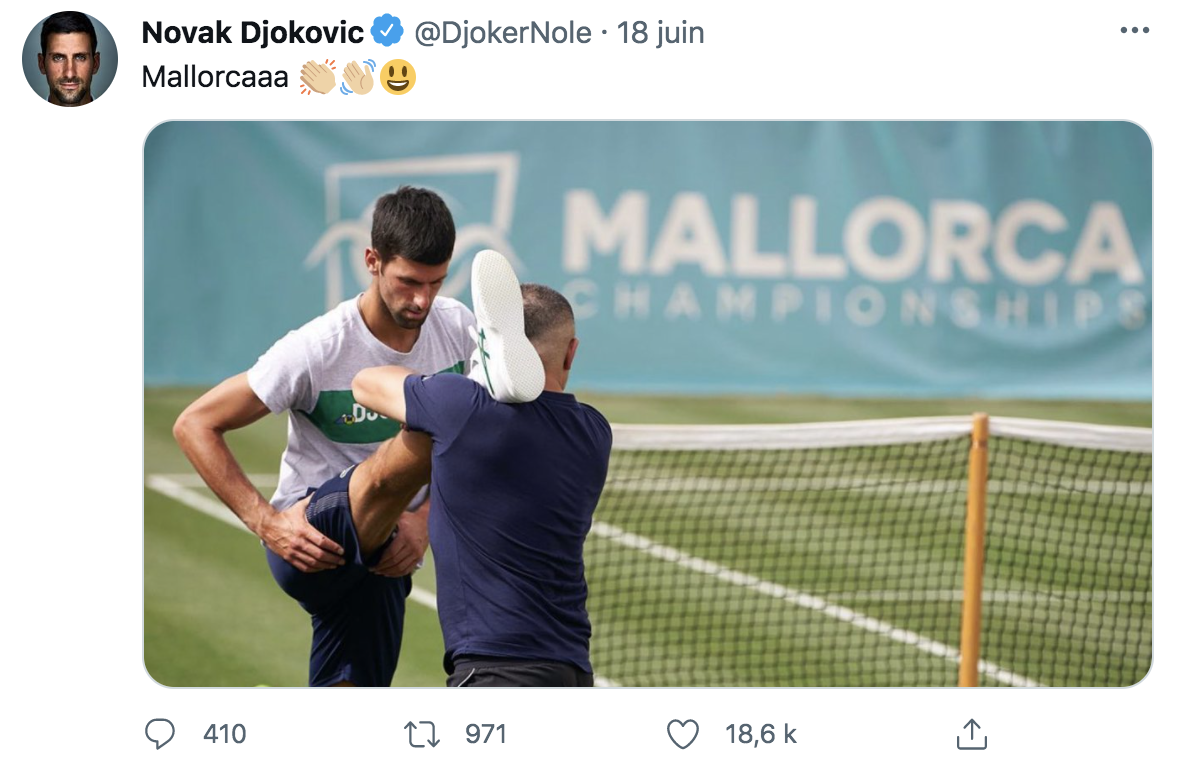 Wednesday June 23rd
At last, two items of good news! First, scientists in San Antonio believe they have found the most efficient cure ever for hiccups: a magic straw which, according to their research, can relieve 9 out of 10 cases of those afflicted by this complaint. Then, Roger Federer submits for auction 20 personal items linked one way or another to his 20 Grand Slam titles. What do you mean, you don't have £150,000 to spend on the kit he wore whilst winning at Roland Garros in 2009? Go on, it's for a good cause!
Thursday June 24th
Midday, the witching hour. Or rather the moment for a small misdemeanour: in Agen, a workman returns home for his lunchbreack... and finds a relaxed looking burglar sitting at the table. Dominic Thiem, on the other hand, will not be able to steal the Wimbledon trophy since the Austrian has withdrawn from the London tournament because of an injury to his wrist. Andy Murray has more luck, selected to represent Britain in the Olympic Games. How pleasant is that!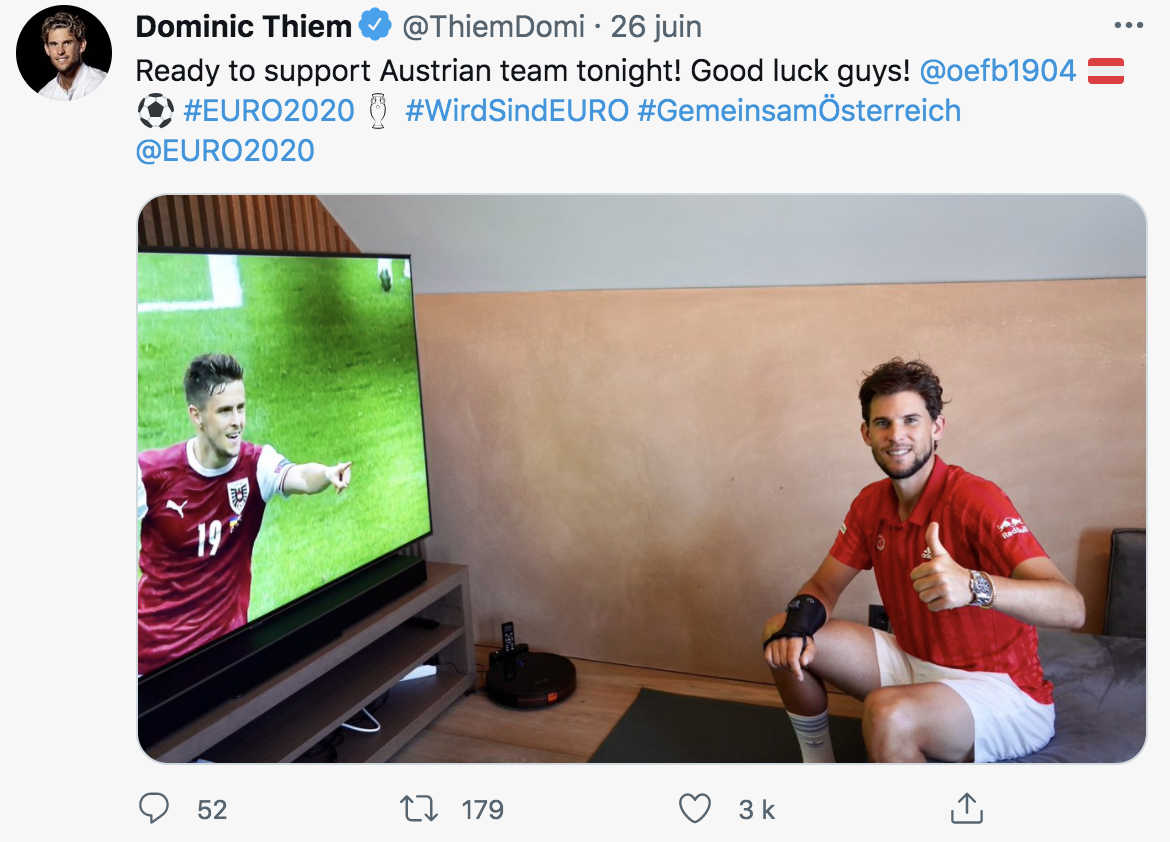 Friday June 25th
Bad luck, or what! At a time when a large number of stars have withdrawn, Wimbledon learns that it must also come to terms with losing its title holder, Simona Halep, suffering from an injured calf muscle. Something, however, less serious than a lady from Dijon rescued by the emergency services from a town centre fountain where she had been swimming after having thrown in 47,000 Euros. Not enough, of course, to buy a smart Federer tennis kit in the auction therefore.
Saturday June 26th
A weekend, five happy people. First: Daniil Medvedev who wins his first trophy on grass in Majorca. Second and third: Jelena Ostapenko and Alex De Minaur, who triumphed at Eastborne. Fourth: a private collector who spends nearly 8 million euros on a Fragonard painting which had been overlooked for 200 years. Fifth: Angelique Kerber, who wins her first trophy in 2 years at Bad Homburg. Yes, certain people have enjoyed a better saturday than your's.
Sunday June 27th
"The biggest challenge is to concentrate on the present and to relish each moment. Whatever possibilities, hypotheses and range of options exists ; for me there is always something at stake. For Rafa and Roger it is the same probably: that's what tennis is about. All three of us have experienced plenty of success, especially in the Grand Slams. So I understand that people like to debate which of us is the greatest or to guess who will finish with the most titles. Many things can happen off the court but once I am on it I try to exclude all those distractions. I believe that this is one of the things I have successfully achieved over the years, even if others have their own system of blocking out distractions." The thoughts of Djokovic, speaking as an amateur philosopher during an interview. The type of reflection which might begin to explain why a client of a grill bar in New Hampshire had the idea of leaving a tip of 16,000 Euros after consuming two hot dogs. Ketchup – mayo – Djoko.