We Are Tennis by BNP Paribas brings you the best of the past week, on and off the courts, day after day. A week where Novak Djokovic managed to do 34 consecutive pushups, Naomi Osaka bought a soccer team, and the corset became fashionable again.
Monday, January 25th
In order to counter the annoying consequences of the Covid-19 pandemic, humans have different options. They can, for instance, decide to carry on living their lives normally, and attend gigs, while observing protective measures. The band Flaming Lips therefore suggested the idea of a gig with spectators being placed inside giant plastic bubbles. But humans can also decide to stay inside to try to find their inner creativity. Edouard Roger-Vasselin, on his side, created an incredible chain reaction to illustrate the end of his quarantine. And without any special effects.

Tuesday, January 26th
You need to show happiness on the court. Because the mood can change quite quickly if sparring partners don't get along, as they're not allowed to pick new ones. So the two friends-colleagues Aryna Sabalenka and Elise Mertens made the most of their practice session, to bond a little more as they created a very well-performed choreography on TikTok. The two dancers could have been even more sensational if they had worn a corset like Daphne in Bridgerton. But unlucky for them, the American TV show is so popular that the demand for this piece of clothing which has existed for centuries has literally skyrocketed. Come on, faster!


Wednesday, January 27th
« I loved your video, I thought it was great. Your game looks good, but you should work on your footwork a little bit. I think that we should organize something with my charity, send my agent an email, and we'll sort something out. » Jamie Duff and Oliver White, two 21-year old friends who started playing tennis during the first lockdown, must have thought they were dreaming: after posting videos of themselves playing on Instagram, and tagging Roger Federer, the Swiss surprised them by answering and offering his help! Help would actually be much needed for these two French thieves. The first one ended up being locked in the toilets of a pharmacy in Vosges (East of France) while he was trying to steal dozens of pregnancy tests. The second one showed up to a police office in the region of Toulouse to retrieve his car registration document at the exact moment when the officer was watching a video of him stealing. Surely the easiest arrest of his whole career.

Thursday, January 28th
1815. That's the number of phone calls made by this woman from Côte d'Or (France) to the emergency services, since March 2020. So when she decided to phone again to notify them of the death of her partner, the authorities were reluctant to believe her… At least, she won't have to read The Boy Who Cried Wolf, from Aesop, to understand the conclusion of the fable. 34. That's the number of pushups which Novak Djokovic managed to do to win the competition improvised by his fans in front of his hotel. They only managed to do ten… At lest, they didn't have to count all the way till the end to check if the Serb was on good physical form. The Serb, who, on his side, is still counting down the days until the start of the Australian Open.
Friday, January 29th
Careful, shield your eyes! Why? Because a Welsh woman named Yvette Amos, who was invited on a tv show on the BBC, had an X-Rated item of decoration placed behind her during her live intervention. But mind your ears too, as the crowd is - finally! - back in the stands of a tennis match. In Adelaide (Australia), Serena Williams defeated Naomi Osaka - who gave her a little kiss at the end of the match instead of an elbow bump - in an exhibition match, after visiting a zoo with her daughter as her first post-quarantine experience. On his side, Djokovic played a set despite his previous decision of not playing at all. How good does it feel to hear some real applause?!
Saturday, January 30th
Still with Naomi Osaka, the Japanese announced that she bought the North Carolina Courage (who have won the US Championship in 2018 and 2019) women's soccer team. « Women who believed in me made me the person I am today, and I don't know where I'd be without them. I've always received a lot of love from my fellow women athlete colleagues along my career, and that's the reason why I'm so proud to be the owner of NC Courage today, » the 23 year-old player explained. Maybe she could have also payed an homage to this 44-year old American man, in Queensland (Australia), who survived a crocodile attack where the croc was biting his head… by prising the reptile's jaws off his head. It's as simple as that! In the lake he was swimming in, he looked as calm as Rafael Nadal on clay.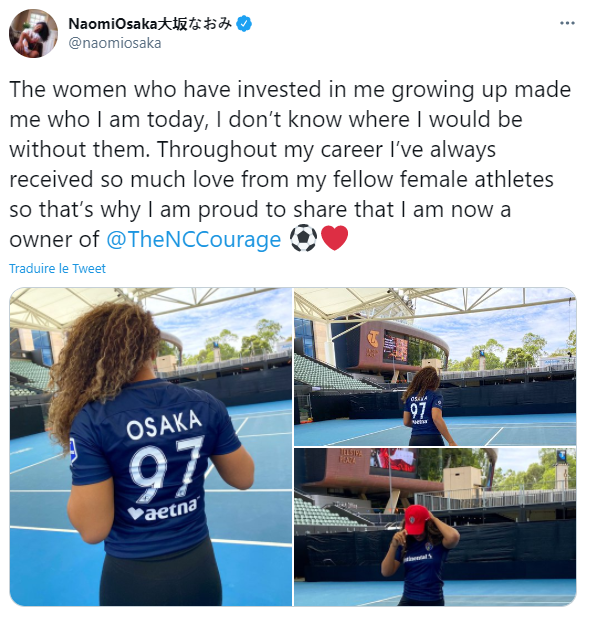 Sunday, January 31st
If the fans of the small yellow ball are thrilled to be able to be back in the stadium to cheer on their idols in Melbourne, where around 30 000 people will be able to attend every day, Nick Kyrgios on his side, doesn't sound as excited to pick up his racket again and play in front of crowds, after a year spent out of the circuit. « I'm not going to lie, I haven't missed tennis at all. I'm a competitor, but I was able to be one in other ways than on a court. I am on in every aspects of my life. I've played a lot of video games and it helped me to retain this competitiveness, said the bad boy. To be honest, a part from the Australians and a few good friends, I haven't missed a lot of people from the circuit. » No one should therefore expect to see the Australian share a nice friendly moment with a colleague while drinking a Coca-Cola with Coffee, the new coffee-flavored soda made by the brand. But then again, who would be excited at the idea of drinking fizzy coffee?