Daniil Medvedev is heading the field at the BNP Paribas Open in Indian Wells, California for the first time and Craig Gabriel says the new No.1 is a good guy.
He's playing his first tournament in pole position and in a different role. He's leading men's tennis and while he is incredibly proud of what he has managed to achieve, Daniil Medvedev still has some mixed feelings.
For Daniil Medvedev the last six weeks have been like the agony and the ecstasy. 
He reached his fourth final at the majors and second in a row at the Australian Open but lost a heart-breaking match to Rafa Nadal after leading two sets to love and having break points at 3-3 in the third, but then achieved a lifetime goal of ascending to the world No.1 ranking. 
He was asked about the contrast of emotions and how long it took after Melbourne for the disappointment of that final to subside.
"Tough to answer both questions but after Australia, you know it's always like this for me, after tough losses I try to think about something else quite fast," Medvedev said. "Same in Acapulco; consciously Australian Open was by far over but subconsciously it was somewhere there especially playing Rafa (again) there was something not right in this match with my energy.
"I am really happy to achieve the world No.1. I played a lot of great tournaments and got a lot of points for it but with everything happening it comes with mixed feelings. I'm still happy I managed to do it, not so many players (he is only the 27th since computer rankings began in August 1973) who did this in their careers.

"That's what I dreamed of when I was young, and I was climbing up the stairs steadily. Your question is really nice because a lot of mixed feelings, but I cannot answer it directly."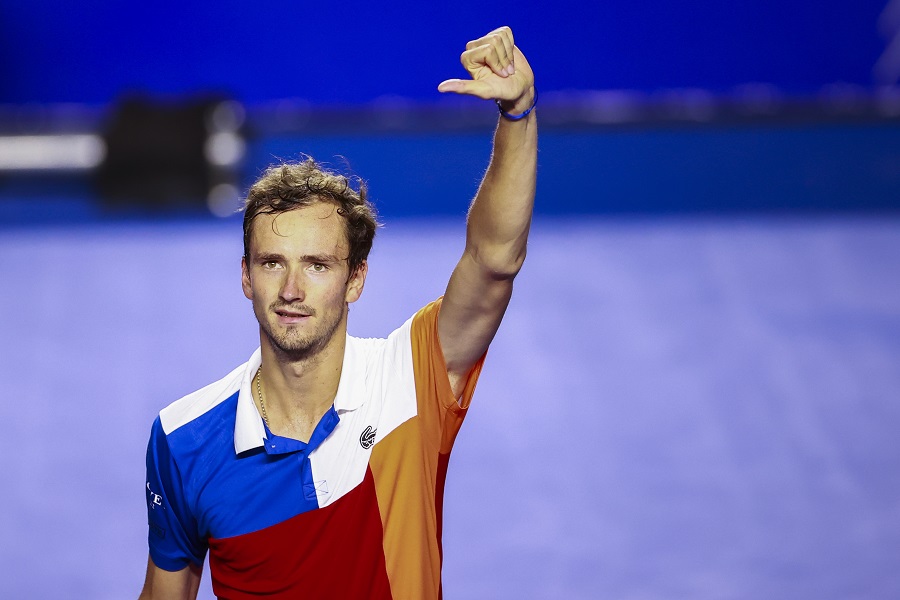 So, how many times has he looked at the ranking list. Laughing he says he has not looked at it since becoming No.1 but "it has crossed my mind many times, and it is a great feeling".
He is the top seed at the BNP Paribas Open and while it is not the first time he is seeded one at an event, it is different this time.
"Yeah, it feels great" he said. "There is a lot of pressure but at the same time a lot of motivation. In my case I take it as I am going to do my best. Every tournament you play you want to gain the most points possible but of course the draw is very tough, lot of strong players so its not easy to make it."
Get to know Daniil Medvedev and you can't help but like him. He is one of the nicest guys on tour. He is honest and open. He is articulate and measured. And maybe the Australian Open experience was a bit of a yard stick for him after receiving criticism about some of his on-court reactions.
"My behaviour on the court is sometimes too rude and I feel I need to change. I'm not sure I am going to make it (but) throughout my career I was always fighting to change myself on the court," Medvedev explained. "When I started as a junior, I was a disaster mentally and it definitely didn't work well for my tennis. I tried to work on myself.
"I made some conclusions about myself, and other people and I think the Australian Open made me more mature; well, I hope. I understand I have a lot to work on and in some ways I need to react differently in a lot of experiences."
For Danya there have been many turning points in his career to get to the summit; from starting really young, starting in juniors, coming on the ATP Tour, but in terms of specific points he highlights the US Open as the big one.
"That's where I beat Novak, gained my first grand slam and then managed to follow it up with good results like the Paris final, Torino final. Of course, you want to win them but I lost in great matches, so turning points there was a lot but I'd say US Open was a good step."
After the Australian Open final, he spoke profoundly about himself as a youngster who imagined the future and when asked if that inner kid is still dreaming now that he has achieved being No.1, he said: "Hopefully. Tough to answer this question now but I think yes and a little bit differently."