Most people don't give much thought to tennis balls when they go out for a hit but on the professional tour there is a whole lot of consideration given to those fuzzy yellow balls that are hit at 200km per hour writes Craig Gabriel.
The players certainly on the men's side of world tennis, that the variety and variation of tennis balls being used on the tour are hurting the players and leading to injuries. There is not as much noise on the women's tour about the issue but then the women's tour has a greater range of issues to deal with as has been publically documented recently by the players themselves.
What the players are saying is that the heavier balls are leading to shoulder and wrist problems and the fact that the brands of balls are changing week to week does not allow for consistency and players don't have the time to get used to what they are striking in practice and in matches.
On X, as Twitter is now known, Stan Wawrinka added his voice to the concerns and made it clear that the ATP needs to be doing something about the situation, or we are going to see players off the tour for periods as they have to nurse injuries. Daniil Medvedev has hampered by shoulder problems that are believed to have been caused by balls.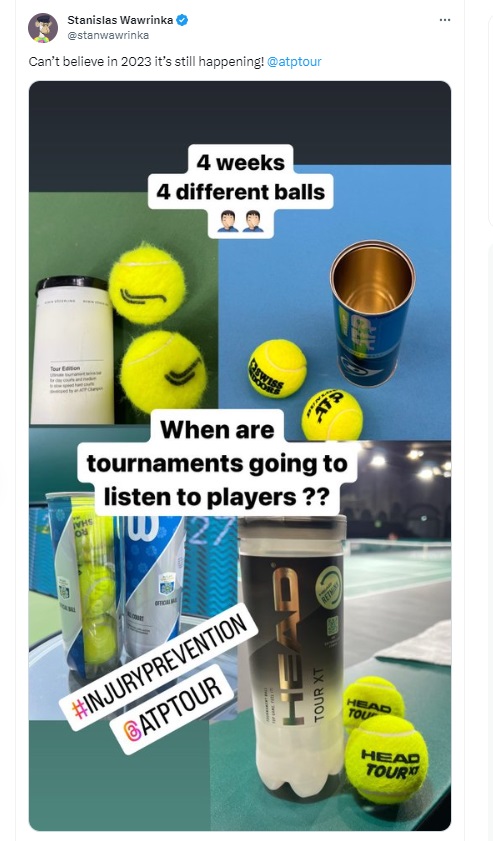 At the Rolex Paris Masters, world No.1 Novak Djokovic raised the matter with ATP President and Andrea Gaudenzi and the CEO Massimo Calvelli. Having not played since winning the US Open in September, his record equalling 24th major, Paris Bercy was his first opportunity to sit with them. 
"I have seen the comments that more and more players were making about the balls that were used on different tournaments," Djokovic said. "Actually, (Sebastian) Korda, the player that I practiced with, told me that this is the fifth tournament now in a row that he's been playing with different balls.
"The inconsistency is an issue, and that's what most of the players, and also of course including myself, we complain about. You know, I think there needs to be a bit more consistency with the balls so that we avoid any kind of issues with wrists and elbows and shoulders.
"The quality of the balls, you know, this is something that again, it's very relative to the player. Different players play different styles. They like different balls, depending on the surface, et cetera.
"I think that there is actually quite an understanding from Andrea and Massimo about the players' comments and the issues that players have been communicating basically through media, as well. As I understood, there is going to be some board meetings happening soon where they will discuss the different options and things they could do."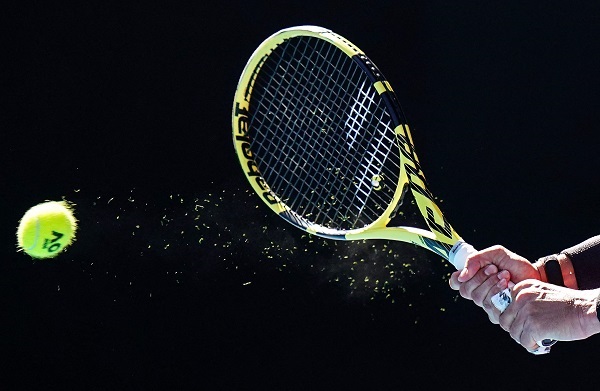 Two aspects have to be taken into consideration. 1. Balls "play" differently with the various surfaces and environments – clay, hardcourt, grass, indoors, outdoors, weather, where they are manufactured 2. Ball sponsors pay tournaments to use their balls and the financial commitment has to be seriously considered. It is an incredibly costly business to promote a tournament and every dollar, euro or pound is important.
On top of all that getting all players to agree to the same ball will be like pulling teeth. It's been said you can ask five players the same question and you'd probably get seven different responses. One example is Medvedev was not partial to the ball produced by Head, but you wonder if Djokovic would criticise that ball as he is sponsored by Head for his racquets.
"You hit the ball ten times and you have the feeling that every time it becomes bigger, bigger and bigger," Medvedev said. "It swells a lot. I don't want to feel shoulder pain for the rest of my life. I hope a solution can be found." 
Djokovic made the point that the situation is tougher with the four majors – Australian Open, Roland Garros, Wimbledon, US Open, which are the biggest titles on the tour; for example Wimbledon has been with Slazenger since 1902 and it's highly unlikely that will change.
"I think overall it would be nice for players (to have) consistency," Djokovic added. "So, for example, if you have a clay court swing prior to Roland Garros, that you play with the same ball. As well as other surfaces and other swings.
"Hopefully that's going to be the case. There's obviously a lot of factors that are going to be in play in order to make this change. It's not easy because you have to think about the tournaments and the brands, you know, manufacturing facilities that are owned by the brands or some use as a third party.
"So, there is a lot of different elements in play that need to be discussed commercially but also functionally for us. But for the players obviously we are not thinking too much about commercial aspect as much as the functional and what is important for us in order to improve or prevent any kind of issues with injuries.
"Every tournament has the right to negotiate; we simply have to find a way to unify, so that in each category on the ATP tour we have one ball to play with, depending on the surface.  Sometimes that change of balls happens three times in three weeks depending on where we play, and it affects the health of the players and the joints themselves."
A few years ago, the ATP's promotional campaign was "New Balls Please", maybe that needs revisiting but for entirely different reasons.