Frances Tiafoe created a discussion point recently when he said tennis is losing out. He said fans should not be made to sit still during points and should not have to wait between odd games or between sets to move to and from their seats. Craig Gabriel concludes his two-part series.
PART TWO
Frances Tiafoe said: "I think fans should be able to come and go and move around and speak during matches. Imagine going to a basketball game and not saying anything. Apart from retaining some tradition at Wimbledon, outside that, let's start changing things to bring younger fans to the game."
Many people don't have a grasp of why there is quiet while points played in a tennis match. Players hear the balls making contact with the strings of a racquet, they hear the movement of an opponent. It is often said you eat with your eyes; in tennis a split millisecond can determine where and how a ball us hit by what a player hears.
Have you ever noticed in cricket that huge screens are placed at two ends of the field? It's to avoid the batter or the bowler having their line of sight being distracted, and in cricket the distance is far greater between the athlete and the spectator. There are so many of these finer nuances in sport that people do not consider when some rash statements are made.
"It's a tough question," Andrey Rublev said. "It depends on the stadium because there are some stadiums where there are some noises, and you don't really hear them that loud on a court and there are some stadiums any little noise on a court, and you hear it very clear an then it can disturb you. 

"Like in Miami, in one match I play, they dropped the water, and the sound was crazy massive and you kind of react because and it can disrupt so it is more about a question to the stadiums to be able to deal with the noise that it's not loud. In this case, it would be easier. For example, the US Open the court is quite loud, but there in one moment you don't notice them. So, it depends on the court – at the US Open they are quite noisy there but there it feels quite normal, and you don't even pay attention."
Just allowing people to move around and make a noise during matches is not going to necessarily bring more people into watching tennis. The access to players across the board, the more contact, the better understanding of players is going to have greater affect of introducing people to the sport. 
Concepts such as the We Are Tennis Fan Academy are important as it allows youngsters to be introduced to players and the fun element is what is going to bring in new sets of eyes. It's a case of being up close and personal. 
"It's always been one of my goals to just see tennis grow and make tennis more popular outside of the casual tennis fan," Taylor Fritz said. "I wanted tennis to become a more well-known and talked about sport in the U.S. (My girlfriend) has always known that's been one of my goals, and she's kind of done a really good job of finding this niche of content (with Tik Tok and YouTube) and, I guess, trying to popularize tennis.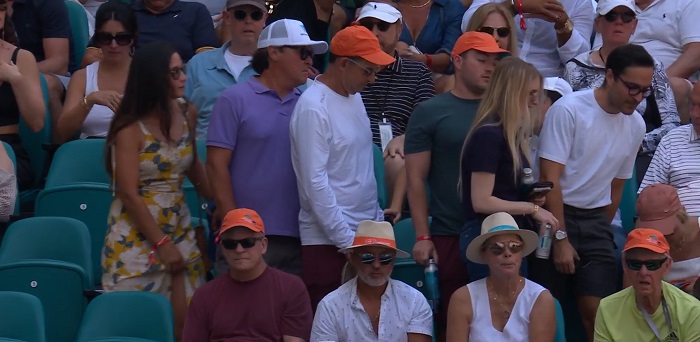 "It's been really great. Impressive as well with what she's been able to do and generate a lot of hype for tennis. You know, reach people that, I guess, tennis normally wouldn't reach. I think in our generation it's much more of a thing. 
"I think that maybe the older generation, they just played, and it was what it was. I don't think they really cared too much about, I guess, the popularity of it. And there's nothing wrong with that. There's nothing wrong to just want to play tennis and just have your own life and do what you do.
"But I think this group, like me, Francis (Tiafoe), Tommy (Paul), I do think that we care about growing the sport outside of tennis, getting more fans into the sport, just seeing it, I don't know, reach popularity in the U.S. like some of the other sports that we have."
Aryna Sabalenka is not sure about the whole idea of movement and noise. She says she likes the thought that fans can feel comfortable and somewhat freer and that it can be a bit more fun for them. However, at the same time if something is going wrong and the player is struggling, she made it clear that it's going to distract her. 
"I feel like, anyway it's going to take some time to adjust," she said. "Overall, I think it's a great idea for people and for players, they will need some time to adjust to this conditions. If other sports can deal with that and perform well, probably we also can. (Maybe) we can try one tournament and see how it goes and if it is not going to be well, we go back to normal."
Problem is allowing it at a couple of tournaments and not others creates a lack of consistency and if there is one thing players want, it's consistency.
"Nah I don't think it bothers me," Jannik Sinner said. "I am pretty straightforward what I have to do. I have my goals and game plans especially on the court in my mind and I just try to execute it in the best possible way … when it's noisy for me it's okay. 
"Everyone is a little bit different. Frances is a really relaxed player and guy. He also loves basketball, so he likes this kind of, how you call it, crowd; how the atmosphere and crowd is. I think everyone is different still. I don't want to comment on what Frances said but the rules should be same for every player – for every play it is the same."
As a follower of tennis and a spectator of the sport, what are your thoughts?