Rafa Nadal plays with passion. He plays every point as if he is championship point down and once he commits to a tournament he gives it all he has. However, even having said that, his reaction to winning the Barcelona title last month was quite something.
Rafa Nadal recently claimed his twelfth Barcelona title and a lot of emotion was extracted from what seemed to be every pore of his body. The reaction he had to the win surprised many. It was not as if he had just won one of the four majors or an ATP Masters 1000 or the season-ending ATP Finals, a title he has never claimed.
His celebration on Pista Rafa Nadal, the court named after him, was something akin to him winning Roland Garros. The images of him on Court Philippe Chatrier last year were indelible.
In Barcelona he dropped to the red clay court in a similar manner. He scrunched up his face as if he could not believe he had won this title and he was flat on his back soaking up the moment. Barcelona is not one of the big events on the calendar, it is a 500-level event so the response may have been considered a bit over the top.
But when you think about it, was it OTT? Let's not forget all the passion Rafa possesses. He plays every point as if it's championship point. Watching him is exhausting.
Barcelona was an incredibly difficult final. Nadal was taken to the brink by Stefanos Tsitsipas who was coming off winning the Rolex Monte Carlo Masters, his first ATP Masters 1000 title, without losing a set. The Greek was in fine form and through to the final in Barcelona he'd won 17 sets in a row, and he had Nadal under pressure from early in the final when he won eleven consecutive points.
"I never played a final like this in this tournament. It means a lot to me. It was an important victory," Nadal later said. "It was probably the toughest final here."
So that partially explains why he displayed the reaction he did at the end.
"I won an important event for me and that means a lot, it was my number twelve there in Barcelona so it have been an important moment for me," he added. "When you are not playing that often, it was only my third event of the year, and last year I didn't play much so the feeling to win again and to win a match like this is always positive and I have said before, I live my tennis career with passion and that's the result of the passion when you win a match like this."
He has been bothered by back issues from the time of the Australian season and had only played Melbourne and Monte Carlo losing to two young guns, Tsitsipas and Andrey Rublev, respectively.
His first two rounds in Barcelona were three setters when they probably should not have been on his favoured surface.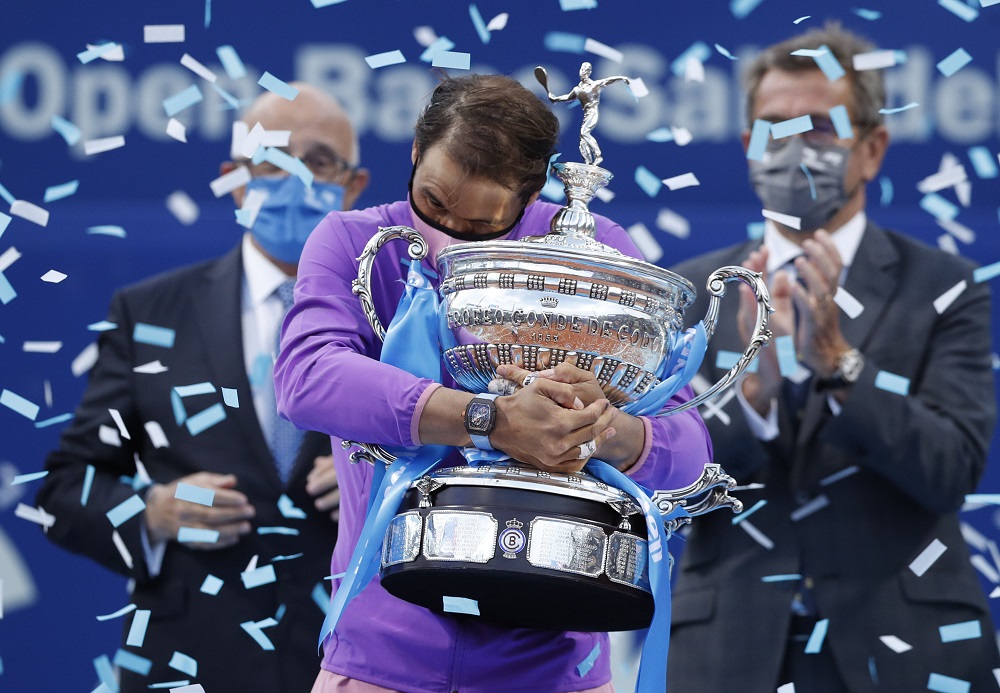 The tension increased dramatically when he failed to convert two championship points at 5-4 in the second set which allowed Tsitsipas back in as the crowd worked overtime to lift Nadal. 
At one stage Nadal even waved his arms to orchestrate the crowd into a crescendo as he struggled to shake Tsitsipas who made the point that "(Nadal) hates to lose more than anyone else".
The match was a grind. At 5-4 in the final set Nadal faced a championship point. The work he had to put in was huge. It was not so much taking its toll physically and mentally because Nadal is so incredibly fit, but that tension build up was like a balloon being inflated and getting close to popping.
It finally popped when the title was his. He was able to release all the tension from an extraordinary match that had played out for three hours 38 minutes making it the longest three setter on the ATP Tour since such records started being maintained in 1991.
"It is important for me. It is important for my confidence. It is important for the title, by itself," Nadal said. "It is an important title in my career. It is great."
He has full belief that he can play better than he is currently doing and expects the win will help him raise his level for the next month of tournaments. That mental view is another aspect that led to his reaction.
"It means a lot to me," he said. "It is difficult to imagine something like this ten or 15 years ago. I went through some tough moments during all my career in terms of injuries, but I always held the passion and the love for the sport to keep going.
"I was able to have big passion, to stay positive and to accept the challenge and try to win matches without playing my best and I was able to achieve an important title in my career so that's important for my confidence. I really believe to win these kinds of tournaments when you are not playing that well can make a big difference for the next ones."