We Are Tennis by BNP Paribas brings you the best of the past week, on and off the courts, day after day. A week that saw Nick Kyrgios made his return to the media after his return to the courts and in which the world record for trees planted was broken.
Monday August 2th
The first week of August starts with a title and a record. The trophy, first of all, goes to John Isner, who defeated Brandon Nakashima in Atlanta (sixth title for him in the city!), eight days after losing to the same opponent in the semi-finals in Cabo San Lucas. As for the Gaspesian Antoine Moises, he achieved the feat with 23,060 trees planted in 24 hours in La Crête. That's an average of one every 3.75 seconds. Even faster than an American tennis player's serve.
Tuesday August 3th
"This sport could have sunk me, and it did for a short time. Being one of Australia's most famous players at 18 and having all that media pressure was really hard. I'm 26 now and I'm old enough to know that it's all crap. I was in mental distress situations that Naomi Osaka talks about today, I've been through it twenty times worse. I'm just resilient even though at the beginning of my career I got a lot of hate and racism from some fans. In the end, it made me stronger mentally." Nick Kyrgios can rest assured that there are even more difficult situations than his. Like that of the homeless Joshua Spriestersbach, who was mistaken for a delinquent named Thomas Castleberry and interned in his place for nearly three years in a Hawaii psychiatric hospital. Innocence, when you hold us...
Wednesday August 4th
Two stories about cars that are not exactly funny. The first is about an eleven-year-old boy arrested in the Somme region of France driving an unlicensed car to bring his drunken father home. The second was Jiří Veselý, who had to forfeit the Liberec Challenger due to a minor neck pain caused by a road accident. And considering the state of the vehicle, the Czech is doing well...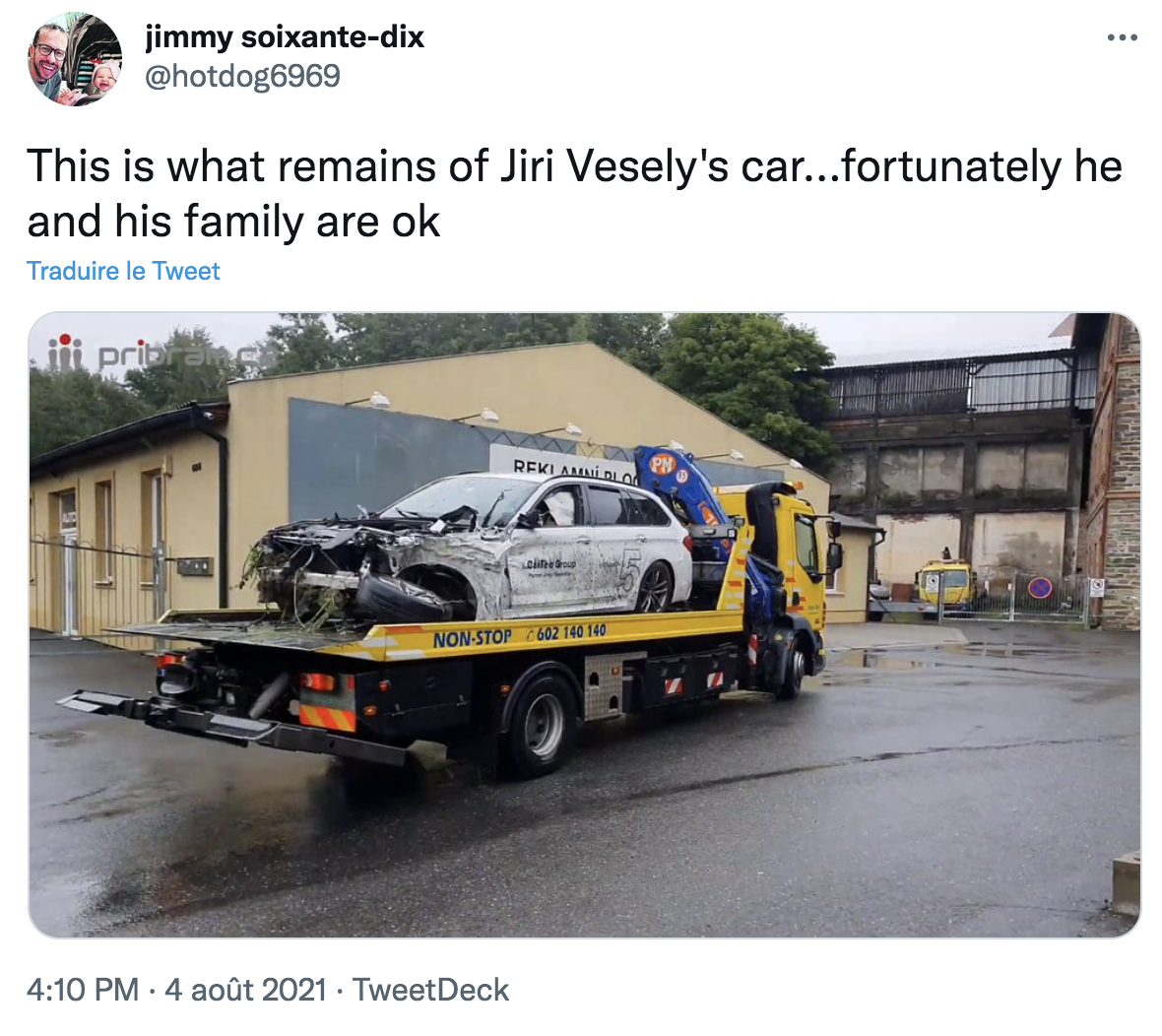 Thursday August 5th
Naomi Osaka, Sofia Kenin, Iga Świątek... And now Belinda Bencic: in terms of withdrawals, it's a disaster for the Montreal tournament, which will have to do without Grand Slam and Olympic winners. To make matters worse, Roger Federer has also announced his withdrawal from the Toronto and Cincinnati Masters 1000 events. And for once, the coronavirus has nothing to do with it, even if the creation of a Barbie doll in the likeness of Sarah Gilbert, co-creator of the AstraZeneca vaccine against Covid, is announced in advance. Now it's time to re-cu-perate.
Friday August 6th
Novak Djokovic didn't even win a medal at the Olympics, Federer spent more time in the infirmary than on the courts... It's clear that the men's legends of the game who are still active are having a complicated summer despite the Serbian's Wimbledon title. It is not Rafael Nadal who will say the opposite, as he was eliminated in the last 16 in Washington by the 50th in the world, Lloyd Harris. The fact remains that good weather can be provoked. The proof is in the form of a newly-wed couple in Brazil who had 900 litres of water poured over them by plane to create a rainbow just for a photo. Nothing goes wrong!
Saturday August 7th
Kyrgios is a genius when he wants to be. Sometimes even more inspired than the 19-year-old student who picks up his attacker's cigarette butt to have him identified and then found by the authorities just after having his mobile phone stolen in Montpellier, the enfant terrible is in fact a cracker. This new statistic shows that the Australian has a largely positive record against the top three players in the next ATP rankings (Djokovic, Daniil Medvedev and Stéfanos Tsitsipás). 2-0, 2-0, 2-0. Game, set and match.
Sunday August 8th
Idea of the weekend? Developing a collection of meatball-scented candles from Ikea. Sunday's winner? Andrea Petkovic, who lifted the cup at the Romanian Open against Mayar Sherif. Deutsche Qualität.