We Are Tennis by BNP Paribas brings you the best of the past week, on and off the courts, day after day. A week where the seniors shone in Rome and where wine from space was put up for sale.
Monday, May 10th
We're rarely too careful. During the match between Sara Sorribes Tormo and Camila Giorgi in Rome, the umpire Lara Morgane got scared and asked the security for protection. The reason behind her fright? The behavior of the father of the Italian player, who looked very agitated and even "a bit crazy", according to the umpire. You never know, the madman could imitate this Austrian man who had coronavirus, and received a nine-months suspended jail sentence and a 1000 euro-fine for deliberately coughing on his wife. Double spoiler: the daddy ended up calming down, and the wife contracted Covid. Very little suspense, in the end.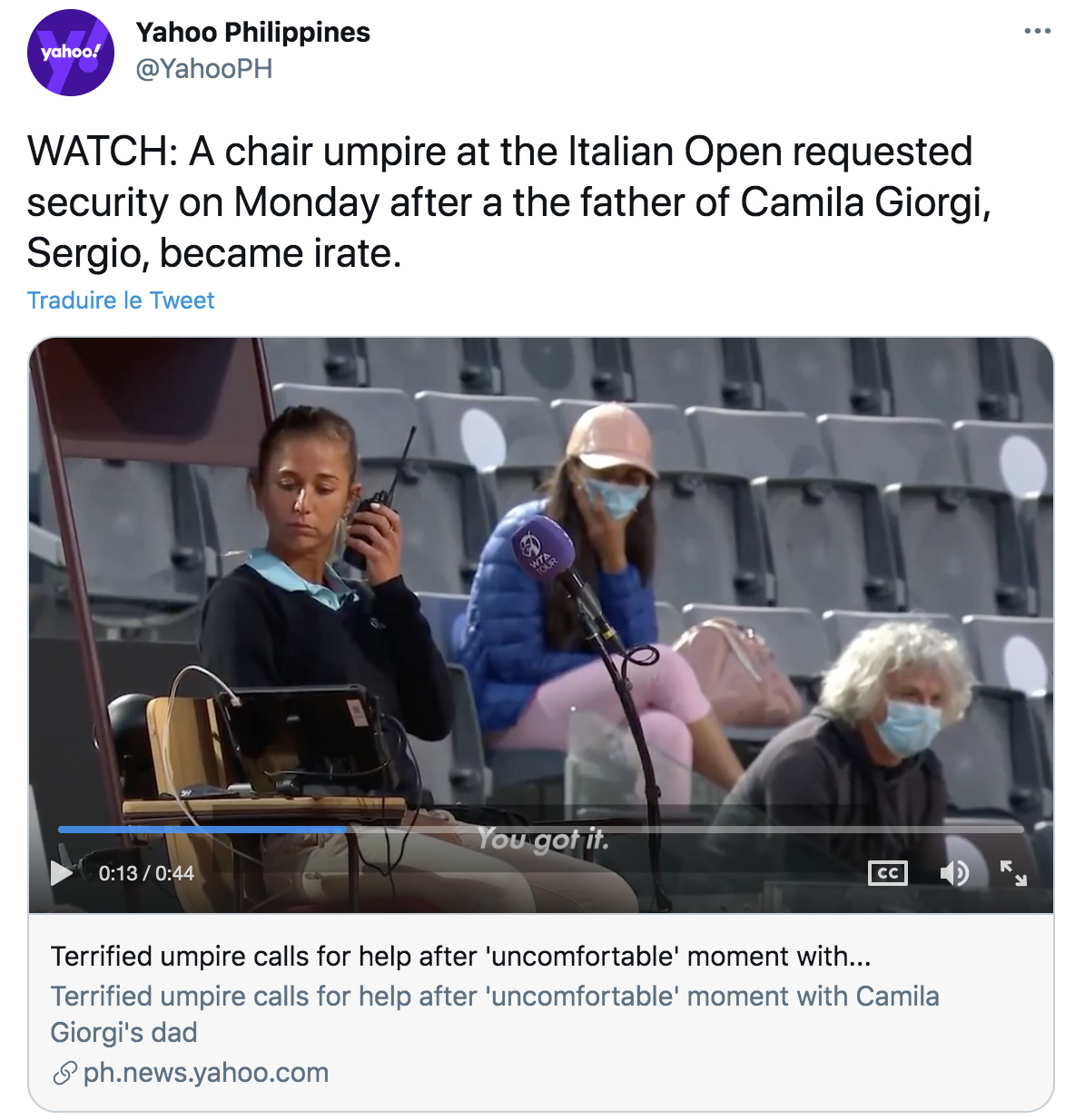 Tuesday, May 11th
202 dollars. That is the sum which Roger Federer earned…per minute, in 2020. According to Forbes, the Swiss is the best payed sportsman in the world, with an annual revenue of more than 100 million dollars. Enough to buy the first bottle of wine made in space, as a start-up from Luxembourg sent twelve bottles of Petrus to the International Space Station for a year. The price of one bottle? One million dollars. Or 1% of Roger's annual earnings.
Wednesday, May 12th
1000 is a nice number. Not for Serena Williams, unfortunately. For the thousandth match of her career, the American was knocked out of the Rome Masters 1000 in the second round. Against Nadia Podoroska, the soon-to-be 40 year-old was as helpless as this Italian woman who was surrounded by boars outside of a supermarket close to Rome and who saw her groceries get stolen. There are a lot of things happening in the country!
Thursday, May 13th
"They've programmed my third match on Thursday and I don't think it is very decent after a night session. Thankfully, we didn't play three sets…" It's rare enough to be emphasized : Rafael Nadal complained about the program. Which didn't stop him from defeating Denis Shapovalov after a heroic fight. Annick is also angry, but unlike the Spaniard, she can't find a solution: having lived for the last 45 years in her house in Caudebec-les-Elbeuf (France), the woman from Normandy is forced to demolish it because of an absurd court ruling and a quarrel with her neighbor. She might need the Matador's power…
Friday, May 14th
If John Isner and Ivo Karlović decided to merge into one person, what would be the result? Well, the result would maybe look like Reilly Opelka, who's been absolutely incredible this week: having won only two matches on clay in the whole of his career until then, the Michigan-born player defied the odds by producing an astounding amount of aces (77 out of 252 serves, or 31%), losing not sets and never losing his serve in four matches. Out of six break points to defend, Opelka saved two with a winning serve, and four with an ace. Enough to make his opponents suffocate, as they can't seem to find their oxygen against such a force of nature. But the scientific information of the day could maybe help them out : mammals (including humans) could be able to breathe through their anuses in case of emergency. And no, it's not a joke.
Saturday, May 15th
Bam, Nadal reaches another final ! And boom, Novak Djokovic will be there to face him for a 57th time (including six in the final in Rome) ! After fighting like a madman, the Serb enjoyed his qualification: "Rafa and I joked in the dressing room, after my win against Stefanos Tsitsipas: no, the old players haven't surrendered ! A few days ago, he said that Roger, Rafa and I were old. I disagree. We're showing a different and refreshing energy. It's great to face him once again in a final, he's the player that I played against the most, and without a doubt the greatest rival in my career." Scary, just like this football-alien-fish which lives hundreds of meters below sea level, and which was found washed up on a Californian beach. That's three aliens, then.
Sunday, May 16th
There are three Italian stories to tell to wrap up the weekend. First, following the death of a 39-year old man from Turin, his insurance decided to pay a pension to his wife…and to his mistress. Then, Iga Swiatek absolutely destroyed Karolina Pliskova (6-0, 6-0). And finally, Nadal defeated Djokovic before Roland-Garros. See you next year, Rome!