Following his unexpected defeat by Daniel Evans in Monte Carlo, Novak Djokovic is hoping to restore his fortunes this week in Belgrade, at a Serbian Open born of his will.
"No one is a prophet in his own country." At home this week, Novak Djokovic is unlikely to be much troubled by this proverb, however categorical. Because in his home country, his status is already far higher than any messenger of the Almighty: "He is seen almost as a god in Serbia," said Dušan T. Bataković, historian and former Serbian ambassador to France, in 2010. Although this may be overstating the case a little, as it would be for any mere mortal, the world number one nevertheless has at least one thing in common with a divine being – he wants the best for his people. In a nation whose federation does not have boundless resources, the Belgrade-native does a great deal for the development of Serbian tennis. During the shutdown of the circuit, and again during winter preparations at the end of 2021, he opened up his Belgrade tennis centre for use by his compatriots on the circuit, including a weights room and three indoor courts – a rare luxury in the country.
"Novak did an amazing thing for our country"
"In winter, the courts are very expensive for us, especially for a player ranked 700th, 800th or 1000th in the world," explained Petar Popovic, the Serbian coach of Bosnian Damir Dzumhur, in L'Équipe. "In total, about 15 pros benefit from it, including a few women such as Olga Danilovic (183rd in the world and 19 years old at the time). Novak did an incredible thing for our country. We really needed it, especially the young players. It was exceptionally helpful. I don't see any other players who have done this for their country." Another example of his desire to promote tennis in his native land is the Serbian Open, a tournament born of his will. In 2008, a few weeks after his first Grand Slam coronation – which he won at the Australian Open against Jo-Wilfried Tsonga – he bought the licence for the Amersfoort tournament through his father and uncle.
The plan was to hold a competition in Belgrade the following year. And the gamble paid off. The ATP 250 event ran from 2009 to 2013 before disappearing from the calendar. This season, following an eight-year hiatus, it's back. Played on the clay courts of the magnificent Novak Tennis Center, it now also has a more "political" objective. Following the Adria Tour in 2020 – organised to promote the increasing popularity of tennis in the Balkans before transferring to the cluster amidst the Covid-19 pandemic – the 18-times Grand Slam-title winner needs to restore his image. "The organisers (Novak's younger brother, Djordje Djokovic, is the tournament director) will certainly want to improve this image," Serbian tennis journalist Nebojša Višković told AFP. "This was behind their decision to stage the tournament without the participation of the public."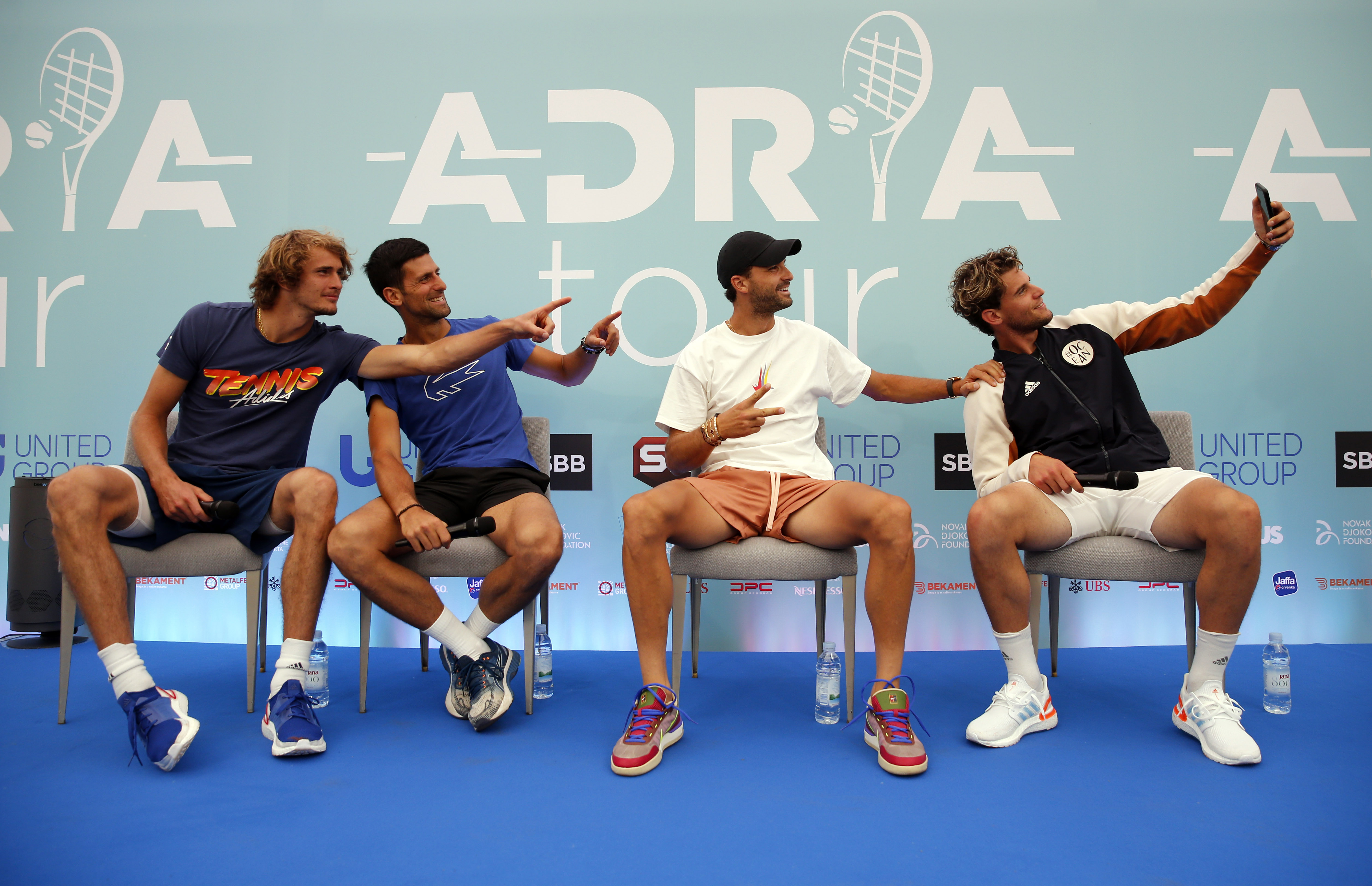 Erasing the failure in Monte Carlo
Aside from these extra-sporting considerations, this week Novak Djokovic is looking for the excitement he missed out on in Monte Carlo. Having been absent since the Australian Open, where he managed to triumph despite a much-talked about abdominal tear, he made his comeback two months later. After, in his words, a "solid" start in Monte Carlo against Jannik Sinner, he then crumbled against Dan Evans. "It's one of my worst matches in recent years," he said at a press conference. "But I don't want to take anything away from him. He took advantage of the conditions (a lot of wind and wet weather) to destroy my game. Especially with his slice, with a very low rebound on this heavy clay." Bogged down, this was the first time since Barcelona's ATP 500 in April 2018 that he had been knocked out of a tournament without winning at least two games.
Nothing to worry about for the Paris Open, however. "There is still plenty of the clay court season left," he added. "I still have plenty of competitions to improve. I need to work, that's all. While hoping for a better performance in Belgrade." Having won in 2009 and 2011, "Nole", as he is known, is aiming for a third crown on home soil. Especially with the absence of Dominic Thiem and Gaël Monfils, who have had to drop out due to injury. With the other two main headliners being Matteo Berrettini and Aslan Karatsev – 10th and 28th respectively in the ATP rankings – Djokovic is no doubt aiming for nothing less than the trophy. A milestone on the way to the Paris Open, the landmark on the horizon which could bring him closer to the 20 Grand Slam titles held by Rafael Nadal and Roger Federer – an obsession, according to the Spaniard.
Belgrade – a milestone on the way to the Paris Open
"I want to win more Slams, yes. No doubt about that," replied Nadal in an interview published by Metro.co.uk on Monday. Novak is more obsessed about this, more focused. Not in a negative way. Like he's always saying and talking about these records and well done for him." Asked about these remarks at a press conference in Belgrade, he avoided sparking a pointless controversy. "I respect Rafa, probably more than any other player in the world," he said in comments reported by Tennis Majors. "It is his right to voice an opinion: how he sees me in regards to records, etc. Personally, I do not feel that I am obsessed with anything in life. I have said a lot of times in the past that the love for the sport is the main motive why I keep playing professional tennis. I go on playing because I still feel the fire and the desire to win."
"By setting goals, you accomplish mental clarity needed to stay disciplined, responsible and organized," he continued. "Ever since I was a young player, I did not fear voicing my goals. I wanted to be number one and to win Slams." Exempted from the first round as the seeded number one, he will take on his destiny in this Serbian Open against Kwon Soon-woo, who vanquished Roberto Carballés Baena. Although he is unlikely to have lost faith in his game after the crucifixion in Monaco, he cannot afford a further disappointment. Then doubts could really begin to gnaw at him. In the event of victory, it would be the 83rd title of his singles career. While Jesus Christ apparently had the power to multiply loaves, Novak Djokovic's gift is multiplying trophies.