We Are Tennis by BNP Paribas brings you the best of the past week, on and off the courts, day after day. A week where Toni Nadal became Félix Auger-Aliasime's new coach and where a player sold her forearm on the Internet.
Monday, April 5th
Cinemas still haven't reopened and the industry is not a its best but it's not a good enough reason to bury all the upcoming projects. That's why the shooting of Der Spieler, the film on Boris Becker's career, is starting this month. In Tarn, France, a driver received three different speeding tickets. Three tickets, received on the same day, for speeding at the exact same spot. Incredible. Is lockdown making people go crazy? The story of the day would suggest so: as he had to self-isolate in Sweden before being allowed to go back to his country, a fifty-year old Norwegian man fled his hotel and tried to cross the border by travelling 40 kilometers on skis, across the mountains. Too difficult, too cold, the rebel ended up being saved by a mountain rescue team. That one is the losing Spieler.
Tuesday, April 6th
"I have great memories with Rafa, I met him in Monte-Carlo, in the player's lounge, in 2006. When he entered the room, I was wearing a sleeveless shirt to imitate him. There was a pinball machine, he offered me to play against him, and I was really happy. I remember beating him, he was a little annoyed and he ended up kicking the machine. Since that first time we met and that hard-fought pinball game, we speak every time we see each other. Rafa is an incredible person, his attitude is always wonderful." Careful, there might be a traitor: this man who has befriended Rafael Nadal is named…Djokovic. Djorde Djokovic, Novak's little brother. Unlucky for him, his older brother might not buy him the biggest Nintendo Switch ever made, which is 1,78 meters wide, and 80 centimeters high. It's 650% bigger than the usual edition. The younger brother doesn't care, he prefers the pinball machine.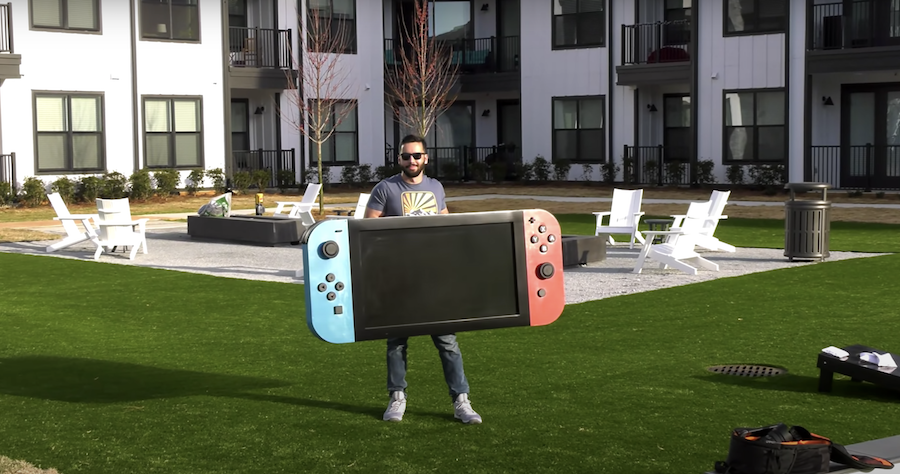 Wednesday, April 7th
Gosh, this pandemic is long ! And because of it, it's now official, the 2021 French Open will start a week later. The tournament will now take place between May 30th and June 13th. In other news, as musicians are also trying to kill time, the DJ Thomas Moulene and the saxophonist Adrian Sax decided to play a gig on top of the mountains at Alpe-d'Huez, 3300 meters above sea level. Approximately the altitude players will have to reach in order to stop Rafael Nadal winning Roland-Garros again. We can't wait for the Grand Slam to start…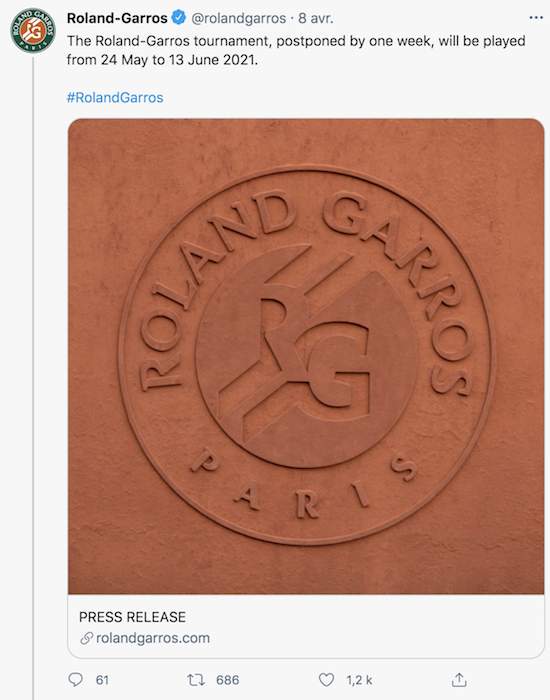 Thursday, April 8th
In the state of Montana, in the US, a little boy was finishing a bag of crisps when he found a strange little object at the bottom of the packet. His dad, who was called to the rescue, was shocked: his son almost swallowed a bullet. But is it really that strange, in a world where it's possible to sell your own body parts on the Internet? The world number 655, Oleksandra Oliynykova, has just sold her forearm as an ad space against three Ethereums (which are currently worth 6000 dollars). Thankfully for him, Felix Auger-Aliassime doesn't need that kind of strategy to top up his income. However, the Canadian needs a little boost to definitely become one of the best players in the world, so he chose Toni Nadal to guide him on the right path. Nadal's uncle's goal: achieving the "same mission" as he did with his nephew. That's quite a mission.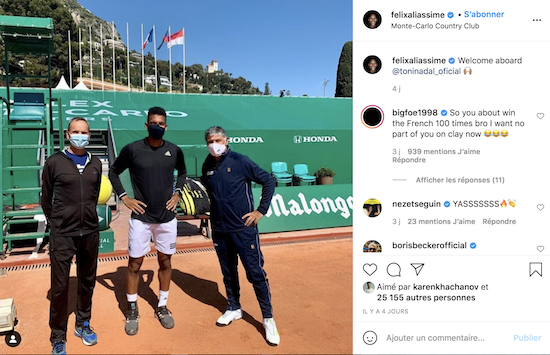 Friday, April 9th
Half a century, an pretty uncommon life, and a presence in the history of hip-hop for eternity. At 50, DMX passed away after suffering a heart attack which was provoked by an overdose. To avoid any chance of suffering a precocious death, Eugenie Bouchard got her Covid jab and let the world know on her Twitter account. With a subliminal message ?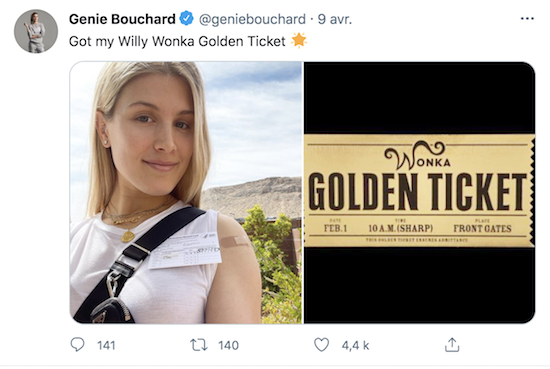 Saturday, April 10th
Alize Cornet is beefing with the French government! After calling the French minister of Sports, Roxana Maracineanu a "calamity", the 31-year old was called to order: it's the French tennis federation which decided to change the dates of Roland-Garros, and not the State. Meanwhile, the Marbella ATP 250 looked a little chauvinistic with four spaniards in the semi-finals, while a Korean couple ruined the work of the American graffiti artist John Andrew Perello, by painting directly on it, in the middle of the art gallery. 375 000 euros gone because of that terrible behavior. 
Sunday, April 11th
And the winners of the weekend are… Lorenzo Sonego, who defeated Laslo Djere in Sardinia to win the second title of his career (only a few days after winning the first, playing doubles in Cagliari). Andreas Flaten, who worked in a garage in Georgia, and received his last salary in pennies as his ex-employer was furious that he decided to quit. But also Pablo Carreno Busta, who won the fifth title of his career in Marbella. With a few regrets regarding the recognition he should receive : "Having Rafael Nadal with us, in Spain, is a great chance but also a problem at the same time. His triumphs give us a lot of joy, but they put a shadow on what the rest of Spanish players achieve. In this tournament, neither him or Roberto Bautista Agut were here, and we should be very proud that four Spaniards manage to reach the semi-finals. But I do get the impression that this « feat » is minimized." You're not wrong, Pablo.