Russian tennis has consistently delivered teenage women proteges over recent decades. As examples, there was Anna Kournikova then came Maria Sharapova and now the latest with long blonde hair and a slight American twang is Mirra Andreeva, writes Craig Gabriel.
Putting aside women players being defaulted, or others deciding not to do post-match media conferences, in recent weeks 16-year-old Mirra Andreeva (29 April is her birthday) has been the talk of women's tennis and at that age there is a freshness about her, and she has added plenty to the women's game. 
She was born in Krasnoyarsk, the second largest city in Siberia and an important junction of the renowned Trans-Siberian Railway and is one of the largest producers of aluminium in the country. The city is known for its natural landscape and the great author Anton Chekhov judged it to be the most beautiful city in Siberia.
But there is nothing cold about Mirra and her freshness is not dissimilar to that of Carlos Alcaraz on the men's side with his smiling disposition. Both are having the time of their lives, doing what they want to and loving it. They have not been bruised by the environment, but instead are lapping up all the experiences and excitement.
She says she is like any teenager. She is not one for hobbies, but she is a TV watcher when the free time is there. She still must do her schooling which is through a Russian on-line school, and she feels she is doing quite well. She suggested she is not bad at maths and English but when it comes to chemistry, well that is a completely different story. It's "so bad" and she doesn't understand anything, and just like a teenager, homework doesn't quite tick the right boxes.
"I have to do my school, but let's be honest, I don't do it sometimes," she said laughing. "Yes, I prefer to watch some TV series instead of it (but) I would say that I am nice, I hope, but I don't know how to describe myself. I think I care about other people. That's maybe a good sign. I don't know. But you just need to talk to me and then you will understand which person I am.
"(I want to stay humble); I guess if I will be a little bit like a dive, my coach will say something to me for sure because he doesn't like that people. So, I'm sure I will get some words from him.
"I will just be me. I will just be myself, and I'm sure if I will just do my thing, I will just, let's say, stay on the ground. I will not go as a diva."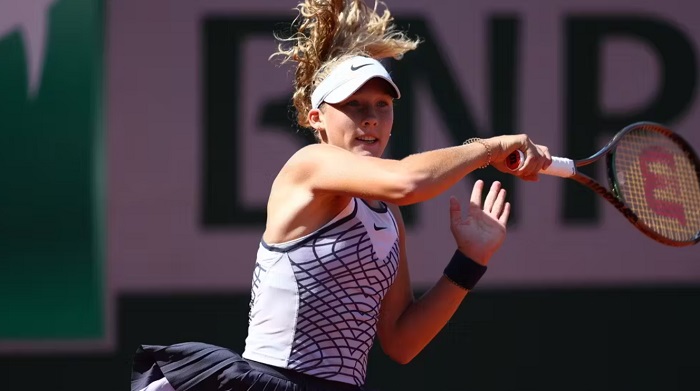 It was only earlier this year that Andreeva was playing juniors. She reached the Australian Open final, a match she lost, and which bothered her for a while, it was tough in Australia she said, but now considers it may have been a blessing in a strange way. Maybe she took stock a bit because just before Roland Garros, in Madrid she beat three top 50 players and came into Paris feeling pretty good as she advanced through the qualifying rounds and made the third round which took her ranking to a new career high of 100.
"I cannot say something changed. I am just doing my thing day-by-day, and that's it," Andreeva said. "I am just doing what feels right on the court. Honestly, when we talk with my coaches about the plan for the match, I think about it just right before the match, but then I forget all the stuff and I just play as I feel and that's it."
The more she talks, the more you see the sort of innocence in her and that this is fun. She may not have an actual hobby but playing tennis on a big stage is like a hobby. It is not a drudge. Mirra does not have any specific goals, as she keeps saying "I just play" however, if there is one thing she does want to do, it's to be in a major like the US Open. But really, she just plays and does not think about it and tries to enjoy every moment, every experience and live those experiences so many other 16-year-olds can only dream about.
And like any star struck teenager she gets a kick out of being up close (and personal) to some of the biggest names tennis has to highlight. She texts with Andy Murray who she thinks the world of.  Her earliest memory of Roland Garros she says was last year when she met Novak Djokovic in a hallway at Court Suzanne Lenglen.
"He was going to the locker room, and he was signing a song, so that's what I remember; like that's the first memory that comes to my mind," Andreeva said. "He was preparing before his match. I don't remember against who he played, but he was so relaxed. So, I think that's the memory.

"(But) Roger, he always been my idol. He's always been my No.1 but after Roland Garros 2022 when Rafa, he won it, I don't know why, but in my head, everything is turned. Now Rafa and Roger, they're in the first place, but I don't want to offend Novak … so let's say they're three on the first places.

"I like the way that he plays. He's counterpunching a lot and he's a good defender. He's a good mover on the court, so yes, I like the way he plays."
Mirra Andreeva's run at Roland Garros was ended by Coco Gauff but she maturely sees the positives she takes away and what needs to be worked on. She knows what she did wrong and will correct them. Due to her age, she is restricted on the number of tour level events she can play but Wimbledon is next for her, and she hopes to be granted a visa in time, otherwise plans will have to be rearranged.