Elena Rybakina is building a collection of trophies and they're housed in a lot of different places – Wimbledon is with her parents, Indian Wells at her place in Bratislava, etc but when she settles down, they will all be under one roof. Craig Gabriel writes the Kazakh is being noticed.
The last nine months have been a sort of whirlwind for Elena Rybakina, but the 22-year-old has taken things in her stride. Her demeanour off the court is so different to the style in which she plays the sport that has provided her glory.
To say she is reserved would probably be an understatement. She is very softly spoken, and she doesn't smile too much but when she does, her face beams and there is almost a sparkle in her eyes. On court there is incredible aggression in her game, and she uses her height of 1.83m to outstanding effect with her serve. She shows no emotion so it is difficult to read her in a match and with that she can remind people of one of the greats of the game, Chrissie Evert, who was known as "Little Miss Cool" or the "Ice Maiden".
"Yeah, probably I would say I am enjoying it a bit more just because I know the part on what it takes in all the experience I have now had," Rybakina said. "I am not surprised, so yes with all the experience I am enjoying much more now than before.
"(The attention and focus on me), for sure these kind of things is a case of getting used to but still I don't have so much attention compared to other players but yes for sure this is something I'm getting used to and for sure it is just the experience."
The attention she has been starting to receive especially this year since she entered the top ten, something she should have been able to achieve last year after she won Wimbledon but could not because ranking points were not provided, has been appreciated. She especially like when it comes from young players and kids.
"It's really nice to think that you're an inspiration for someone," Rybakina said. "I would not say that I am very, how would you say, the person who likes to be kind of on the stage because sometimes it can be too much but other times it might not. It's important to keep a balance and for now I feel comfortable, with all that attention.
"For sure Wimbledon was really special and for sure it was different from winning at like the other Grand Slams so that one was special but now after all the results like Australian Open all these big results I had, there is more attention. Probably I was expecting after Wimbledon but I'm getting it now."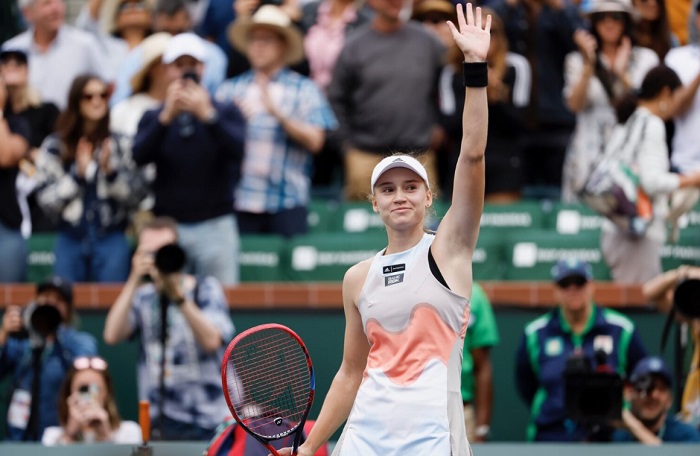 When she was not at the forefront of focus, something that a Wimbledon champion would receive automatically, it sort of gave Elena, or Lena which is a sort of nickname, used that for additional motivation even though it is not something that enters her mind on any sort of regular basis.
"I was not upset but I was probably waiting for something different," she said. "I think with managing the schedule and after Wimbledon it was different and it was one part of my life which is also changing outside of tennis now it's a bit different and kind of easier and yeah I'm enjoying it more."
She, along with Aryna Sabalenka and Iga Swiatek have breathed some new life into women's tennis. Rivalries in sport are crucial and with any luck these three will develop something akin to Djokovic, Federer and Nadal, despite there being a long way to go before that actually happens.
In the first quarter of the year Elena and Aryna have been the best players in the world and yes there has been a bit of injection from Swiatek and Barbora Krejcikova. After all, Sabalenka won the Australian Open stopping Rybakina in the final in what was the best women's match of the year so far, then Rybakina turned the tables on the Belarusian in the BNP Paribas Open final in Indian Wells and then Rybakina played the final of the Miami Open.
She has reached a career high of seven in the world (at time of writing) but that's certainly nowhere near enough.
"I think the end goal is to be number one like for many players but it's still far," Rybakina said. "There's a lot of other things to improve and work on but this is the end goal I think … and for sure more Grand Slams."