Daniil Medvedev has come off a run of tournaments that would make even the greatest envious and has turned things around. He is one of the most honest and nicest guys in tennis, writes Craig Gabriel.
Daniil Medvedev is just the best. Not only is he one heck of a player and a bit unorthodox, but he is incredibly articulate and funny. Even him not knowing who Louis Tomlinson and One Direction are, is very amusing and something that his good friend Andrey Rublev reminds him of. That's what friends are for … to give you a hard time, in jest of course.
Medvedev is back where he belongs in world tennis, well and truly in the top five. His recent brief stint outside the top ten was almost uncharacteristic. While he was hanging on to the world No.1 ranking in 2022, it was not one of his better years and when he lost to Nick Kyrgios at the US Open, he also lost the top spot in the men's game.
January this year didn't fare that well either and after another frustrating major at the Australian open, there was the slide out of the top ten.
Maybe there was a subconscious and stronger conscious realisation that this is not where he should be as a switch seemed to go off in Daniil's mind after that because it was like he has stepped on the gas pedal of his BMW and hit top gear and top speed. 
Over the next seven weeks Medvedev did something that Roger Federer, Novak Djokovic and Rafa Nadal had never done. In fact, it had not been achieved since Ivan Lendl did it in 1981; he reached the final of five consecutive tournaments – Rotterdam, Doha, Dubai, BNP Paribas Open, Indian Wells and Miami, and won four titles, the first three and the last one. He did it across three continents, four countries and more than a dozen time zones.

"It's amazing. It's very tough to have these streaks, you know, in tennis," Medvedev said. "Yeah, you always have an opponent on the other side who wants to beat you. Everyone wants to be in the semis of Masters, finals, winning the tournament. So, it's tough, because anybody can beat you any moment. 
"When you manage to win that many matches in a row, it's just a pleasant feeling. I feel great, and hopefully I can continue this way this season, because it's been a long time I haven't felt this way."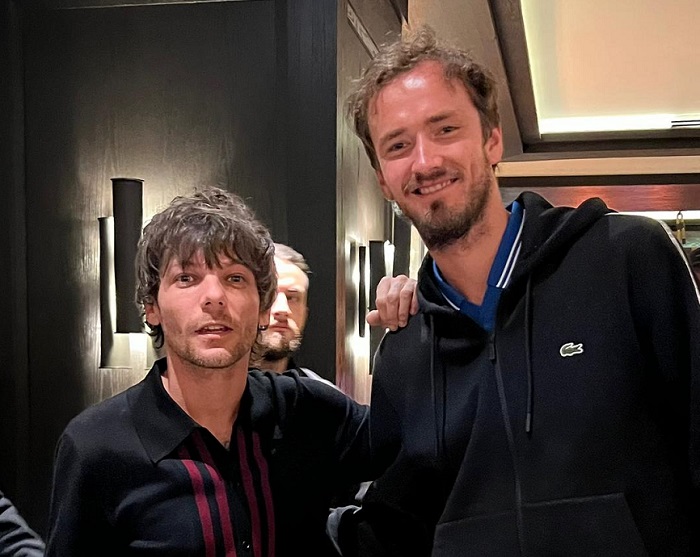 However, the more one wins and wins and wins, there is that element of pressure and trying to get around that is not easy. Being mentally tough and at 100% can be stressful but when you are a player like Medvedev you can handle it pretty well because the experience is there. He has often said he likes the pressure; it means that you have been achieving the right results consistently.
"It's actually funny, because I remember when you go from juniors to professionals you feel like that's a huge pressure, and it actually is. When you start playing challengers after you played futures, that feels like a huge pressure. Every time something happens in your life you feel like it's a huge pressure, but then one year later, oh, it was actually not that much. Now it's more," he said smiling.
"That's normal. The more you're living, the more you try to achieve, not talking only about tennis, the more pressure you will have, sometimes from your close ones, from your family, sometimes from the fans, sometimes from, I don't know, press, media, whatever.
"So, I know that in tennis the more pressure you have, meaning probably the better you do, so that's great. You have this pressure back. I don't know if No.1 spot kind of threw me out a little bit because a lot of ex-players say that this was tough for them.

"Honestly, it was not tough for me. It was a great feeling. But the result is that I didn't manage to do well when I was. So, now I'm really happy that I'm playing good tennis and, yeah, I'm happy, really happy for the pressure to come back."
Being No.1 is a diabolical achievement for anyone. John McEnroe struggled with it. Lendl loved it. Pete Sampras just went along with it. Daniil Medvedev felt normal with it. He did not take it for granted but it just felt great.
"I was really happy I managed to take this spot and hold it for that long," Medvedev said. "I was not happy with the level of my tennis and with the matches I lost, but this had nothing to do with the No.1. It was just, yeah, losing other tennis matches to other players.
Are the tennis players trying to beat you more when you're No. 1? I don't know. I hope not, because it would be better for them if they try to do it every match no matter which number you are at the ranking.
"And this pressure of being No. 1, for sure a lot of haters. And that's normal. Novak has a lot of haters. Even Rafa and Roger somehow have them. You're, like, how is this possible? They shouldn't have. And that taught me to even less care about this and focus more on myself, on my close people around me, because that's only way you can stay sane and true to you, to kind of, as I said, to have no regrets."
Give it everything and have no regrets could very well be his mantra. He is still young but he says when he finishes his career, it doesn't matter how many majors or tournaments he has won, he just wants to know that he has done his best.

"So far I feel like I'm achieving my goal; even last year, not the best year, but I was trying," he said. "I was trying hard, and I was doing my best, and has been working this year. So, that's my biggest goal."
And then for Daniil Medvedev, One Direction's song "The Story of My Life" would certainly be very appropriate.