Casper Ruud is one of the future stars of men's tennis and 2021 has been quite a season for the young Norwegian. Craig Gabriel recently sat down to chat with him about his dad, his hero and his tennis.
Casper Ruud has never lost to his idol Rafael Nadal on a tennis court and that's because they have never played one another, but on a golf course the Norwegian who plays off two has never beaten the Spaniard who plays off scratch. In golf they have played several times and Casper says Rafa is just as competitive as if he was in the middle of a final at one of the majors.
Ruud has become the first player from his nation to reach the world's top ten and has reached a career high of eight which is 31 places higher than his father, former player, Christian ever reached. So, with that Casper Ruud needs to be regarded as the best player to ever come from Norway.
Ruud the younger has known Nadal for a good many years and that's because since his late teen years he has been training at Rafa's academy.
"When I was 19 years old, I got the chance to go there and learn from the guy who has been my idol for many years growing up, watching on TV," Ruud said. "It's actually the first memory I have of watching tennis on TV, is watching Rafa against (Mariano) Puerta in his first Grand Slam win in Roland Garros.
"From that moment I became a fan, and Rafa became, I guess, my idol. To be able to be there and be a part of his academy and get to train with him sometimes was an amazing opportunity for me. I was lucky enough to get that, and it's been going well since. We have had great practices, really intense."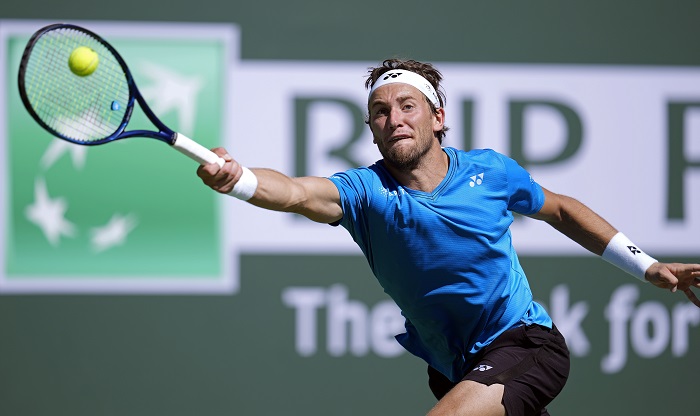 Casper Ruud is now 22 and 2021 has been a remarkable year for him. He has led the ATP Tour with the most singles titles, five (that was only just tied by Alexander Zverev) and during the clay court season he went on a swing that brought him three titles in as many weeks. He also claimed his first hardcourt title in San Diego, something important for himself to show he can win on more than clay; now he is targeting a grass court title. 
That three-week title rush made him the first since Andy Murray in 2011 to achieve such a milestone and while Murray won a 250 (Bangkok), a 500 (Tokyo) and a 1000 (Rolex Shanghai Masters) compared to three 250's by Ruud, it is still outstanding and he "enjoyed every day and every second of it".
It was a tremendous experience, and it has built up the hunger in his young career. But while he is stoked with doing something like that, he also plays it down to a slight degree.
"It's obviously nice and a good feeling (but) the tournaments I won maybe can't compare to what maybe Novak (Djokovic) won, he won three Slams this year and I think he has four titles in total; (Daniil) Medvedev, Zverev, those guys, they have some bigger titles to their name," Ruud said. 
"I think this year has been about winning a lot of matches for me. I tried to set a goal going into the season, I wanted to try to win another tournament because last year was my first and I wanted to follow up this year with trying to win another one, become a multiple ATP Tour champion or tournament champion. Yeah, it's been an unbelievable spring, summer and also fall so I'm very happy."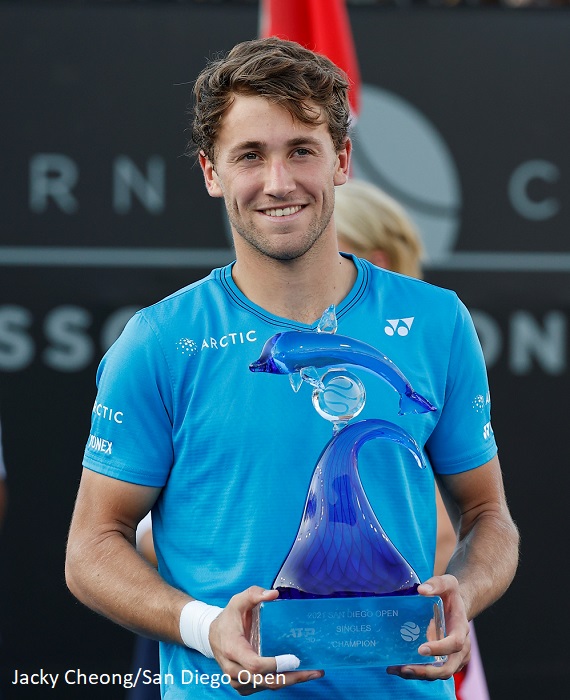 Casper is a low-key kind of guy. He started the year ranked 27 and says his success has surprised him. 
He and his team, which his father is a vital part of, discussed goals and figured top 20 would be a big step but he did that after Madrid. They then started looking at the top 10 but figured the points needed were too great. He elected to not play the Olympics and bang, that gave him the points springboard with his back-to-back-to-back title run.
"I was quite nervous that night (before it happened), because I knew it was on the line, but it wasn't really up to me," he said.  "It was up to Daniil, because he was playing Felix (Auger-Aliassime) at the semifinals in the US Open. I knew if Felix won, he would pass me and if he lost, I would break into the top 10 the following Monday.
"I watched the first set, and then I got too nervous, so I had to go walk the dog in the middle of the night, because I was really stressed out and Felix was playing really well. I think also he deserves to be a top 10 player, and I'm sure he will. But that was a big moment for me. 
"I moved in together with my girlfriend earlier this year, so we had a nice celebration. You know, I don't drink alcohol, but I had a couple of Coca Colas during the weekend to celebrate and good food and great company. It was a fun Friday evening."
Casper laughs when it is suggested that it must be tough for his dad Christian that he no longer is the best player to ever come from Norway. 
Ruud the younger says: "There are still a couple of things that he kind of has that I haven't done yet, but I have broken most of his records. I think he's also happy about it and is proud of it, because he's a big part of my team, he's my main coach. It's also an achievement for him. We are all happy in the family these days, even though I broke his record, we still have a good vibe around the dinner table."
And topping off this amazing year is the fact that Casper has become the first player from Norway to qualify for the season-ending championships, the ATP Finals.