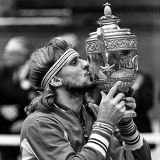 Bjorn BORG
aka IceBorg
born at
Stockholm (Sweden)
PRO CAREER
1973 - 1993
20 years
Main hand
right
Two-handed backhand
An inauspicious start to an illustrious career.
The story goes that Bjorn Borg started playing tennis as a 9 year old, hitting the ball against his garage door. By chance. It was an inauspicious start to an illustrious career.
A few years later, the Swede would become a tennis legend. His long hair, sweatband and wooden racquet will forever be recognisable. His record of six titles at Roland-Garros, from 1974 to 1981, seemed unattainable until the Rafael Nadal arrived on the clay. IceBorg, as the Swede was called, still shares the record with Roger Federer for five straight Wimbledon titles. Borg's first on the London grass court came in 1976, when he was 17, making him an instant star. Bjorn Borg was known for his cold demeanour on the courts, but became an idol to tennis fans. Lennart Bergelin's protégé is also famous for his legendary rivalry with John McEnroe, which reached its apotheosis at the Wimbledon final in 1980. He surprised everyone when he retired at age 26. Since then, he has seen ups and downs: three marriages, depression and problems with the Swedish tax authorities. Things have settled down and now one of his sons, Leo, age 17, is training at the Rafa Nadal Academy. To be continued.
palmares
Higher ranking
1
ATP Singles, 23/08/1977
grand slam
victories
Roland-Garros (6): 1974, 1975, 1978, 1979, 1980, 1981
Wimbledon (5): 1976, 1977, 1978, 1979, 1980
finals
Wimbledon (1): 1981
U.S. Open (4): 1976, 1978, 1980, 1981
others
victories
Davis Cup (1): 1975
Masters (2): 1980, 1981
More information about Bjorn BORG