It is a catch phrase in tennis. "Quiet please" calls the chair umpire signalling a match is about to start. The fans have settled in for what's about to begin and there is a sense of anticipation. The players are ready, and the first ball is hit but instead of quiet fans are doing as they please. Does tennis need this, asks Craig Gabriel in this two-part series.
How would you feel about this? You're sitting watching a tennis match and the people around you are making a noise during points, then someone gets up in the middle of a rally and wants to go out while in the row behind you "Hey Millie, do you want a hot dog? Mustard?"
Meanwhile on the court you have Andrey Rublev chasing the ball down in a rally and striking a forehand down the line to Casper Ruud. Is it distracting for the players? And what about the spectators trying to concentrate on a match that has been producing some interesting tennis? 
This has come about following comments made by Frances Tiafoe and has created an element of discussion. He said: "I think fans should be able to come and go and move around and speak during matches. Imagine going to a basketball game and not saying anything. Apart from retaining some tradition at Wimbledon, outside that, let's start changing things to bring younger fans to the game."
It is very easy to make such comments but put the concept into practice and see the reaction which will likely go out the window. 
People think the umpire saying "quiet please" is part of the historical fuddy duddyness of tennis. Sure it is part of the history and tradition of the sport but it is not just a case of being polite. There are so many reasons why there should be quiet: 1. The noise is a distraction to the people around watching a match 2. People don't realise that players listen to the sound of a ball making contact with the racquet strings to help determine their course of action 3. There is the element of concentration that is compromised.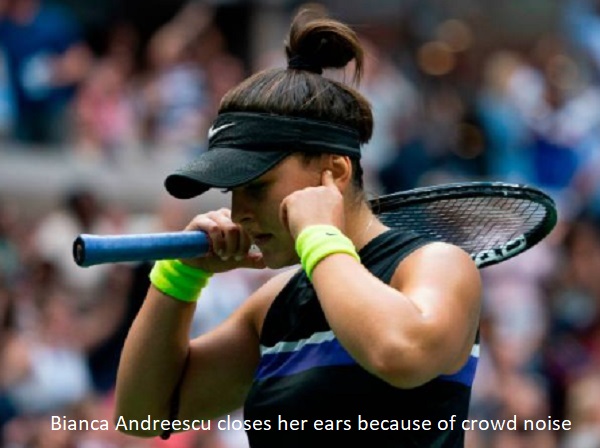 Tennis players need to man up and accept the noise and movement, is an argument. Fans being able to move around will increase attendance. Anyone who thinks that will be a cause to bring more people into the sport is likely understanding what attracts people to a sport or activity.
Tiafoe was comparing apples to oranges. Basketball is a team sport and is in a totally different cultural environment compared to individual sports such as tennis, and even golf. Americans in particular go for the whole team sport aspect – basketball, ice hockey, baseball, their version of football. And then there is their adoration of college sports which so often is lost on people outside the USA.
American Jessica Pegula says she doesn't get bothered if people are standing or yelling or talking then backtracks a bit at the thought of a potential commotion which is something like this can open up to. The US Open is notorious for the noise it delivers and so often a player has to wait for things to settle down.
She was talking to two football guys from the Buffalo Bills the team her parents own, and she said "they had no idea the etiquette". 
"I think, yeah, to bring some personality to the sport I think we have to start looking at some different things to touch a younger generation," Pegula said, "and guys like Foe who have so much personality and so much energy, they love it, and they have such an amazing fan base, and they have so many fans outside of tennis I feel like because of his energy. So, I think something that could compliment that would really help the sport.
"I think there would have to be some sort of parameters. I don't think it could ever be replicated exactly, but I think the idea of thinking outside the box is positive. You can't have people shouting in the middle of a point necessarily, but maybe if the movement was less restrictive, like, I don't think it's that big of a deal. But then, yeah, of course, you open yourself up to things that could happen where it does maybe cause hindrances throughout the play, and it really affects the players."
You tend to find that it is Americans who more than most want to change the sport because it is not suiting them. But why to the basic traditions of this great sport have to be changed? Yes, absolutely, the American market is an important one, but it is not the only market. One wanna be player who did not make the cut said fans being allowed to make noise would bring more people into tennis. Talk about being naive. 
The same person said he was sick of American tennis being overlooked. Hasn't that got to more to do with the state of American tennis and that other countries have passed them because just maybe there was a greater hunger from players of other nations?
Coco Gauff spoke of an exhibition she played with Ash Barty and there was music playing and "it definitely does affect I guess the way you track the ball and the sound of it, for sure". Don't confuse the types of events, that was an exhibition which, in many cases, are there for pure entertainment value and they don't mean anything.
"I don't know if we'll be able to do, like, full music," Gauff said. "I've always said tennis doesn't need to be completely silent. Also growing up, I played at Pompey Park. They would always have baseball games, basketball practice, swimming. It was so loud over there.
My dad was like, I never want to hear you complain about noise during a match. This is when I was like eight or nine.
"I'm not the particular player that's going to complain about noise. Maybe a little bit of noise, I would welcome it. I don't know if we could do like full blasting music. It's quite interesting what Frances said. I definitely think it would be more enjoyable for the fans, especially in the stadium, but I don't know how players would be able to do that."
Gauff says a spectator moving around is "definitely doable" for her. She said people moving does not bother her but there might be a totally different view if a person moving in the stands is in her direct line of sight and she is distracted at a crucial moment and the returns she plays floats out or gets dumped into the bottom of the net.

END OF PART ONE