Just when people began to send Serena Williams into retirement, Craig Gabriel writes she has surprised them all by confirming she will be at Wimbledon a year after she last played.
For the time being Serena Williams has ended retirement speculation but there is a saying that goes "a week is a long time in politics" so in professional tennis what could a year be? An eternity? You don't play and the sport moves right past you, irrespective who you are. It is almost like a plane accelerating down a runway before take-off.
For the last 49 weeks Serena Williams has not played a match whether it be singles or doubles. The last time she played a match was her first round at Wimbledon and that lasted six games. She walked onto the famed Centre Court in a bit of a statement outfit, which is not unusual for her, that flowed behind her; something like what a bride would wear walking down the aisle.
Her face was fixed; a poker-face, serious and looking straight ahead and she walked like she was on a catwalk during London Fashion Week.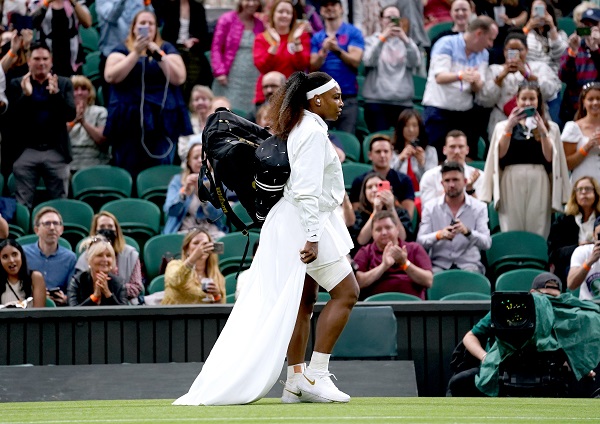 This was a court she knew well. SW has won seven singles and an Olympic singles gold medal at SW19. However, no matter how well you may know the blades of grass, the grass courts are still slick with their freshness, especially Centre which is not played on from one year to the next, bar four lady members in a doubles match the Saturday before The Championships begin. That's to "bruise" the surface.
But, on the first Tuesday (29th June 2021) it was Serena Williams who was more than bruised. She was playing Aliaksandra Sasnovich when she lost her footing behind the baseline just under the Royal Box. Serena went down hard, and she knew straight away her Wimbledon was over. She heard a sound; it was her right hamstring.
Despite being prominent at events such as The Oscars, The Met Gala, or the F1 in Miami, the US Open, Australian Open, French Open all came and went and there was no word of Serena Williams. Most figured she had simply bowed out … retired. Err, nope. This week she Instagramed that she was coming back: "SW and SW19. It's a date. Let's go."
Her ranking is at 1208. She was not on the original entry list and her ranking would have excluded her from playing qualifying. There was only one way and a couple of hours after her social media post, Wimbledon announced their initial wild card list and she was on there.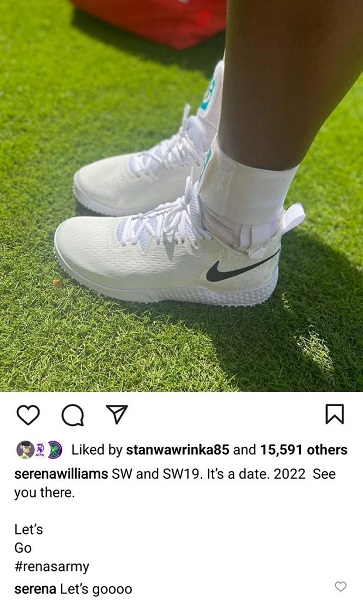 The 40-year-old also announced that she would prepare by playing doubles with Ons Jabeur at Eastbourne, an event she last played in 2011. Since the birth of her daughter Olympia in September 2017, Serena has won one singles title, Auckland in 2020 and reached five other singles finals including two at Wimbledon and two at the US Open.
Her entry is going to make the singles draw all the more fascinating at Wimbledon. Where she lands will be eagerly awaited. For example, world No.1 Iga Swiatek could be possible, or Coco Gauff, or Ons Jabeur or Simona Halep who beat her in the 2019 final and who is now coached by William's ex-coach Patrick Mouratoglou who, with bravado, said he gave her an ultimatum.
Despite the fact that it is Serena Williams one questions if she can win it, after all she was not able to make the last hurdle in 2018 and 2019 when she had played a fair amount, but it is probably her last chance to equal Margaret Court's all-time record of 24 majors. 
Still, would you go against Serena Williams?