Bianca Andreescu, Dominic Thiem, Naomi Osaka, Novak Djokovic... While some avoided the cold, others caught a cold on the courts and had a bad month. Stefanos Tsitsipas and Alejandro Davidovich Fokina were impressive, while three major players carefully observed Emmanuel Macron's pension reform. Look back at the highlights of the last 30 years.
MVP of the month: Stefanos Tsitsipas
The President of Monaco, that's him! Re-elected this year after his 2021 title, Stefanos Tsitsipas did almost everything right in Monte-Carlo, dropping only one set against formidable opponents (Fabio Fognini, Diego Schwartzman, Alexander Zverev, among others). Winning the second Masters 1000 of his career, the Greek was able to breathe a sigh of relief during the party: "It's a great feeling, twice as special as in 2021 because this time we had the public. It was a bit more lively, but also inevitably a lot harder on the nerves. Given the number of battles to be won, it's great news to finish this tournament like this..." The world number 5, who then kept his feet on the ground by coming through a fantastic quarter-final match in Barcelona against Carlos Alcaraz, is already one of the favourites at Roland Garros.
Tears of the Month: Naomi Osaka
"I'm always crying..." Not wrong, Naomi, but as long as they are tears of joy, everyone is happy. "I didn't feel like I understood her game at all and yet I managed to win. At this stage, I need to assert myself. Against such strong players, I must not let myself be defeated. If I had had that negative feeling, it could have cost me the win." By beating Belinda Bencic in the semi-finals of the Miami Open, Naomi Osaka, who was then swept aside in the final by the indomitable Iga Swiatek (the Pole has not lost since February), was able to take a breather. It's amazing how things can change in the space of two weeks... And next month, what do we sign for?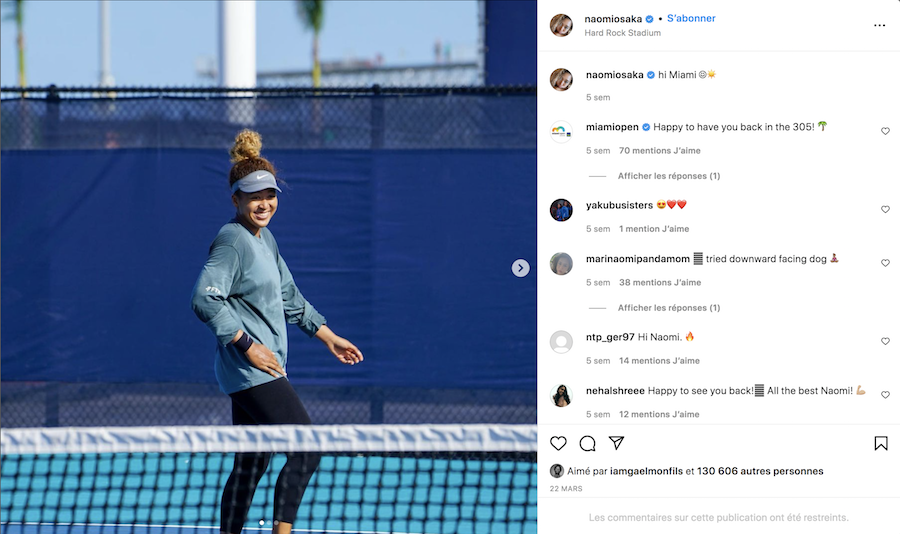 French of the month: Jo-Wilfried Tsonga
Here's one who unfortunately doesn't get much attention for his performances on the courts, but who still managed to capture our little hearts in April. At 37 years of age, Jo-Wilfried Tsonga, the French master of his time, announced his upcoming retirement: "A few weeks ago, I decided that I would stop playing at Roland this year. Every day for several years, there is a moment in the day when I say to myself: "What am I doing, why am I hurting myself like this and is there still a reason for me to make all this effort?" My head says: "You can play all your life." But my body, reminding me that my skills to push myself are no longer there, says: "You're no longer capable of going further than I give you." The ultimate reason is to tell myself that this is the last thrill. I hope that until then I will stay fit and be able to be who I've always been in this tournament. The goal is to be myself: Jo-Wilfried Tsonga, the tennis player. I've always wanted to perform well, to set high goals for myself, and this will be the opportunity to do that one last time." In the meantime, the battle between broadcasters for his final official appearance with racquet in hand has already begun.
Achievement of the month: Alejandro Davidovich Fokina
His comeback was first and foremost about the defeat of Novak Djokovic. But his tormentor in Monte Carlo, Alejandro Davidovich Fokina, was finally given his due, as the now world number 29 did not stop there, knocking off Goffin, Fritz and Dimitrov in turn before losing to Stefanos Tsitsipas in the final. In the Principality, the Spaniard, a prince of mismatched socks, became the third lowest ranked player in history to reach the final of the tournament. Impression: "It's been an incredible experience. I've loved every day here, winning big matches... I don't know how to express it. I'm so tired, I can't find my words. And to think that this whole thing started out as a David(ovich) versus Goliath duel...
Comeback of the month: Bianca Andreescu
Seven months. Seven long months that Bianca Andreescu, mentally tired and worn out by injuries, had not been seen on a court. In this context, seeing her again at the WTA 500 in Stuttgart was a real pleasure. Even more so when she won her match point against Jule Niemeier, the Canadian having fallen back to 121st in the world after having been ranked fourth for a while. "I'll be very honest, I wanted to quit tennis forever. I was constantly stressed and I realised that I couldn't go on like that, it wasn't healthy. Even though I won, I was very hard on myself," said the 2019 US Open winner, who was then beaten by Aryna Sabalenka. "I miss the fire I feel in competition and now I can put into practice a lot of things I've learned." Bianca, banco for the future!
The (failed) comeback of the month: Dominic Thiem
He too is making a comeback and he too intends to get back on track after weeks of unhappiness. Except that at the Serbian Open, Dominic Thiem went home in the first round. This was due to an obvious lack of rhythm and to his tormentor John Millman, who nevertheless gave him a word of encouragement at the net once the fight was over ("When you're at 100%, I'll fight you, buddy"). But don't panic: the Austrian feels "good. I'm happy with the way I moved on the court and the way I fought until the end, the backhand worked pretty well even if I still can't find the rhythm with my drive. I have to keep working on that, I don't have big expectations in terms of results in the next three weeks and I just want to arrive in shape at Roland Garros. I liked the intensity of this match and I know there are a lot of things that don't work yet, but I'm looking forward to moving forward." The Austrian also slipped in the first round in Estoril. So, who should bet on the Thiem team at the French Open?
Day of the month: Friday 15, Monte-Carlo quarter-finals
There are days like this when lying in front of the TV non-stop is a good idea. Friday 15 April 2022 was one of them, offering non-stop thrills to all fans of the little yellow ball with four quarter-finals, each more dantesque than the last. Monte Carlo began the weekend with a crazy Schwartzman-Tsitsipas match, with the Argentine leading 4-0 in the final set after being dominated 6-2/5-2... before collapsing, being broken three times. The day then continued with a huge Zverev-Jannik Sinner match that ended in a stressful tie-break and more than three hours of play, followed by a Grigor Dimitrov-Hubert Hurkacz match that was almost as close. Finally, Davidovich Fokina's qualification in the last four at the expense of Taylor Fritz completed the masterpiece. (124) Game(s), (twelve) set(s) and (four) match(es)!
Actor of the month: Roger Federer
Watch out... it's on! And with Anne Hathaway, please. But say, Roger, when are you going to come back for something other than a commercial praising Switzerland and not your touch? Federer's answer, in practice photos and a few words: "Rehab is a blast."
Retiree of the Month: Tommy Robredo
Fair play, fifth in the world, warrior, formidable, fighter, defender, one-handed backhand, right-handed, good-looking, fast, twelve titles, one Master 1000, three Davis Cups, smiling, down-to-earth, the only player in the history of the Open era to win three times after being down two sets to none in a Grand Slam tournament and... retired, on a 6-1/6-1. Of course, the end will be less remembered.