We Are Tennis by BNP Paribas brings you the best of the past week, on and off the courts, day after day. A week in which the Davis Cup made its return, Ashleigh Barty got engaged and an Indian man who was declared dead was found alive in the morgue.
Monday November 22th
Three minutes and two extra minutes to change clothes if necessary. In a document sent to the players, the ATP decided to impose a new rule on the toilet break, which each member of the circuit will be able to request only once per match. Will this limit the now famous abuse of Stefanos Tsitsipas? The ATP does not stop there and makes some changes concerning the medical time-out, with a three-minute time-out to be taken per match during a side change or at the end of a set. On the women's side, the only change of the day was the return of Garbine Muguruza to the WTA rankings podium, now sitting behind Ashleigh Barty and Aryna Sabalenka, three ladies on holiday like most of the players on the circuit.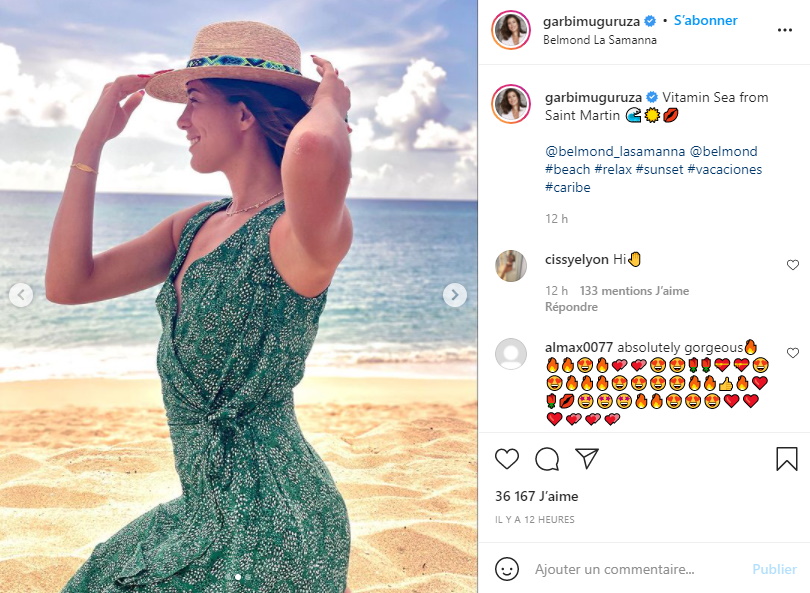 Tuesday November 23th
Ashley Barty announces her marriage to her boyfriend Garry Kissich, a former professional golfer with whom the world number 1 has been in perfect love for five years. Congratulations to them and congratulations to Daniil Medvedev, who continues to set the tennis world alight with his Next Gen pals: "After McEnroe and Borg retired, people said tennis was over. After Sampras and Agassi, tennis was over. Now, after the Big 3, they might say the same thing. We may not win twenty Grand Slams but it won't be a shame." In other news, an Indian man pronounced dead is found alive in the morgue, it's raining dollar notes on a California road due to a poorly locked van, and an influencer named Carlin Bellmer sends a voicemail from her stomach after swallowing her Airpods instead of ibuprofen. Hello, hello? Yes, all is well on planet Earth.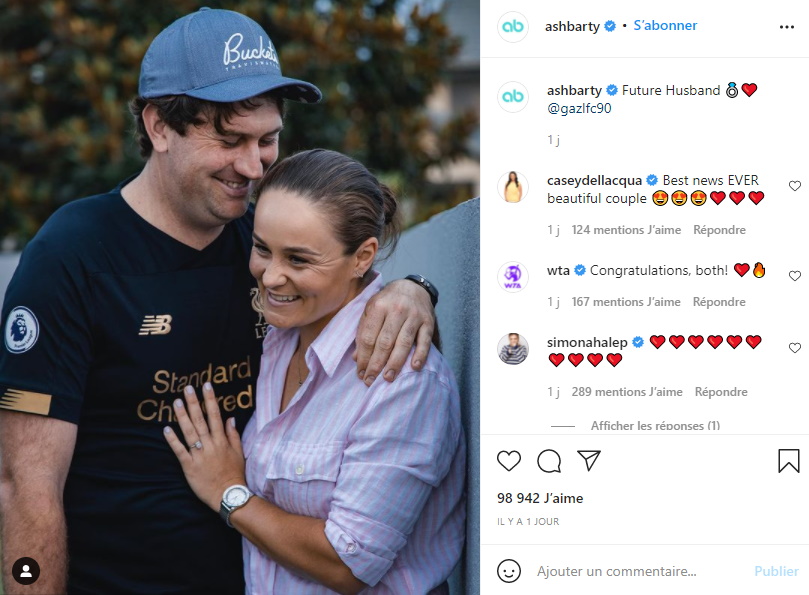 Wednesday November 24th
One day to go before the start of the Davis Cup, a competition organised this year in Madrid, Turin and Innsbruck, with 18 nations in the running, including France, but also Spain with the prodigy Carlos Alcaraz, Serbia with Djokovic and Russia with Medvedev. No Switzerland, however, with Wawrinka and Federer still on the sidelines. The latter is enjoying what is looking more and more like early retirement by hanging out at home in Zurich with Siya Kolisi, the captain of the South African Springboks. Peng Shuai case, continued: the European Union is asking the Chinese authorities for "verifiable evidence" of the player's freedom of movement and a "transparent" investigation into the allegations of sexual abuse she said she had suffered.
Thursday November 25th
There is more clarity on the start of the 2022 season, with the Pacific almost back to normal. Hostilities will begin with the ATP Cup from January 1 in Sydney, followed by the Sydney Tennis Classic, then two other WTA tournaments and one ATP event, before the Australian Open which starts in Melbourne on January 17 and for which all players will have to be vaccinated. In the meantime, the Davis Cup is underway with a difficult first win for Les Bleus against the Czechs. Stefanos Tsitsipas will not be playing in the Davis Cup, but his career will be interrupted by an operation on his right elbow. The Greek hopes to be back in action in Australia.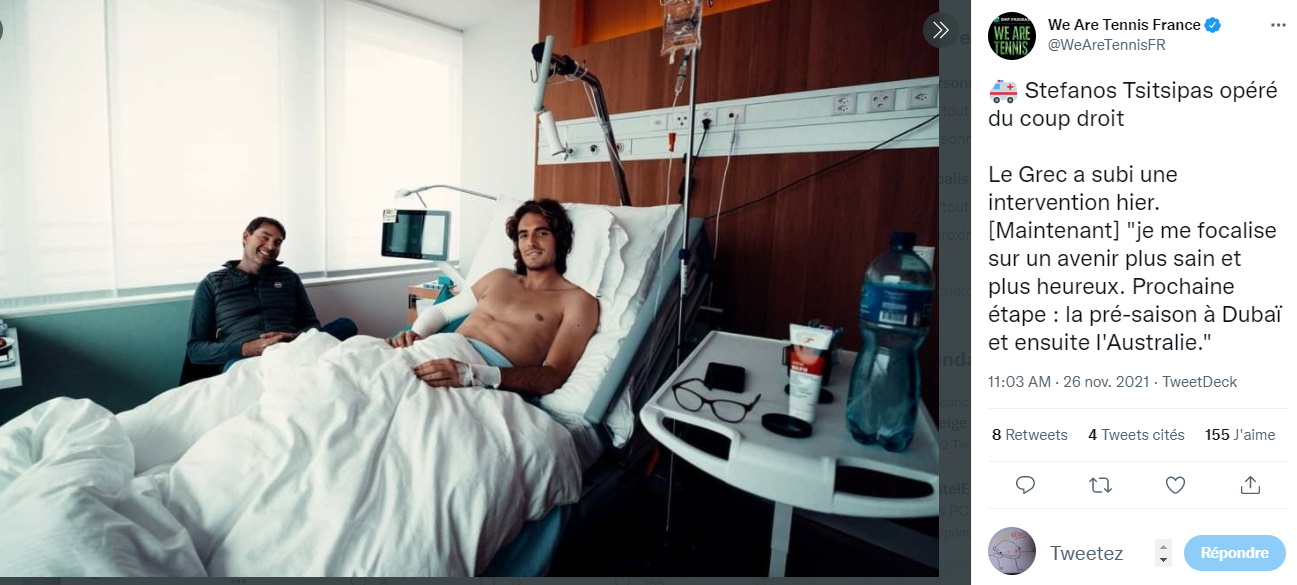 Friday November 26th
Two Argentinian fans of the Pibe de Oro chose to name their son Diego, in tribute to their idol who died a year ago, while the family's two eldest daughters are already called Mara and Dona. In the Davis Cup, Djoko and Serbia got off to a great start with a 3-0 victory over Austria. Two other favourite nations also got off to a good start: Italy and Spain.
Saturday November 27th
Peng Shuai affair, continuation and unfortunately still not end: the WTA "remains deeply concerned" for the Chinese player, who has still not appeared publicly alone nor free of her movements since her rape accusations against a high ranking official of her country... As far as freedom of speech is concerned, a Breton university gives it away by describing its students as "frauds". Marion Bartoli is in the same offensive frame of mind, saying that Gerard Piqué "knows nothing about tennis", following the rumour that the Kosmos group, which he heads and which now organises the Davis Cup, would like to relocate the competition to Abu Dhabi. In the meantime, it's in Europe that the battle is on, with a logical defeat for Les Bleus against Cameron Norrie's British team.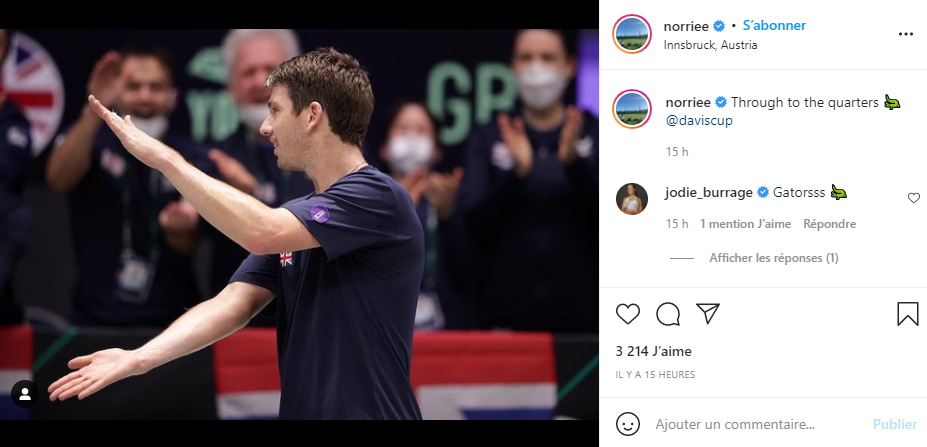 Sunday 28 November
In the first highly anticipated Davis Cup clash, Russia dominated - and eliminated - Spain thanks to a decisive doubles win by Rublev and Karatsev over Granollers and Feliciano Lopez (who had managed to beat Rublev in singles). The group stage is over and now it's time for the quarter-finals between Russia and Sweden, Great Britain and Germany, Italy and Croatia, and finally Serbia and Kazakshtan. The final will be held on 5 December in Madrid. Until then, go to the cinemas to see The Williams Method, a biopic about Venus, Serena and their father played by Will Smith.