We Are Tennis by BNP Paribas brings you the best of the past week, on and off the courts, day after day. A week in which Andy Murray's wedding ring disappeared, BNP Paribas Open had its first sparks and the American media were occupied by one of the oldest cold cases in US history.
Monday October 4th
The week starts with an outage, a big one: no more Facebook, no more Instagram, no more WhatsApp, and that for several hours. Panic among the influencers and and panic among those who had forgotten how to use SMS. Fortunately, everything went back to normal: Stefanos Tsitsipas and Emma Raducanu, who are on a trip in California, are able to give us some news a few days before the start of the BNP Paribas Open. Although the tournament will be without Djokovic, Thiem, Nadal and Federer, as well as Barty, Sabalenka, Osaka and Serena Williams, it's still a must-see event.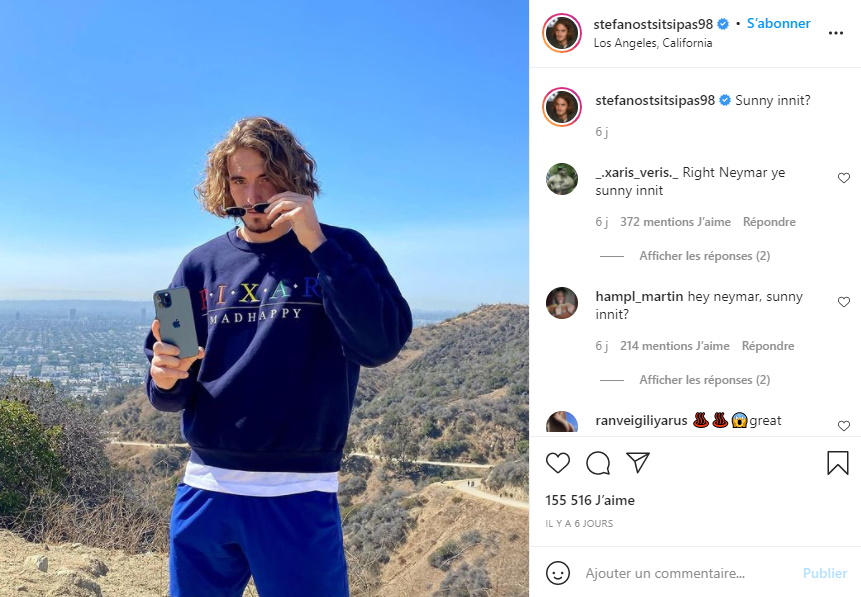 Tuesday October 5th
Benoit Paire, who is expected to play in BNP Paribas Open, now has his own anthem, all in autotune, concocted by a trio of fans. More classy, Bianca Andreescu has her own mural to honor her victory at the 2019 edition. Less classy, the Pandora Papers reveal an estimated 11,300,000,000,0000 euros in tax evasion while an independent report counts 300,000 victims of sexual abuse committed by clerics or members of the Church of France since the post-war period.
Wednesday October 6th
Indian Wells is underway! While the women's draw gets underway, Felix Auger-Aliassime and Alexander Zverev get to play few balls in training to warm up their shoulders. The latest James Bond film starring Daniel Craig, with its 2h43 hours of gunplay and convoluted plots, is also being released. More simply, an American who feels he has been wronged by a fortune teller who promised him love in exchange for $5,100 is claiming $25,000 in damages for insomnia, anxiety and panic attacks.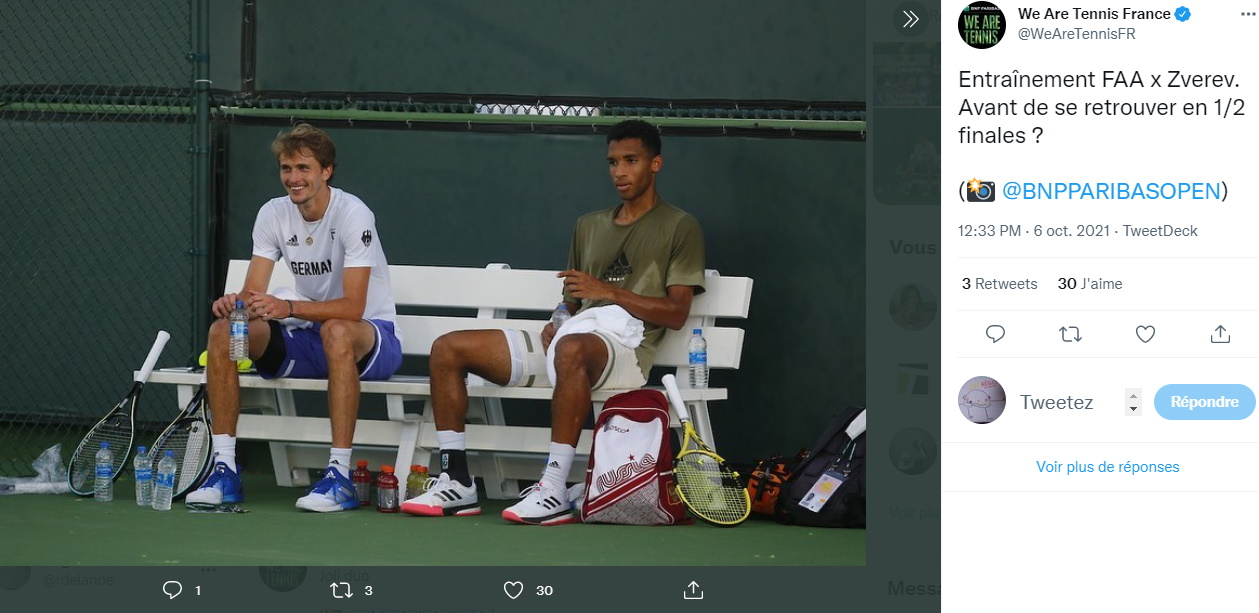 Thursday October 7th
Andy Murray is no stranger to anxiety. This Thursday, the Scot was forced to post a half sad, half funny video on social media calling for help, in which he revealed that his training shoes had been stolen after he left them out in the open because of the bad smell of sweat. Except that he had tied his wedding ring to a shoelace, as he usually does when he plays. He must have been yelled at by his wife, Kim Sears... No yelling, but an opening loss for Benoit Paire at Indian Wells against Frances Tiafoe. It's not enough to have an anthem and devoted fans to play well.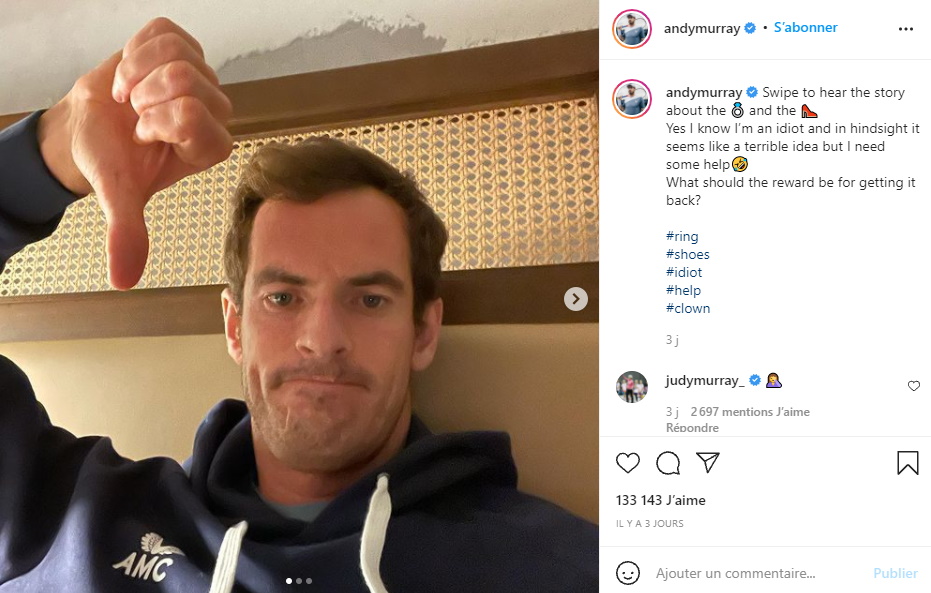 Friday,October 8th
Just 24 hours of stress and already a happy ending for Andy Murray, who explains in a new video: "I had to make some phone calls and talk to hotel security. And here's a little news for everyone: believe it or not, the shoes are back, the wedding ring is back and I'm back in (Kim Sears') good graces." Whew! End of the alliance gate. It was quick, just like Emma Raducanu's run in Indian Wells. The surprise winner of the last US Open was eliminated by the Belarusian Aliaksandra Sasnovich. "I'm kind of happy with what happened", said the 18-year-old Brit after the match. "Because I can learn from it, take it as a lesson and in the future I'll have more experience."
Saturday October 9th
The outgoing US Open winner, on the other hand, did not flinch on his return to the courts: Daniil Medvedev won in two short sets against Mackenzie McDonald. Ruud, Hurkacz and Rublev also got through. The surprises of the day are to be found in the women's draw, with the elimination of Sakkari and Muguruza (the day after her birthday). In other news this weekend, the American media is wondering about the possible revelation of the identity of the Zodiac killer, one of the oldest cold cases in the United States, while in France a drug dealer is arrested in possession of cannabis bags bearing the effigy of Eric Dupont-Moretti, the Minister of Justice. A high level of provocation.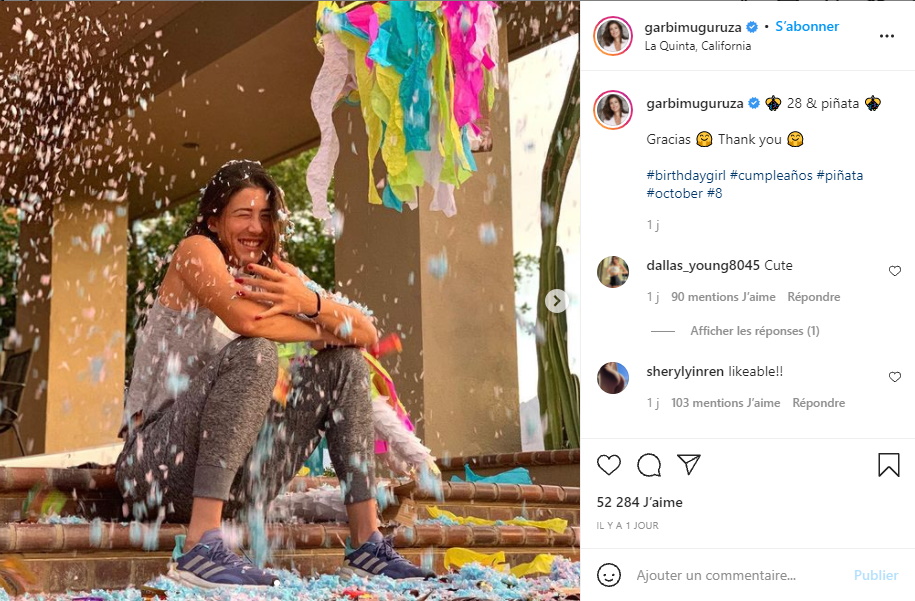 Sunday October 10th
Every day has its surprises. The top seeds of the day are Auger-Aliassime, who was dominated by Albert Ramos, and Simona Halep, who was beaten by Sasnovich. Tsitsipas, Monfils, Zverev, Berrettini, Swiatek and Svitolina are all still in contention in BNP Paribas Open, as is Victoria Azarenka, who won the day's old school clash in the women's draw against Petra Kvitova. All is well for Didier Deschamps' Les Bleus, who were in a bad situation against Spain in the final of the Nations League, but ended up being the heroes of the second edition of this new competition - a sort of Euro bis - thanks to the talent of its superheroes: Karim Benzema and Kylian Mbappé.