Wimbledon is holding out. Craig Gabriel writes that it is the only tournament in the world now where they still play best of five set tennis in doubles.
Best of five set tennis is almost as extinct as the dinosaurs. At one time almost every tournament saw matches played across the best of five sets in singles and doubles. There was even a period when the women's year-end championship final was best of five sets. Many feel thankfully that hasn't continued. Kidding. Just kidding.
Best of five would be singles finals at the ATP Masters 1000 finals but that was changed to best of three sets. Best of five set singles in now only played at the four majors, like here at Wimbledon, and at the French Open, US Open and Australian Open and, for quite a while, the final set was different and each of the majors. That has changed and it is uniform with the same first to ten with an advantage of two, final set tiebreak.
But where five sets are a final bastion is with men's doubles at Wimbledon. All the other majors have done away with doubles five setters
At the Australian Open Nick Kyrgios and Thanasi Kokkinakis became the talk of doubles tennis and grabbed the biggest amount of attention for doubles since The Woodies – Todd Woodbridge and Mark Woodforde, and the Bryan Brothers – Bob and Mike. The electricity the Special K's created was, well, electric. Their performances from Melbourne are still being talked about. They were the champions. 
The Special K's did not play Roland Garros because Kyrgios doesn't like clay. They were going to play the US Open, the New York scenario would suit them perfectly and they were not going to play Wimbledon (even though they changed their minds) because of one reason … it's best of five sets.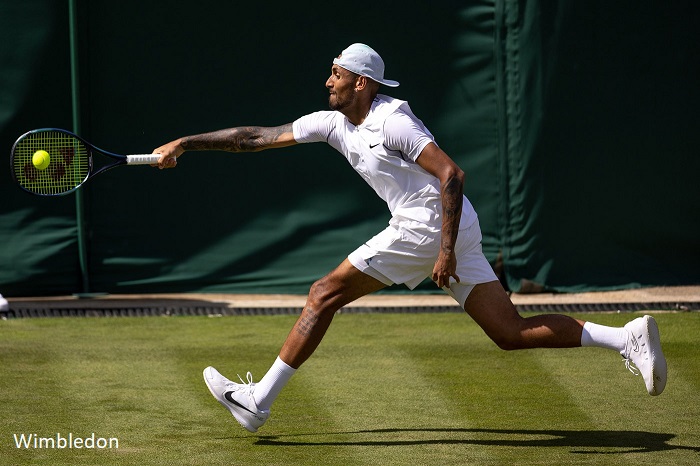 While he did not come out and say so in so many words, Kyrgios would like to see Wimbledon fall in line with the other three majors and drop to best of three sets in doubles. 
"To be honest, I'm not really looking forward to playing best-of-five set doubles," Kyrgios said. "I think it's the stupidest thing ever, to be brutally honest. I don't know why it's best-of-five sets. No one wants to play best-of-five sets doubles. No one wants to watch best-of-five sets doubles.
"I'm excited, but I'm also dreading the fact that if it's one set all, I'm going to have to be playing three more sets of doubles. That's why I haven't played it before. It doesn't make sense.
"I've always gone pretty well here in singles, so I'm not going to, on my off day, play potentially five sets of doubles, yeah."
The French and US Open flirted with a mixture of three and five set doubles, for example up to a certain round it was three and then switched to five but in 1990 Roland Garros was first to have all rounds best of three. The US Open followed suit in 1993 and the Australian Open went three for all rounds from 2002.
So, is it time for Wimbledon to join the other three and go to three? 
Not according to nine-time Wimbledon men's doubles champion Todd Woodbridge (six with Mark Woodforde and three with Jonas Bjorkman).
"I love the fact that Wimbledon is best of five," Woodbridge said between TV commentary stints at The Championships. "It's like, for me in the singles, the best teams end up winning and you get that opportunity. I don't think it's that unreasonable to think that you can play a couple of doubles matches if you get in and win them quite comfortably and quickly, you should then be able to see how the singles goes.
"Yes, it is an issue if you sometimes go deep, but from a personal perspective, I managed to go deep once and still played the doubles and did okay. The one thing about Wimbledon is that it has those traditions and changing them I don't think is going to make the product any better. 
"I don't think more people are going to end up playing because it's only best of three sets, so I like the fact that the Club has kept it in that way, and I hope it goes forward."
Kyrgios eventually decided to withdraw from the Wimbledon citing the fact that he is a singles player and that's his focus. He may have stayed in had it been best of three.
What do you as the spectator think, should Wimbledon stick with tradition and stay with best of five set men's doubles or go to three?