Confirmations, new heroes, retirements: in this hot period, some have managed to avoid the cold snap while others have been air-conditioned. Here is a look back at the highlights of the last thirty years, which began with a historic end to the French Open and ended with the start of an indecisive Wimbledon.
MVP of the month: Rafael Nadal
"What's happened to me this year is completely insane. It's very hard to describe the feelings I have. To win again, at 36, on the most important court of my career, it means so much..." Is Rafael Nadal an alien? Definitely, without a doubt. After weeks of gritting his teeth and living on one foot, the right, the left having been totally numbed by infiltrations, the Spaniard managed to win the 22nd major of his life at the beginning of June and to lift the 14th French Open of his career, opening the door to a fantasy: a calendar Grand Slam, which would be a first since the one achieved by Rod Laver in 1969. The bull from Manacor, who has been undergoing a new treatment to numb the nerves in his injured foot, will be closely watched from this week at Wimbledon, where he has not won since 2010. Novak Djokovic is waiting for him to make his move: let the battle continue.


Achievement of the month: Iga Swiatek
Another feat, slightly overshadowed by Nadal's, but almost as big. At the French Open, 21-year-old Iga Switaek closed out her clay court season with a clear 16-0 victory to claim the second title of her career in Paris. The Polish player lived up to her status as a favourite and annihilated all forms of competition, devouring everything that dared to come her way and dropping just one set in seven rounds. In 2022, the world number 1 is still as scary as ever, she hasn't lost since February 16 and has won six consecutive titles. Yes, it's massive.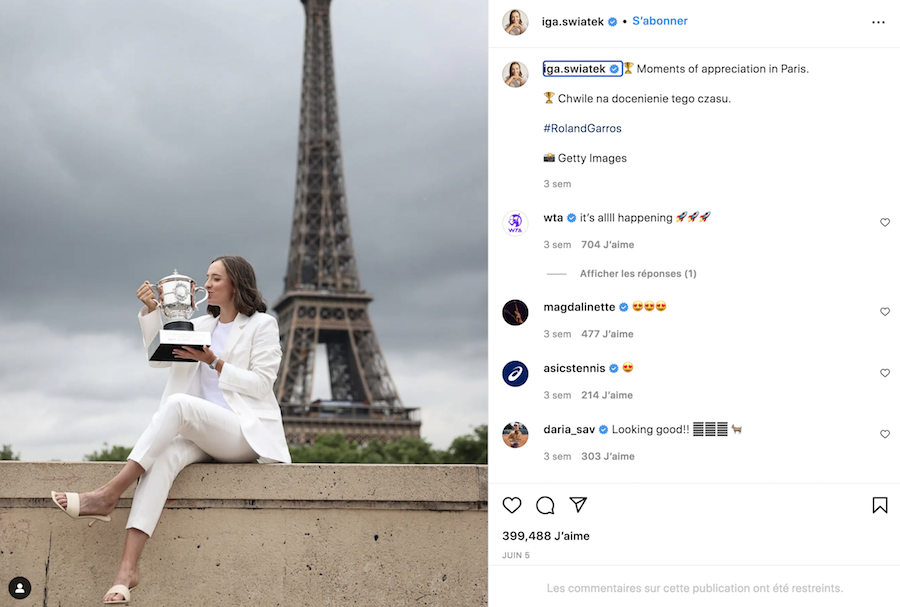 Surprise of the month: Tim van Rijthoven
205th in the world, a guest and... a winner, quite simply. Tim van Rijthoven surprised everyone at the ATP 250 in 's-Hertogenbosch by finishing the tournament after having only won once on the main circuit (against Salvatore Caruso in Rotterdam at the beginning of February 2022). On his way, Matthew Ebden, Taylor Fritz, Hugo Gaston, Felix Auger-Aliassime and Daniil Medvedev, bluffed after the slaps received in the final (6-4, 6-1) by a guy who became the lowest ranked player to win a tournament since Nicolas Mahut in 2013: "It's your first final in an ATP tournament and you directly destroy the number 2 in the world in two sets. It must be a nice feeling!" That was the Showtim(e) Rijthoven!

Retiree of the month: Monica Puig
Only 28 years old, but already with her rackets in the wardrobe. Due to repeated injuries, Monica Puig has decided to give up and put an end to a career that was highlighted by a gold medal at the Rio Olympics in 2016. "In the last few years I have been trying to get back to my best level," said the Puerto Rican, who climbed to 27th in the world at the end of September 2016. "I've done everything possible, but I've reached a point where my body is telling me to stop. I've been through a lot for two and a half years, with three operations. There were many tears, many nights when I thought it was over. My body is no longer capable of competing at the level of the best players today. I feel like life is taking something very important from me. I am losing the thing I love most in the world but other doors are opening. Enjoy every moment because in the blink of an eye, everything can disappear." Everything, but not an Olympic gold medal.


Comeback of the month: Serena Williams
After 363 days off the court and a first-round exit at Wimbledon 2021, Serena Williams is back and the 40-year-old American is not just coming to London to pick daisies: "If I said I never had any doubts about coming back, I'd be dishonest. Yes, I have had doubts. I love tennis, I still love playing. Otherwise I wouldn't be here. But I also like what I do off the court. I didn't retire, I needed to heal myself physically and mentally. I didn't have a plan. I just didn't know when I was going to make my comeback and in what condition I would come back." Time for history.
Tears of the month: Alexander Zverev
A little less than a year later, the images are still hard to watch. After pushing Rafael Nadal around for three sweltering hours, Alexander Zverev snapped his ankle on a bad break in his French Open semi-final. The result: tears, a withdrawal, a trip on crutches and an operation in the aftermath for the young German, whose next season is now on hold. Terrible.