Over the last decade, We Are Tennis by BNP Paribas has evolved with the Roger Federer v Rafael Nadal rivalry, which (definitely) ended on 12th July 2019 in Wimbledon, after an epic semi-final. Here is the story of this ultimate Grand Slam clash and its monumental finale.
As the Centre Court crowd was greeting them, the two legends shook hands and whispered a few words to each other in a quick but sincere hug. This respectful accolade will definitely remain one of the most memorable tennis memories of all time, even though most refuse to believe it was their last ever opposition. But by 8.42 pm exactly, on 12th July 2019, in a Wimbledon semi-final, Roger Federer certainly won his very last Grand Slam match against Rafael Nadal. It was the 40th 'Fedal' of a long and crazy series started in 2004, in Miami, and which happened to be way better than expected.
But how can you prepare for such an event without tiring yourself out? Well, Federer practiced with left-handed French player Mickaël Llodra behind closed doors, in Aorangi Park. "I am impressed by their longevity. It is hard to believe they remain competitive despite their age, especially considering they are not just walk-on acts," said Llodra, Federer's top-class sparring partner. "They seem radiant, happy to be there. I had the privilege to comment their French Open semi-final a few weeks before, thinking it might be their last clash. But they were still there. They drag each other up, they compete to be the most important player of tennis history. They are on another planet, they are aliens. They look like Avengers; they have their own style but want to be the best. I love Roger's legwork; he looks like he is walking on eggs. On grass, he is more likely to win. But Rafa has been impressive so far in the tournament, so I would say it is 50-50."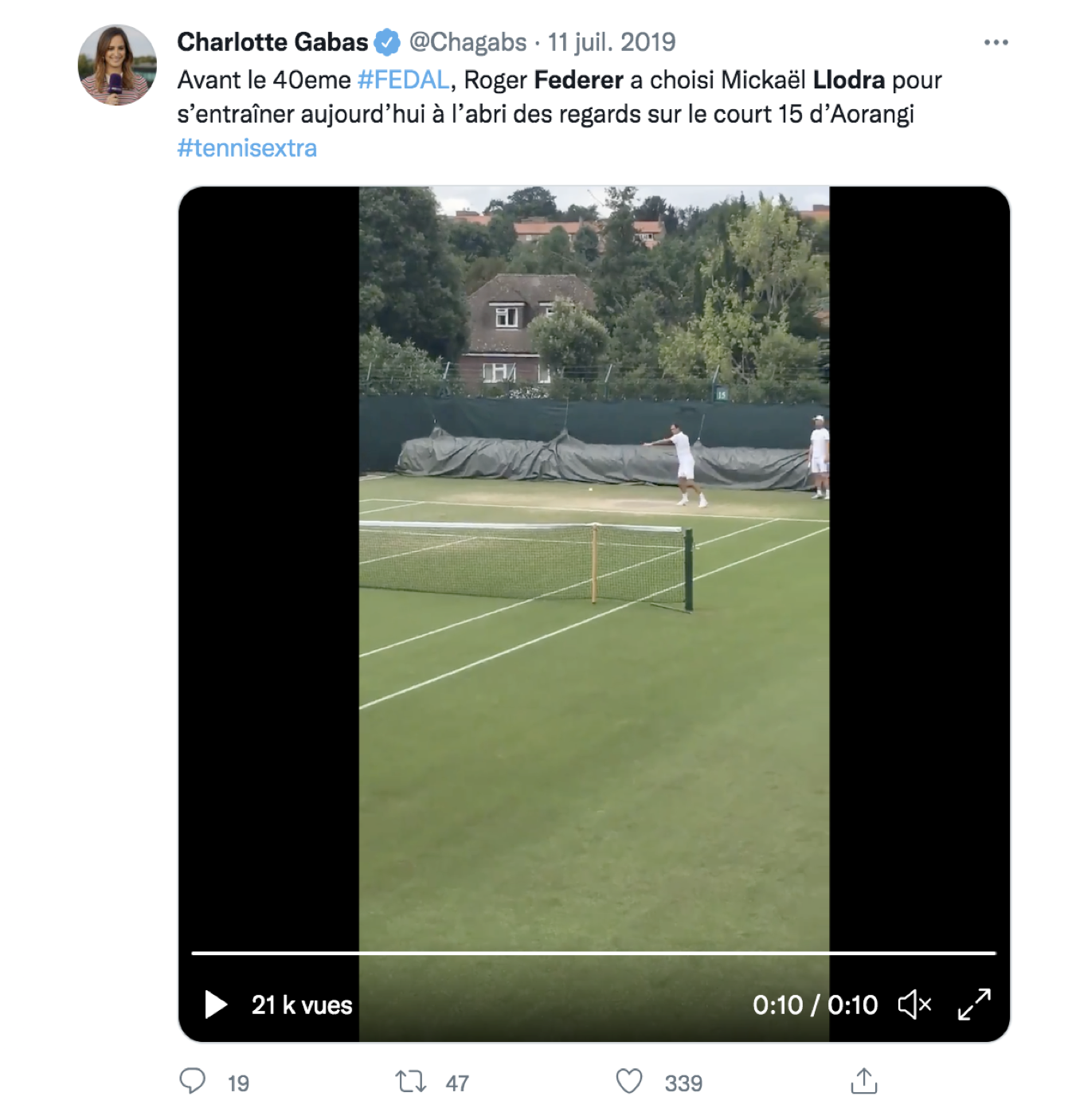 On that summer day, in 2019, the weather and the sun were as thrilled by this classic as the celebrities in the stadium. "It was hot, the sun was shining, and Pimm's was flowing freely on Henman Hill, where many fans were standing in front of the wide screen. In the Royal Box, the atmosphere was a bit quieter. David Beckham, Jude Law and Hugh Grant were wearing their prettiest ties. The clock was showing 4.39 pm when Roger Federer fired first with an ace. The Centre Court was packed, of course, but there was absolute silence before the match, as if not to disturb the artists," wrote Christophe Perron and Rémi Bourrières in their book, Fedal: Federer v Nadal, 40 matches, 2 legends, 1 myth (Flammarion), published on 6th October 2021. Though their hair were shorter, and they got older since 2008 – and their last to date Wimbledon match, an incredible final won by Nadal – they looked super fit despite being 71 years old in total (Nadal was 33, Federer was 38).
But what about their mindset? We knew they wanted to engrave their name even deeper in the Grand Slam marble (clay-king Nadal had won 18 Grand Slam titles, including the latest French Open through which he sailed, while Federer totalled a record of 20 crowns), but were there tensions, or even hatred, between these best enemies? "There have been ups and downs over the years, but over time, they have got closer and closer; they even made nice gestures to each other – Federer was there for the opening of Nadal's academy, while Nadal played the Laver Cup [the competition launched by Federer]. In 2019, I think they were on good terms with each other," says Christophe Perron. "Plus, they had met in Indian Wells to unite and support the tennis governing bodies. Novak Djokovic, who was then ATP Player Council president, wanted to overthrow ATP President Chris Kermode, while Federer and Nadal did not."
But on the court, they were merciless, especially on serves, as only five points got lost out of… the first seven games. This clash was as tight as usual, with Rafael Nadal fiercely defending every single point and allowing himself a few breaks – he went to the dressing room, he changed shoes, etc – to test his opponents patience, while Roger Federer was playing his best tennis choreography and getting close to aesthetic perfection. One thing had changed since the early 2000s, though: their tactical approaches, and especially Federer's. "This match was the embodiment of the new Federer, whom we saw for the first time in the 2017 Australian Open," relates Christophe Perron. "Federer was now hitting the ball earlier and could move forward on the court. He was impressive. Strategy-wise, Nadal was lost, because Federer was too fast and what used to work against him did not anymore. It was even clearer in the third set, which captured this unexpected twist. Federer did not make a single fault."
Federer won the third set, 6-3. The Wimbledon boss (and his record eight titles) had won the first set on tie-break; Nadal got more aggressive and won the second set, 6-1 – after winning 10 points in a row while Federer made 8 direct faults. Even though grass is less tiring than clay, the most impressive part was seeing veteran Federer play 10 or 15-shot rallies and no longer endure Nadal's heavy blows, which used to make him suffer so much before. "Federer was so strong, so spectacular. He proved he had found the solution. In the past, he could barely counter Nadal's spinning cross-court forehand and its uncanny angles. Instead of stepping backwards and chopping, he attacked and hit flat. He was a wall," recalls Christophe Perron. "All along the match, he barely showed any facial expression. I have watched all the 'Fedals', and I can tell you he had never been so focused."
Then came the time for the artists to step up again and use their specific assets, the ones that have turned so many 'Fedals' into masterpieces. The ultimate set of the ultimate 'Fedal' was one of the concentrates of drama only Federer and Nadal can provide. The crowd as well as the viewers could feel it. "The overall excitement surrounding the 'Fedals' has kept growing over the years, and we could feel it in the atmosphere of this last match," says Christophe Perron. "The crowd and the tennis fans were aware that the end was getting closer and that they had to enjoy every single bit of it, just like a delicious meat you enjoy for the last time…" Back to the match: despite his aces (14 to 10 for Nadal, his best total against RF) and his one-game lead, Federer knew the worst was to come. He was confident and sweating less than Nadal, but the match was far from being won. Still, Federer remained dominant… Until the last two games, which lasted more than ten minutes each. But it does not matter, actually, because time stopped. A wonderful and laid-back Roger broke twice, got a 5-3 lead, and seemed to be cruising to victory. But a magnificent Rafael Nadal refused to give up; he saved two match points, made it back to 5-4, and save two other match points.
"Federer barely missed a shot, but Nadal seemed unbeatable. The last moments of the match encapsulated what made their matches so great. At 5-4, thirty all, Federer had the control of the point, Nadal defended with a somehow desperate lob, and Federer's smash ended… straight in the stands. 5-5 ball for Nadal, who crashed on one of the few sliced balls," describe Christophe Perron and Rémi Bourrières in Fedal: Federer v Nadal, 40 matches, 2 legends, 1 myth. "Buckle up, the rest is just crazy: they went on a 24-shot rally, the kind that makes you retch and scream, especially when a ball from Nadal touched the net's stripe. Mirka put her face in her hands, she could not watch. Though he was roughed up all along the point, Nadal fought tooth and nail for it, and managed to overturn the situation on a fierce forehand. The fourth match point was worth it too; Nadal performed another masterstroke in the form of an extraordinary backhand passing shot. The Centre Court went crazy, but Federer did not give up and got a fifth match point. And that was it: Roger Federer relieved his clan and the 15,000 people in the stands. The show was over, thanks everyone."
In the end, it was a memorable victory for Federer (the only one after he lost a game 6-1), a 24-16 for Nadal (14-2 on clay, 1-3 on grass) and the feeling that the book was over. What did Nadal say after the match? He only talked about the match and his opponent: "He moves faster into the court than any other player in the world. He can reach the ball faster than anyone else, too. He does not leave you enough time to organize and make space in the court. He was in his comfort zone today, and I could not take him out of it." Federer's words were barely more exciting: "I am exhausted. It was so hard in the end. He performed great shots to stay in the match, but it is always special to play against Rafa. I had good moments, especially when I served well. I scored the most important points, and it was a huge feat to win the first set. It was important for me to take the lead." It felt like they did not want to close the 'Fedal' encyclopaedia either, like they refused to admit that, from that moment on, we could only appreciate the beauty of a 'Fedal' through archive videos.
More information about
Players
Tournament