We Are Tennis by BNP Paribas brings you the best of the past week, on and off the courts, day after day. A week of Davis Cup where Daniil Medvedev's Russia put on a show and where customers were stuck for several days in a pub or at Ikea.
Monday November 29th
At last! After a whole weekend stuck at the Tan Hill Inn, the Britain's highest perched pub, due to snowfalls brought by storm Arwen, sixty customers are finally released and can let go. Alexander Zverev, on the other hand, is not at all stuck, but decides to boycott the Davis Cup and prefers to treat himself to a holiday at the zoo, challenging a lioness to a tug-of-war. A Monday like any other.
Tuesday November 30th
There was no boycott for Daniil Medvedev, who hit the rackets during a training session with Karen Khachanov, who died laughing at the spectacle. The scene is funny, much funnier than the story of the Austrian surgeon who was fined a tiny amount for amputating the wrong leg of an 82-year-old patient. It's enough to make you lose your footing.
Wednesday December 1st
A business turned into a refuge, episode 2: In Denmark, an Ikea shop has to accommodate visitors and offer them a sleepover because too many snowflakes have fallen from the sky. The lucky ones probably missed the two most important news of the day: Johanna Konta's retirement at the age of 30 and the suspension of all women's tournaments in China following the Peng Shuai affair. "At a time when Peng Shuai is still not allowed to communicate freely and has obviously been pressured to contradict her accusations of sexual violence, I don't see how I could ask my players to go and play there," said WTA Director Steve Simon. "Given the situation, I am also concerned about the risks to the players and staff if we were to hold events in China in 2022." A situation that has now been resolved.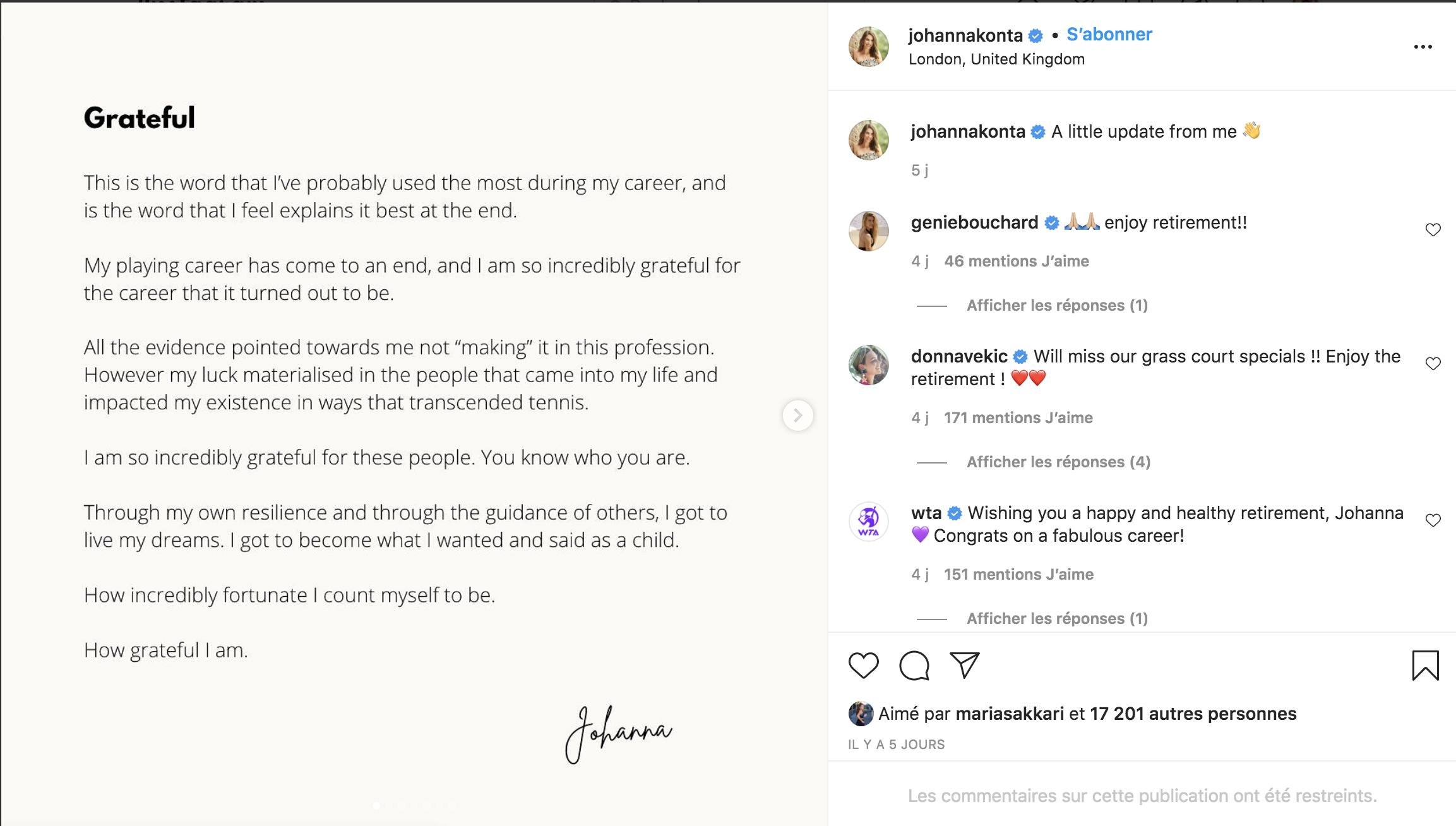 Thursday December 2nd
"I fully support the WTA's courageous decision, as we don't have enough information about Peng Shuai. I know she has made a statement asking for her privacy, but hey... Her health matters to the whole tennis community, it could happen to anyone and we all need to be together." Novak Djokovic is largely aligned with the WTA's reaction. The Serb will probably also agree about the vaccine of the 50-year-old Italian from Piedmont, who is trying to get a dose on a fake arm. By the way, when will the silicone prosthesis become a cheating tool in the world of the little yellow ball?

Friday December 3rd
This is a reward that should make her happy. Distinguished by the Financial Times, Naomi Osaka is one of the twenty-five most influential women of the year 2021. "Naomi is one of the most successful businesswomen in sport, an advocate for racial justice and transcends sport," says Billie Jean King. She has inspired people around the world, and sparked a conversation about mental health that applies not only to athletes but to all human beings. Athletes very often have a personality, a brand and an image that they feel compelled to defend. Naomi is making her own way, and is celebrated for showing us that 'it's okay not to be okay'." It is, on the other hand, "not fine" to let a World War II shell slip through your rectum, as one man reporting to Gloucester Hospital did. Watch out, it might go off!
Saturday December 4th
Thirty million euros. That's the incredible record sum that a resident of Brittany has won in the Loto, the first time it has been won since the French game was launched in 1976. Medvedev didn't win that much money in a single weekend, but he did win a place in the Davis Cup final by beating Germany with his Russian mates in a hostile atmosphere. "The highlight of the week was beating Spain here in Madrid," he said after his singles match. "I've been saying it since 2019: if you want me to lose, encourage me, don't boo me." A self-confidence that is worth all the Breton gold.
Sunday December 5th
Yes, it is possible to file a complaint against a doctor for being born. This is what happened to Evie Toombes, a 20-year-old Londoner suffering from a chronic illness who won her case against Dr Mitchell. The fault of the latter, who was condemned to pay several million in damages? He simply did not prevent the mother from getting pregnant. No matter for Medvedev and Russia, the new Davis Cup winners for the third time in their history. A round of applause for the unfortunate Croats!