We Are Tennis by BNP Paribas brings you the best of the past week, on and off the courts, day after day. A week in which Alexander Zverev shone and a student from Annecy went paragliding to school.
Monday October 25th
Two destinies, two curves. While Anett Kontaveit, who has just won the title in Moscow, starts the week by climbing six places in the WTA rankings, Roger Federer falls to 17th, the worst ranking for the Swiss since January 2017. Still curving: Jules Perrin, a student at the IUT in Annecy, decided to end the month with a crazy move and go to class by paragliding. But was there any space left in the car park?
Tuesday October 26th
"With the large amount of uncertainty around the measures that will be put in place in January, it has not been possible to ensure that we offer the best possible tournament in complete safety." With these words, Adam Cossar, the director of the Kooyong exhibition tournament, officially announces the cancellation of the event for the second consecutive year. This will give him time to test the first beer spa in France, designed by two young entrepreneurs from Alsace. The heat is malty.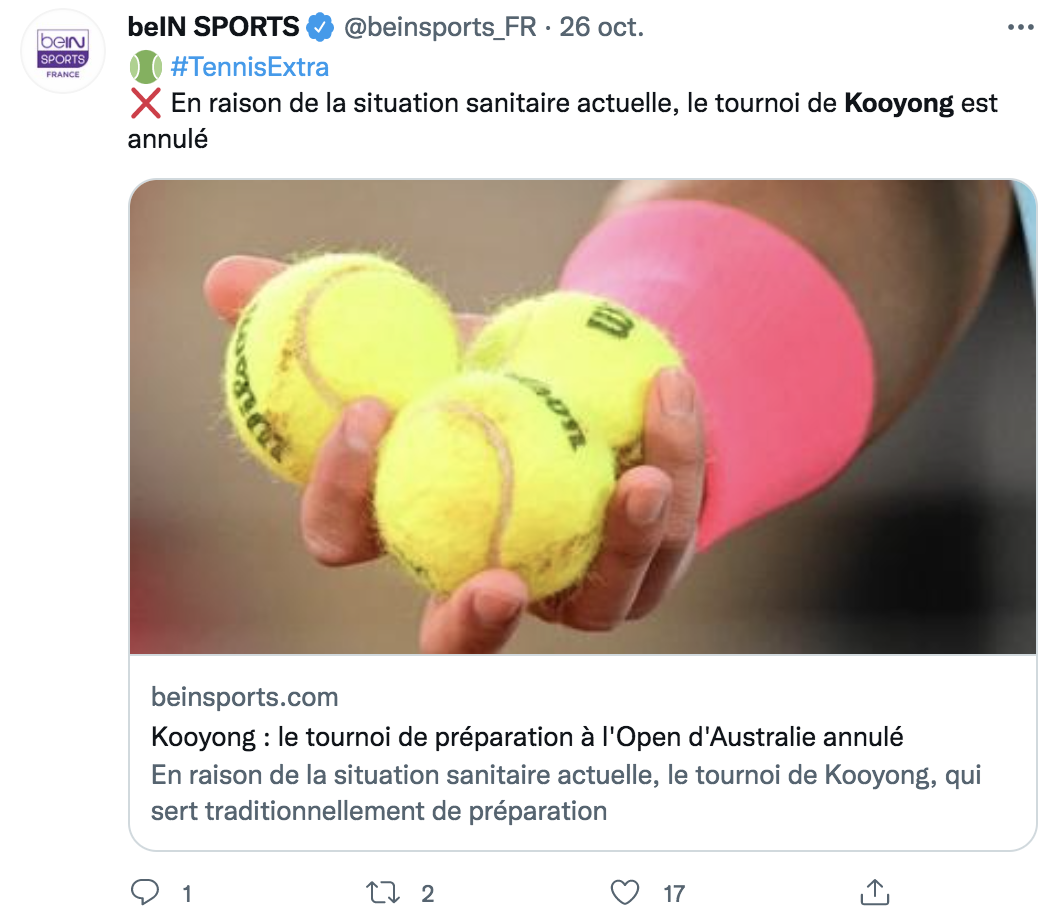 Wednesday October 27th
In Australia, the trap is closing in on Novak Djokovic. As if it was still necessary to make it clear to players that they will not be able to participate in the next Australian Open without an injection, Daniel Andrews, the Premier of the State of Victoria, has made it clear: "We are excluding unvaccinated people from pubs, cafés, restaurants and all other events." For reluctants, the borders will be closed and flights denied. Meanwhile, at Roissy-Charles-de-Gaulle airport, a stunt is being held up on a Paris-Edinburgh flight because of a plastic bag that was actually hiding... a dog. Perhaps if the dog had had the good idea to take a nap, the plan would have worked.
Thursday October 28th
Thursday is often synonymous with Andy! And that's just as well, because this week Andy Murray is pleased to learn that the Rolex Paris Masters has offered him a wild card. The Briton deserves it, as he has consistently put on a good show since his return from injury, even though he has just lost to Carlos Alcaraz in the round of 16 in Vienna and is not yet as tough as Silehm Boussehaban. Who is? Silehm Boussehaban, a sports coach from Dijon, who has just beaten his own weighted bodyweight record by remaining immobile for 4 minutes and 50 seconds with 91 kilos on his back.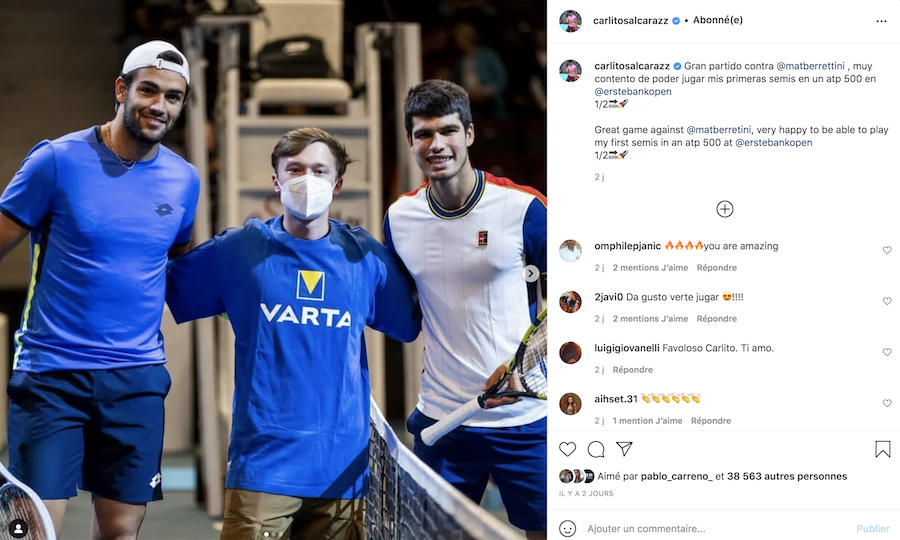 Friday October 29th
Back to Alcaraz, as the Spaniard, who has just come of age, blew away Matteo Berrettini in three sets to reach the first ATP 500 semi-final of his young career. This could allow him to financially help Aliyu Na Idris, a 26-year-old Nigerian arrested by the authorities after creating a buzz on social networks for having put himself up for sale to pay off his debts. His price? $49,000, to be negotiated.
Saturday October 30th
While Berrettini forfeits the Paris Masters and Djokovic announces that he will play doubles as well as singles, Alexander Zverev shows off his new girlfriend. In celebration of his win over Alcaraz, the German slammed a beautiful kiss on actress Sophia Thomalla. But not all love affairs go so well. The proof is in the form of an Italian under house arrest who asks to be sent to prison so that he can no longer live with his wife. The chains of the couple.
Sunday October 31st
Kontaveit (Cluj), Zverev (Vienna), Marin Cilic (St Petersburg) and Donna Vekic (Courmayeur) are the four big winners of the week. A square in which the burglar who left his scarf in a home in Nantes could have been caught when he came back to get it, even though he had not stolen anything. He who steals the vacuum makes a flop.