We Are Tennis by BNP Paribas brings you the best of the past week, on and off the courts, day after day. A week in which Novak Djokovic continued to keep his participation for the next Australian Open in suspense and a abs record was broken.
Monday October 18th
Not seen since 2017 and with an extremely rare occurrence since 2002: while Paula Badosa enters on the world's top 15 in the wake of her success in BNP Paribas Open, Roger Federer drops out of the men's top 10. A knife in the heart, while in Thionville, a mother found a blade in a bread stick. Enough to make you lose your appetite.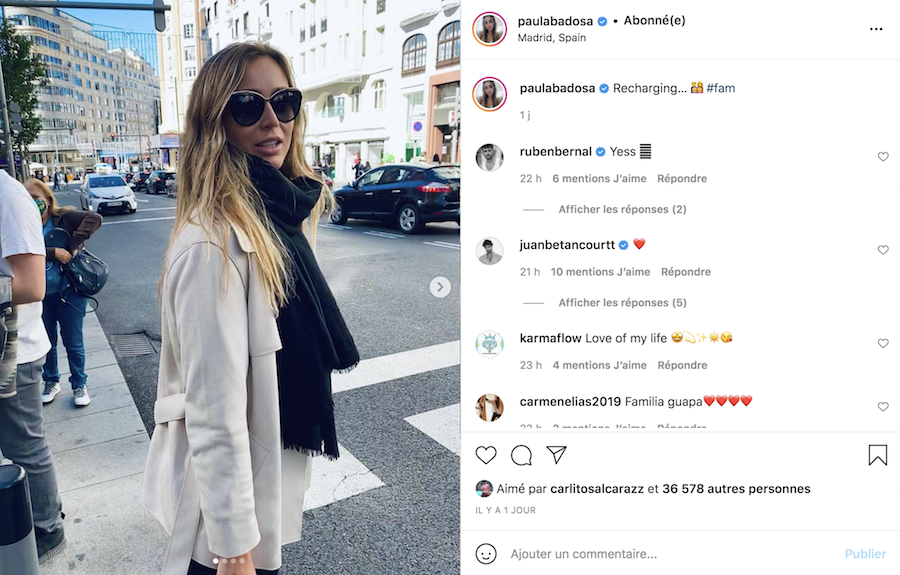 Tuesday October 19th
It was unimaginable a while ago, but the possibility is now open: yes, Novak Djokovic could miss the next Australian Open because of the... vaccine. He explained: "Like this year, in 2022, there will be a lot of restrictions. I still don't know if I'll play in Melbourne and there is excessive speculation from the media, which bothers me a lot. The media is putting pressure on a lot of people and at the moment there's too much that's not clear. I'm not going to say whether I'm vaccinated or not, it's a private matter and I think it's inappropriate to ask a person that. I don't know if I'm going to go to Australia, but of course I want to go: Melbourne is the Grand Slam where I've had the most success." If the world number one decides to skip the tournament, he can at least try to beat the abs record set by Nicolas Bodereau, a resident of Sable-sur-Sarthe: 8004 in 60 minutes. So who is the GOAT?

Wednesday October 20th
A new piece of news in the Djoko suspense: the Australian Open announces that it will be impossible to get to Melbourne without all Covid-19 doses. "If we open our borders, everyone who comes to Australia must have a double vaccination," says Alex Hawke, Australia's immigration minister. Without a coronavirus serum and in addition to the quest for abs, the Serb could help out WWF, the world wildlife fund that is looking for volunteers to count walruses in the Arctic Ocean.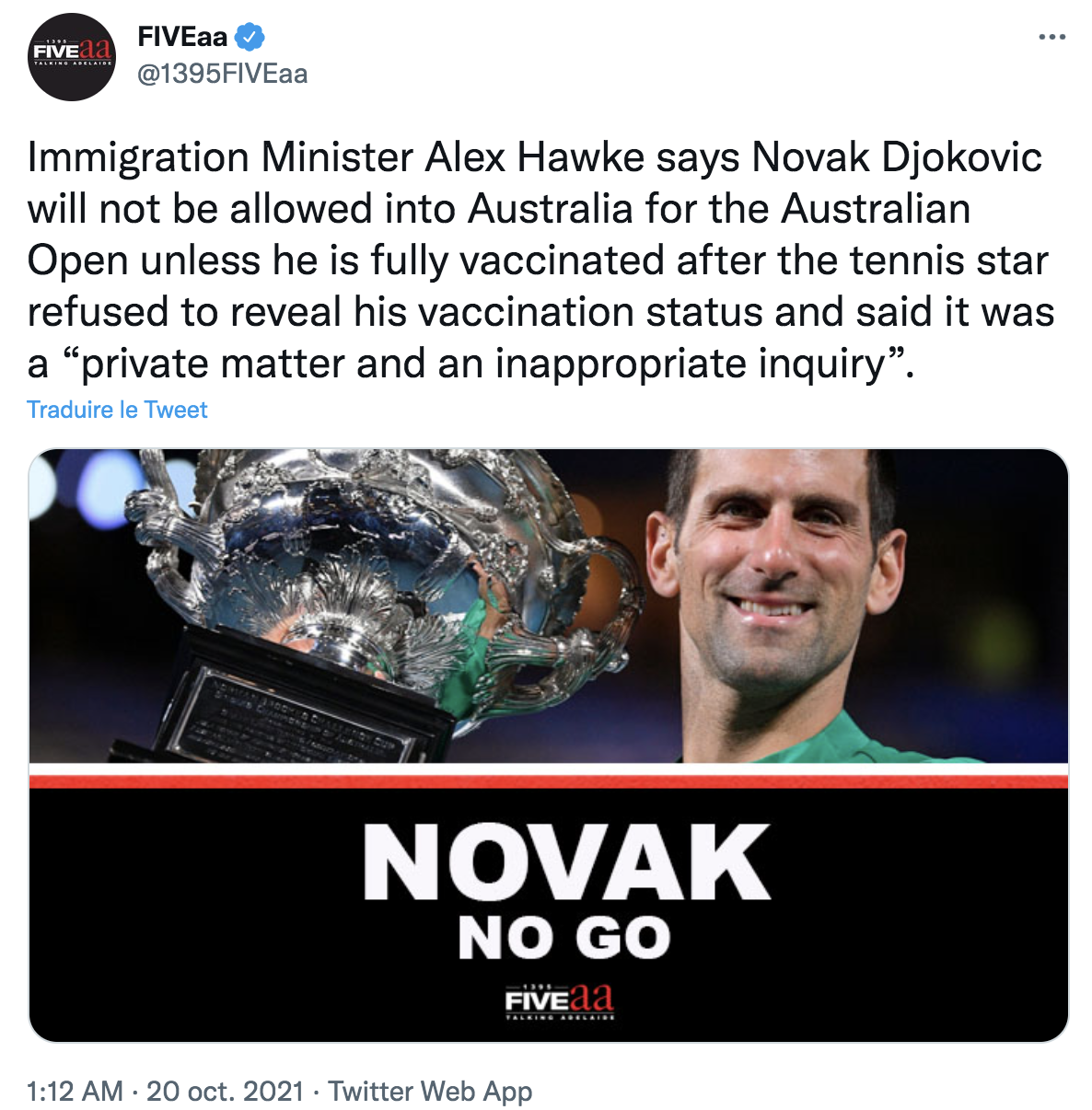 Thursday October 21st
"I wanted everyone to know that I will not be playing in any more tournaments in 2021, including the Women's Masters in Mexico." So Ashleigh Barty's season is over. Hopefully she will return before humans meet aliens, which is in 2383 according to NASA's very serious calculations. According to these equations, humans should also land on Mars in 2038 and on Saturn in 2086. How many Grand Slams will the Australian have by then?
Friday October 22nd
In the seaside resort of Brighton and Hove, an establishment offering the most dangerous burger in the world: the XXX Hot Chilli Burger. What makes it special? It's 18,000 times spicier than chilli sauce, comes with a disclaimer and regularly sends customers to hospital. But if only 2% of the unconscious people who tackle this super-powered sandwich manage to finish it, how many people on this planet can boast of having a tram named after them? Roger Federer, who is opening the Federer Express in Basel, is one of them. Without having to vomit anything.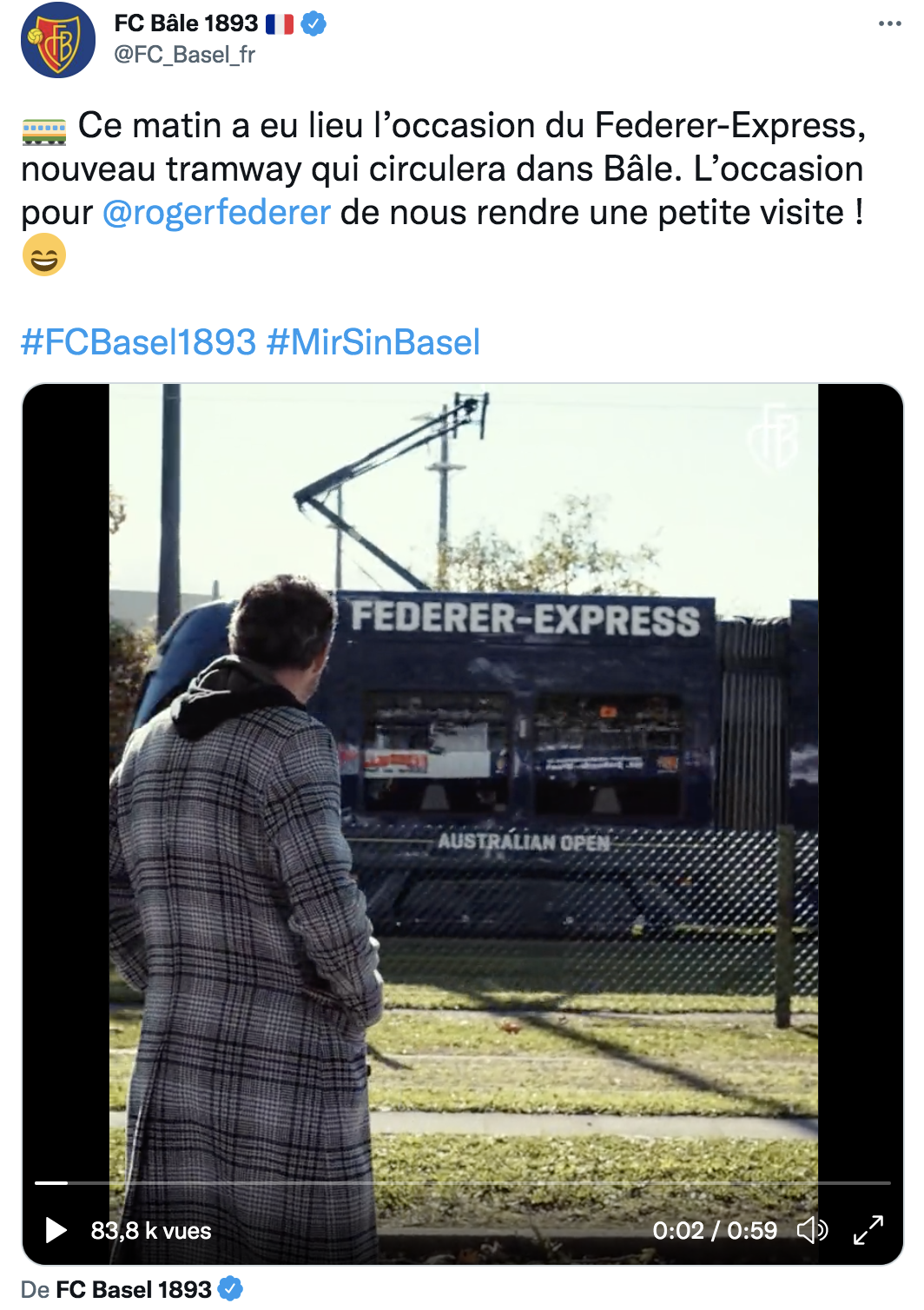 Saturday October 23rd
In Aswan, Egypt, a patient suffering from heartburn has a mobile phone removed from his intestines by doctors. Julie, who loves the little yellow ball, must also have felt some abnormalities in her stomach... but because of the stress, this Djokovic fan had the right to a little duel with her idol. And without losing, too!
Sunday October 24th
A round of applause for this Miami motorist, who tries to escape from the police by getting out of her car to start a very short chase barefoot and with her luxury bag on her arm. Congratulations also to Anett Kontaveit and Aslan Karatsev, winners this week in Russia. A lot of noise also for Jannik Sinner, winner of the ATP tournament in Antwerp and the youngest player to win five titles since Novak Djokovic in 2007. And finally, a hurrah for the winner of Tenerife, Ann Li. Amen.