We Are Tennis by BNP Paribas brings you the best of the past week, on and off the courts, day after day. A week in which Tennys Sandgren was improbably disqualified in a Challenger tournament and vegetables broke records.
Monday September 13th
The week began with a classic round-up of the ATP and WTA rankings. Thanks to her historic victory at the US Open, Emma Raducanu climbed 127 places while her opponent in the final, Leylah Fernandez, jumped 45 seats. Carlos Alcaraz is now in the top 40 (38th) while Rafael Nadal is out of the top five. These youngsters really do have supersonic trajectories, even faster than the cars in the film Mad Max, auctioned by Loyds.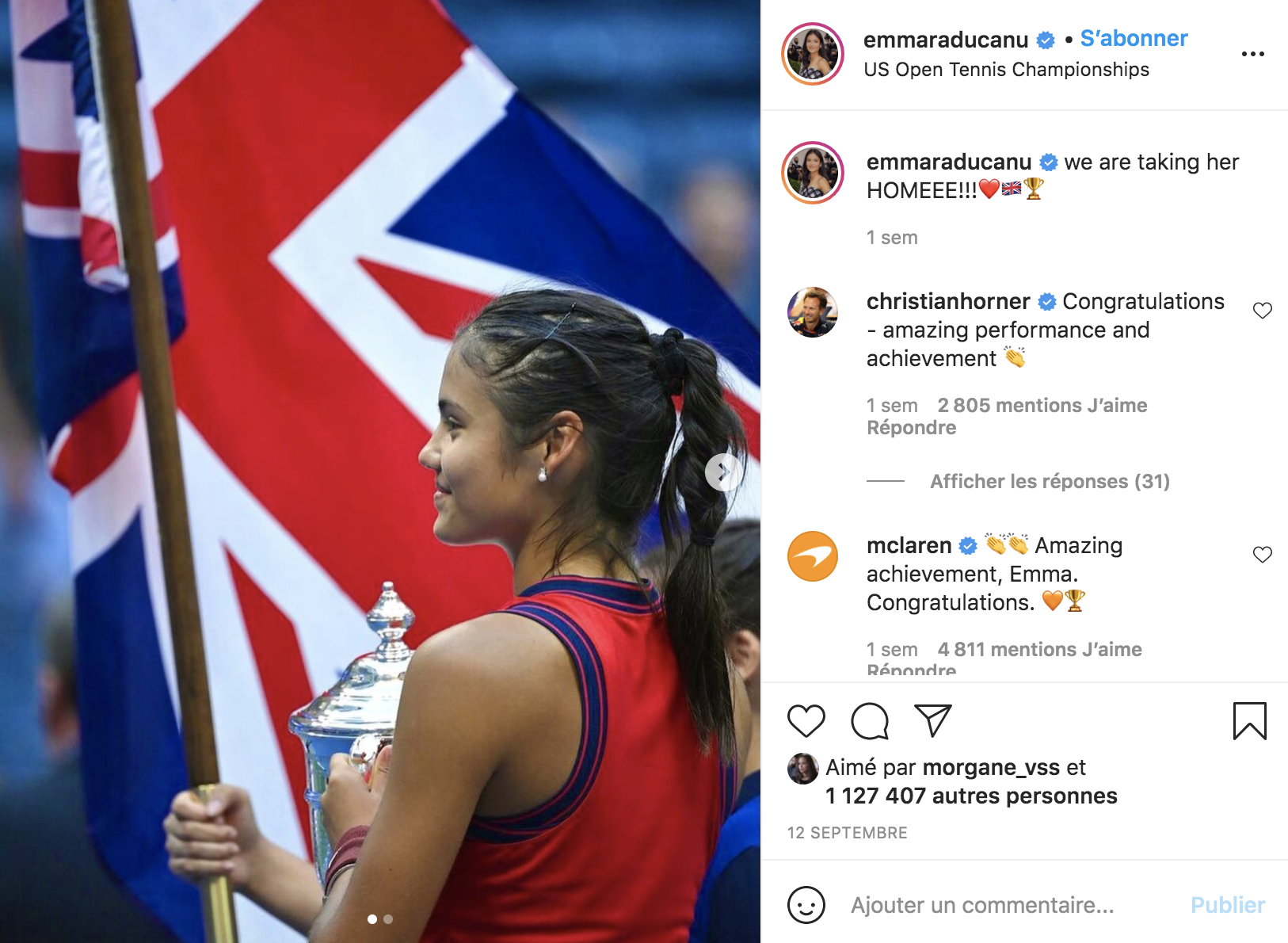 Tuesday September 14th
"He still has this goal of winning a 21st Grand Slam, and becoming the only one to do so. After he won the French Open, everyone was talking about the Golden Slam. But when all this talk and pressure is off, in 2022, I expect him to be stronger than ever." Dominic Thiem will have said it first: next season, Novak Djokovic will get his revenge. Before that, however, there is the Women's Masters, which is moving from Shenzen to Guadalajara (Mexico) this year due to the health situation. A health context on which a bar in George Town (Malaysia) is surfing, offering cocktails with names inspired by vaccines. A little ExtraGineca for Benoit Paire and Stan Wawrinka?
Wednesday September 15th
A Tennys deprived of... tennis. Tennys Sandgren's unintentional sending of a ball into the crotch of a linesman by a pickup was bad luck and led to his disqualification from the Cary (North Carolina) challenger, in which he was the main seed. A failure as improbable as that of Alex Murdaugh, an American lawyer who planned his own assassination so that his son would receive $10 million in life insurance and finally survived his gunshot wound. Not coloured yellow, that one.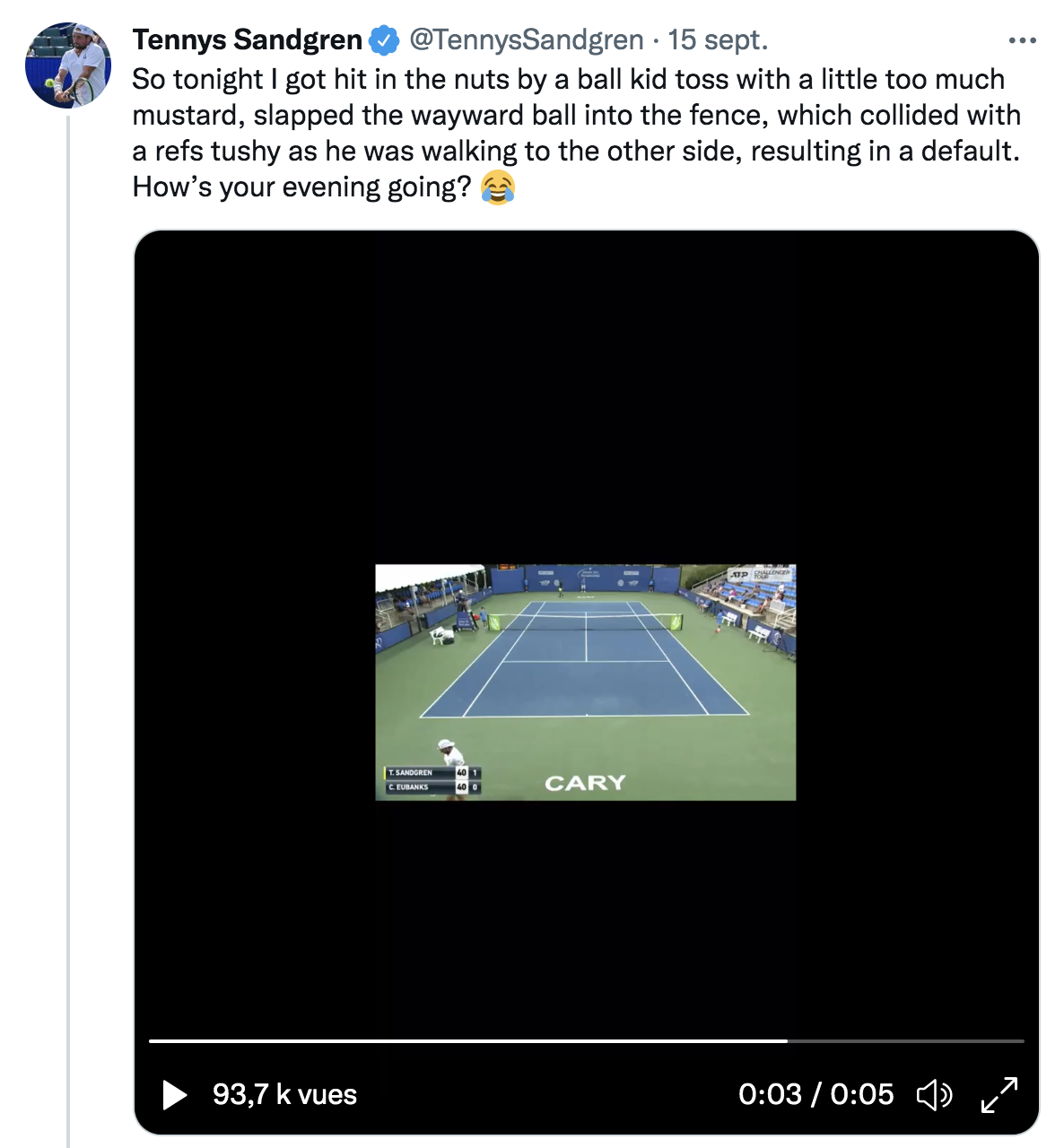 Thursday September 16th
Long live the bride and groom! The day after her union with Toni Iuruc, Simona Halep may have a headache because of the unplugged bubbles. Her hairstyle was much better than that of Dan Sur, the Mexican rapper who had gold chains implanted on his head instead of hair. It was enough to make you tear your hair out.
Friday September 17th
Longer Masters 1000s, more ATP 500s, more winnings, more transparency and more sharing: these are the decisions taken by the ATP in its strategic plan for 2023, in order to boost the remuneration of the world's top 100 players. This is enough to make wallets swell, but perhaps not as much as these two 50-kilogram pumpkins recovered in Gironde. A national record? No doubt...
Saturday September 18th
After the pumpkins, the courgette! In Alpes-Maritimes, a local woman found an extraordinary model of this vegetable: 1.65 metres! Almost the size of Diego Schwartzman, who collapsed in two sets against a Belarusian junior without the slightest professional reference named Daniil Ostapenkov in Davis Cup. And at home, too!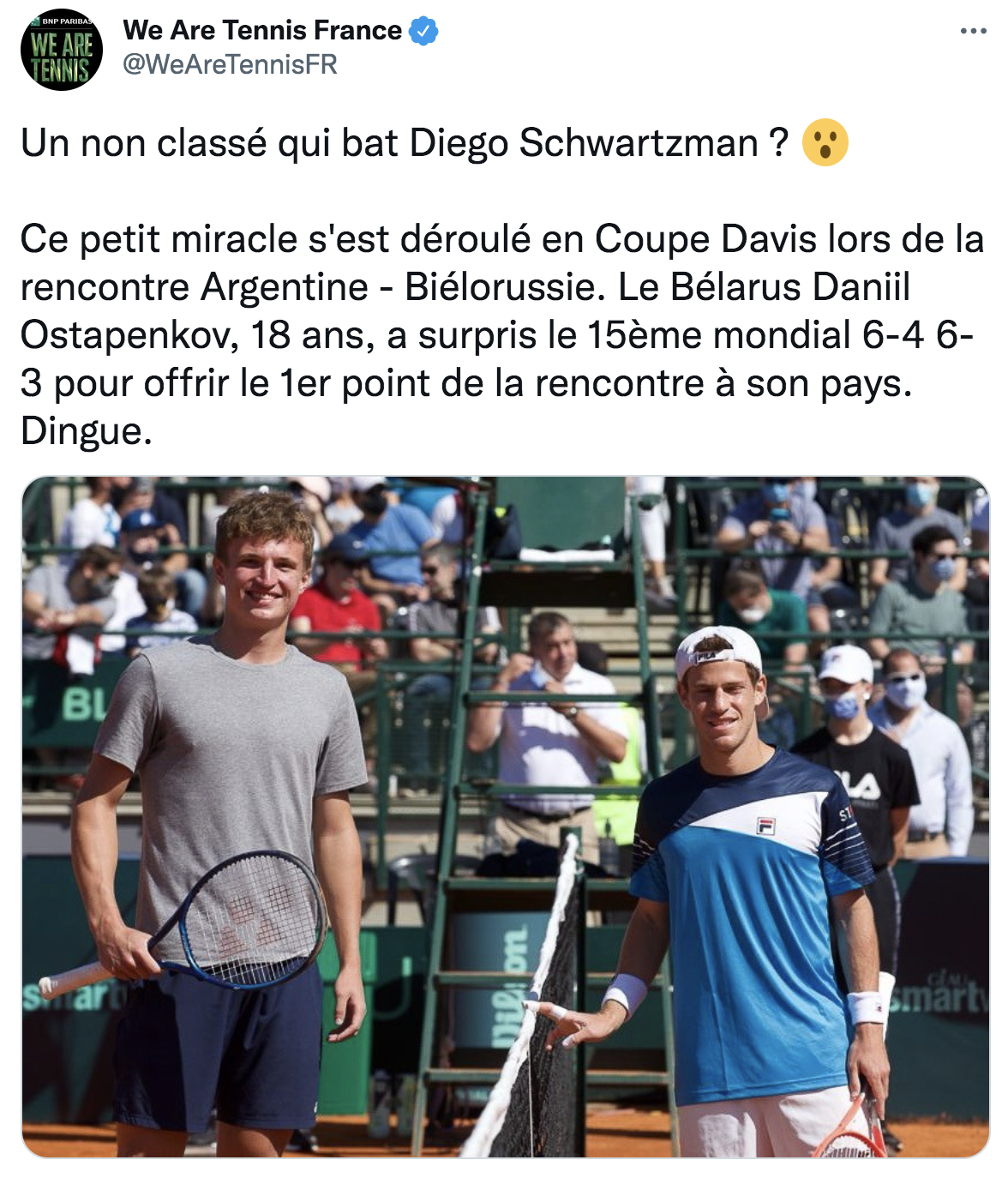 Sunday September 19th
Half a beer on the rocks! At Roland-Garros, in a particular match-show broadcast on a streaming platform, Benoit Paire, accompanied by Gael Monfils, ensures the show by honouring his reputation with a beer from a spectator swallowed in the stands in one sip or so. Now it's a case of not going to relieve yourself anywhere, a traffic light having fallen over due to too much dog pee on the metal structure according to the Japanese authorities. Apart from that, the title of the week goes to Clara Tauson who wins the Luxembourg tournament. Champagne, rather than a pint!
More information about
Players