We Are Tennis by BNP Paribas brings you the best of the past week, on and off the courts, day after day. A week where two young Frenchmen produced a feat each and where a patient saw doctors amputate the wrong leg.
Monday, May 17th
Ranked 894th at the ATP ranking six months ago, 518th today, but where tomorrow? Arthur Cazaux is a man in a hurry: at 18 years old, the Frenchman defeated his first Top 50 player as he knocked out his fellow countryman Adrian Mannarino in Geneva for his first match on the main circuit, with, as the icing on the cake, an amazing tweener which ended up being an astounding passing shot. A skill which this patient who was treated in a clinic in Freistadt, Austria, will no longer be able to produce as his…wrong leg was amputated. Left, right, it's not always the same thing.
Tuesday, May 18th
There weren't any good news for the Swiss artists: while Stan Wawrinka confirmed that he won't take part in Roland-Garros as he will undergo a foot operation, Roger Federer missed his return on clay, almost two years after his last match on the surface, by letting Pablo Andujar knock him out of the Geneva Open, at home, despite leading in the third set. But there are worst things in life. The proof was shown in India, with the story of this 76-year old woman who woke up just before being cremated, with her family and friends all shocked around her, as they thought she had died from coronavirus. Life is stronger than Covid.
Wednesday, May 19th
Here are three things you should know about Alizé Lim, who you might not be familiar with: the best ever-ranking of Tony Parker is a 135th place at the WTA ranking, which she reached in 2014. Number two : this Wednesday, she released a biography entitled Éloge de l'inconditionnel (éditions Vuibert), in which she speaks about the difficulties of living her everyday life with a high IQ in a sport which confronts players to constant personal questioning. Number three : she was born in Paris, and not in Niederschaeffolsheim, a town in Alsace, France, which visibly has a name which is too long for Foot Locker, as the website of the brand is constantly refusing a client's order as there are too many letters in the name of her town. We bet she didn't write that in her book.
Thursday, May 20th
After Cazaux, it was Arthur Rinderknech's time to shine. In Lyon, the 25-year old lucky loser, who is the world number 125, earned the most prestigious win of his career as he defeated Jannik Sinner. As powerful as Allen Minch, a 61-year old American man who survived a bear attack by holding the beast's jaw with his hands. He still had to get about a hundred stitches as one of his cheeks was partly teared apart.
Friday, May 21st
After Wawrinka, it was Simona Halep's time to cry. On her social networks, the Romanian also announced her future absence at the French Open because of an injury on her left calf. In order to heal quickly and console herself, the world number 3 could try to spend an unusual night in a Lidl store. In Ireland, the supermarket chain organized a contest, with the prize being to sleep in one of the stores. With a fancy dinner and a movie night on the menu, of course. Is that a stupid idea from Lidl?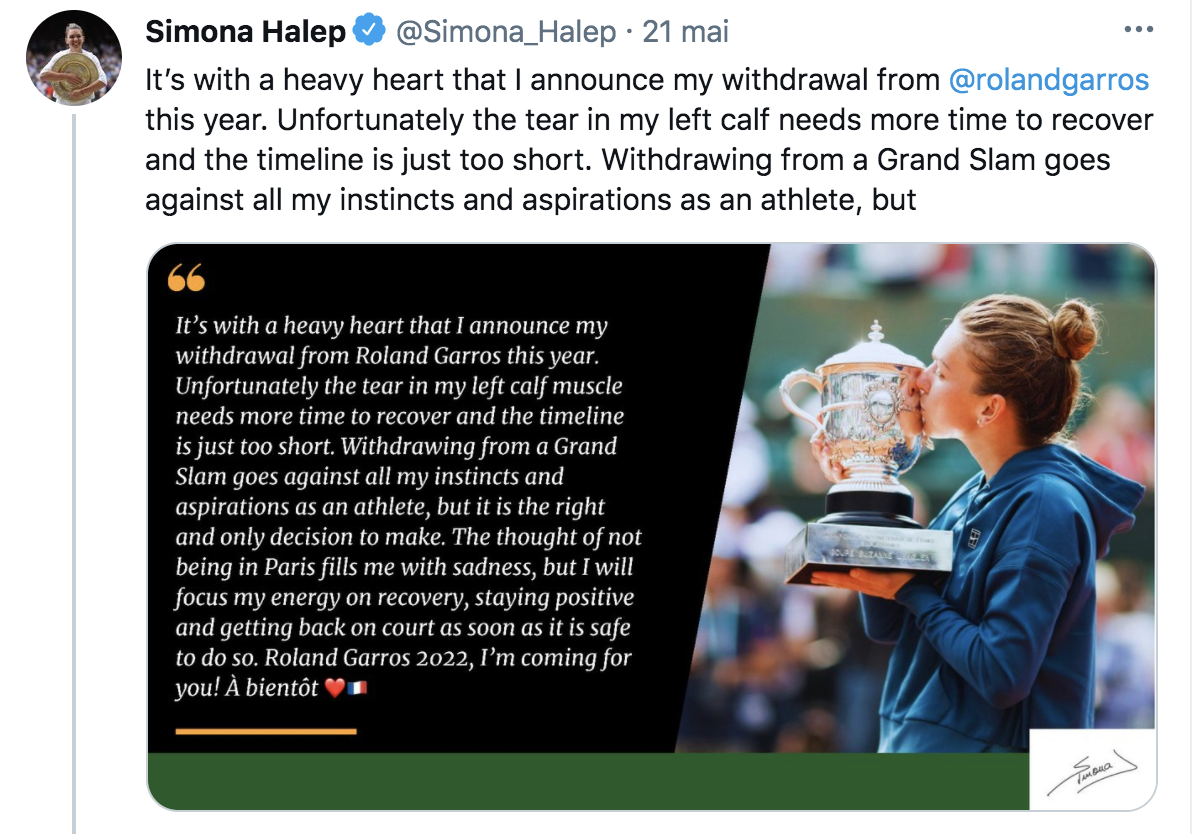 Saturday, May 22nd
If Novak Djokovic celebrated his 34th birthday this weekend, the Serb isn't the star of the weekend. First, because Federer almost made Gael Monfils infertile by hitting a ball directly at his family jewels after practice. Then, because the conductor high-speed train in Japan left his position during three minutes to go…to the loo, while the train was going at 150 km/h. Finally, and mainly, because a lot of players won titles: while Paula Badosa triumphed in Belgrade after her final against Ana Konjuh, who ended up withdrawing from the match, Casper Ruud defeated Denis Shapovalov in Geneva and Cori Gauff dominated Qiang Wang in Parma. Happy birthday, Nole.
Sunday, May 23rd
Oh, the joys of Zoom calls…During an online class on Zoom, the Spanish teacher Amanda Fletcher was caught sucking on a man's nipple and was consequently fired. In more conventional news, Stefanos Tsitsipas crushed Cameron Norrie to win the ATP 250 in Lyon. The same Tsitsipas who, the day before, in his semi-final, had accidentally hit a spectator sat in the first row with a powerful shot.