Aryna Sabalenka and Alex de Minaur have become the first champions of the new tennis season, but it's a season still racked by the effects of COVID-19 as players perform in front of empty stands and with strict protocols. While it is a new year, old situations have not made way yet but hopefully as 2021 progresses some semblance or normality will begin to return.
Ms Sabalenka captured the title in Abu Dhabi, her ninth career title, with a convincing 62 62 victory over first time finalist Veronika Kudermetova. It was their first meeting at a tour level and the win marked Belarusian 15th consecutive match win and this will take her ranking inside the world's top eight.
"I'm really proud of the fact I was fighting," Sabalenka said. "Some matches I didn't feel my serve, or I didn't feel my backhand or forehand, but I kept fighting and kept fight to find my shots. That's what I am really proud of and really happy to win this title.

"Every final is something special and it's a different competition in finals. Every final is something big, something different. This one is really nice and a was a really fast game."
The 22-year-old says she will take a few days off once she arrives in Melbourne. She will be on one of the specially provided charter flights being laid on by Tennis Australia to get players to Australia under strict protocols for the Open.
"I am confident going to Australia and I know one thing, I will do everything to win matches. This is the confidence I have right now," she said. "I will keep improving my game and keep working on some things. It is not about just staying in shape; there's always something to work on and to improve.

"As soon as you stop working on improving your game you will starter losing. This si the key for successful people. I need to find something to work on and do it."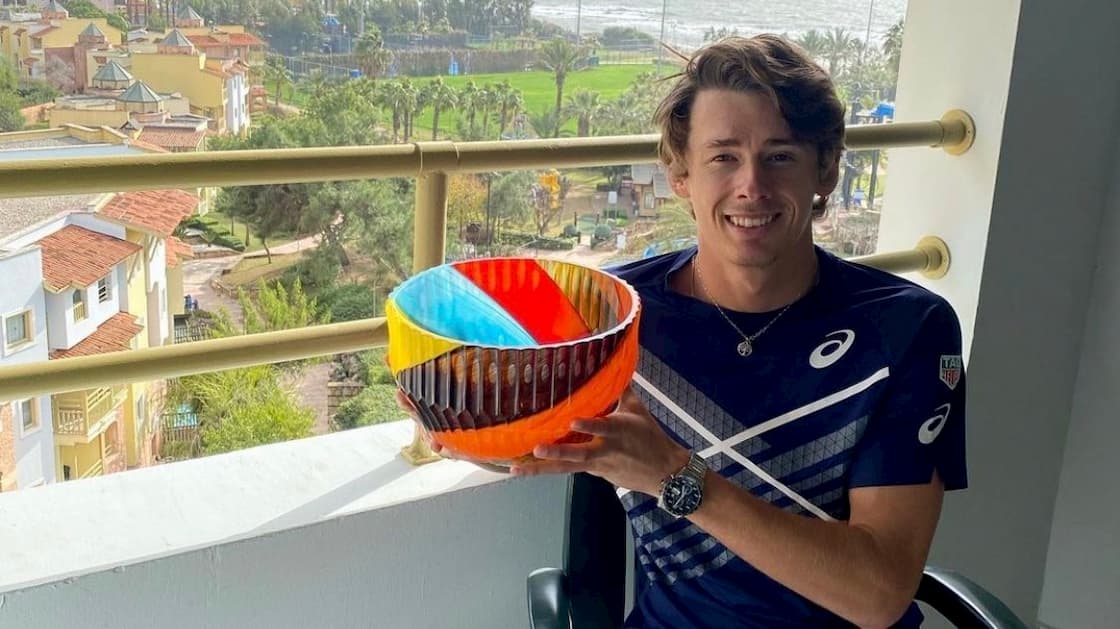 It is not too dissimilar for Alex De Minaur who is accustomed to start a year with solid results but coming into 2021 he said he spent time with his family in Spain and "tried to kind of erase 2020 out of my system. 
The 21-year-old claimed his fourth career title at the Antalya Open in Turkey in a match that lasted under seven and a half minutes and just two games. De Minaur who had beaten David Goffin in the semis, was leading Alexander Bublik 2-0 when the Kazakh player retired from the final with a leg injury.
Despite the final lasting only two games, De Minaur said it is all about getting match wins under his belt which he felt he got. He is very happy with his level of play which resulted in "some quality wins" and he hopes to have a great summer in Australia with the ATP Cup and the year's first major the Australian Open. There will be plenty of attention on him as the highest ranked Australian man.
"I'm really looking forward to going home and playing in front of the home crowd that's for sure," de Minaur said. "It's going to be exciting; it's going to give me goosebumps once I walk out there. I'm fortunate enough to play in front of my home crowd so that's going to be special."
And rounding out the first week of tournaments was a second career title for Polish player Hubert Hurkacz who defeated finals debutant Sebastian Korda 6-3, 6-3 at the Delray Beach Open. Hurkacz went through the tournament without dropping a set and closed out the final in 68 minutes.
"It feels great," Hurkacz said. It's the beginning of the season and I still need to work on a couple of things, but I hope I can play even better in Australia."
It was quite a week for 20-year-old Korda who enjoyed his first break through at last year's delayed French Open when he came through qualifying and reached the last 16 having won six matches in a row. He is a tremendous talent and he showed that by beating four top 100 players including the highest ranked American John Isner (also beat him at Roland Garros) in the Delray Open quarterfinals. His parents, former Australian Open champion Petr Korda and Regina Rajchrtova, were certainly pretty happy with Sebi's efforts.