Novak Djokovic achieved something amazing this year but ...
Roger Federer says winning the Grand Slam is possible. It is obviously very hard to do but he said it is possible and can see it happening. 
It has been well documented that Novak Djokovic came so close to achieving history by almost becoming the first man is over half a century to do it. He was one win away from doing what had only been done by five players of which only three are surviving – Rod Laver, Margaret Court and Stefanie Graf. Don Budge and Maureen "Little Mo" Connolly are no longer with us.
As a side note, you can hear Maureen Connolly talking with the late commentator Max Robertson of the BBC at the International Hall of Fame in Newport, Rhode Island.
Djokovic missed by one match to carve his name into another part of tennis history. He won 27 matches in a row at the majors in 2021 and was the first man since Laver in 1969 to win the first three legs of the Grand Slam. But falling short by one is as painful as it can conceivably be. It might as well have been by six matches as it was by one … both are just as far from glory.
He still was not able to achieve the dream he had set himself. The crowd was with him in the US Open final against Daniil Medvedev, they wanted to see history being made, but that was not enough to get him over the line.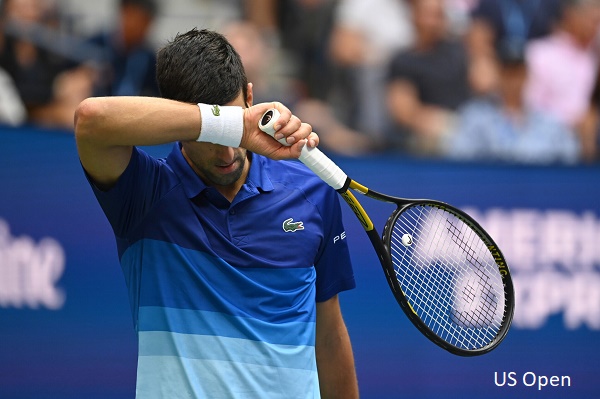 The issue to achieve a Grand Slam is not about the extended physical side of professional tennis, although you certainly do not want to go round after round playing four and five set nail biters. 
The issue to achieve a Grand Slam is about the mental side of professional tennis. This sport is just as important, if not more so, mentally than it is physically and tactically. Boris Becker once said that in "the fifth set of a match it is not about backhands and forehands, everyone can play those shots, it is about the mental side".
John McEnroe feels it all just caught up to him, the pressure, and he was tired physically, he played a lot longer with extended back-to-back matches. He got into some matches where he had to expend more energy than he wanted to. He was playing someone nine years younger and "presumably hungry" and who was playing well.
"(Medvedev) sensed Novak was a little flat, you could see he was a little flat, but it was a hell of an effort to get that far; to do that was amazing," McEnroe said. 
It is all about withstanding the pressure because the focus is all about doing something extraordinary. It is about being able to live with and "survive" the intense focus that is cast upon an individual. You question how strong you are mentally, so it came as a surprise that Djokovic made it so clear that he was chasing, not only the Grand Slam, but the "Golden Slam" something only achieved by one person, Stefanie Graf in 1988.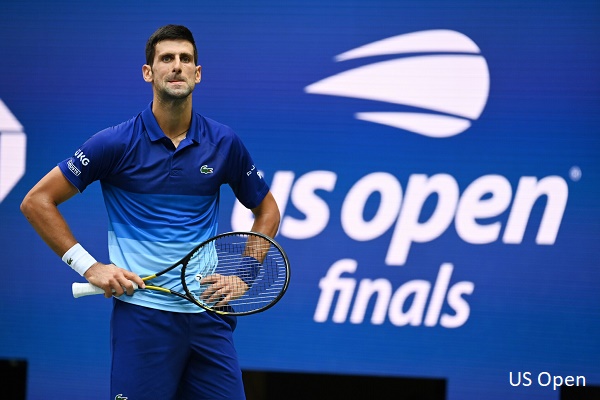 It opened him for more questions about that goal rather than keeping it internal and close to his chest. McEnroe's thinking was there was plenty of pressure as it was and "everyone was talking about it so he might as well acknowledge it … I don't think it would have added that much more pressure but only he would know".
"Sometimes the things are so big off the court that it's hard to avoid them in a way," Djokovic said. "It's not a secret that I am trying to win as many slams as possible. I went for historic No. 1. I managed to achieve that milestone. 
"I would not be honest fully if I told you I don't think or I don't believe or I don't visualize that I can win every single Grand Slam that I play in. I'm not surprised when I win slams and big tournaments because that's always a goal. It's very clear image in my head and I try to do everything I can to get my hands on the Grand Slam trophy."
Exposing himself to the scrutiny of winning the Grand Slam is something that Djokovic would probably not do if he had his time again and gets the chance to be in that position again. He backed away from talking about it at the Open.
"I had enough of answering that. It burdens me mentally. I want to really go back to the basics and what really works for me mentally," Djokovic said.
McEnroe would have advised him not to go to the Olympics. He added: "Hindsight is 20/20 but I respect that … most guys wouldn't want to make too big a deal out of it but the fact that he came out and said (he wanted the Grand Slam), I really respected that."
If he had his time again you wonder if Djokovic would have the same mindset, but it is questionable if he will be in that position again. Certainly, he will win more majors and leave Federer and Rafa Nadal in his wake, but whether he will be able to win 28 consecutive matches at the majors in a single calendar year is probably highly unlikely. 2021 was a once in a lifetime chance.