Women's tennis wants equality. The group known as the Original 9 from the 1970's chased that goal but Craig Gabriel writes maybe current women players need to understand and follow the lead set but those nine women of which seven were at the Australian Open to help get further equality.
Recently the President of the WTA Micky Lawler was asked if she had one wish what would it be. She replied: "Equal opportunity and equal reward. We are strong on our differences. Let's take that talent, that gift of nature and be unstoppable together."
There is absolutely no argument that a closer relationship between men's and women's tennis will create a stronger sport. In the 1980's and 1990's and much of the 2000's women's tennis challenged men's tennis and most of the time garnered as much attention as men's tennis did. In the women's game there was still a prolonged legacy from the days of the "Original 9".
Those nine women spearheaded by the likes of Billie Jean King and Rosie Casals and Gladys Heldman shook tennis and made people, administrators and the public and the media sit up and take notice of the product they had.
This year is the 50th anniversary of the founding of the WTA which happened because of the Original 9.

"Without the Original 9 there would be no WTA Tour," Lawler said. "They are the forever mothers of every generation of WTA players and tournaments. One could argue that the Original 9 paved the way for other women's sports as well. 
"They took the courageous stance to put it all on the line to do things the right way. With the help and guidance of Gladys Heldman and in the words of our first global sponsor, Virginia Slims, 'we have come a long way.' We owe it all to the Original 9."
Maybe so, but the current crop of players appear not really aware of what went before them and how they came to gain the standards and conditions and prize money cheques they have. Instead of harping on the prize money difference one British female reporter loves to go on about, do something to boost women's tennis.
When those nine women began to step down from their playing roles there was Chris Evert, Evonne Goolagong, Martina Navratilova, Hana Mandlikova to continue the development and attention for women's tennis. When they went there was Stefanie Graf, Monica Seles, Gaby Sabatini, Arantxa Sanchez Vicario and so on. Lindsay Davenport came on the scene and Maria Sharapova and Martina Hingis and of course Serena and Venus Williams.
 
"People are coming to realize that women's sports are really fantastic to watch" King said. "We also have the opportunity to fill the stories behind the sports and the female athletes. It also makes it more interesting. People really appreciate what we have to offer. So, I think we've done a lot for other women's sports too."
At the recent Australian there was a gathering of seven of the nine women who stood their ground but there was a bit of a different opinion. The women players of today are not properly across the history of what went before them or how the groundwork was laid for the players of now. Few, if any, of the players now would be able to recite what happened in 1970 and then 1973 when the WTA actually started or even know the original nine.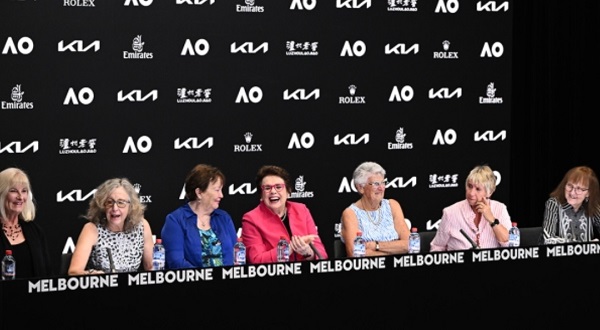 JUDY DALTON: I don't think they're (women players of now) aware, if I can say that. They haven't a clue.
ROSIE CASALS: It's horrible to say that, isn't it?
JUDY DALTON: But it's true.
BILLIE JEAN KING: When you get the players in here and ask them. They might know a lot more than we know.
ROSIE CASALS: Some do somewhat. Not all of them. They don't really know all of it. Lately because we've been celebrating the Original Nine, the 50th anniversary of the WTA, WTA is really putting it out there, sending the message, putting the history out. Those that can read will read it.
BILLIE JEAN KING: I think it's a lot harder than people think. You have to kind of sit and talk like we're talking now.
ROSIE CASALS: I think that's an issue that we have.
JUDY DALTON: It is.
BILLIE JEAN KING: WTA tries a lot. I'm sure they do.
JUDY DALTON: For instance, (Jessica) Pegula walked past the girls here before, just down the stairs. She wouldn't have a clue. She might know who Billie Jean was, but she wouldn't know any of us from Adam. Sorry, Eve (laughter).
Women's tennis is at a crossroads. There maybe some depth in the women's game but how many players in the top ten, or out of the top ten, would "sell tickets"?
The women players of today need to study the history of women's tennis and take a leaf out of the original book because unless they start promoting themselves in a far, far greater manner, in the same way the original nine women did, women's tennis will be left behind and will no longer be able to promote itself as the world's leading professional sport for women.
"Nothing lasts forever. I think women have to keep fighting for equality, recognition, acceptance – it doesn't just happen. Sometimes it can be threatened just like Roe v Wade, which we never thought would be overturned, so I think there's still a lot of work to be done," Casals said.
"It's a matter of finding ways to grow together also with men's tennis, we need to grow the game from within. I think today's kids are much better about acceptance and working together so I hope it continues on the upwards swing."
 
Until they start doing that, true equality is not going to happen.