It is a highly anticipated match on a glorious stage. Craig Gabriel writes that Rafa Nadal against Nick Kyrgios in the Wimbledon semis is going to be fascinating.
Rare is it in tennis to see a wider personality difference on court than a match where Rafa Nadal plays Nick Kyrgios. That is just brilliant for tennis and capturing an atmosphere that would be talked about for quite a while.
The, let's call it, conventional approach of Nadal and the flamboyance of Kyrgios provides for gripping tennis that keeps spectators spellbound. The heavy shots and spins that come off Nadal's racquet compared to unpredictable returns and serves of Kyrgios that leave those watching shaking their heads in disbelief while both produce winners that will enthral and mesmerise.
This will be tennis at its most captivating.
Going into the semi-final Nadal leads the series 6-3. At Wimbledon they have played twice, and it is 1-1. In 2014, in their first ever meeting Kyrgios left Nadal a bit bewildered by the power of the then 19-year-old. In 2019 Nadal turned the tables, again on the Centre Court, but as Kyrgios revealed, before that match his manager had to drag him out of the local pub at 4am to get some rest before the match. Even then Kyrgios pushed Nadal.
That was a time where he was in a dark place; about a period of his life he revealed here on wearetennis.com in a two-part series back in April.
"Obviously it would be pretty special to play Rafa here. We've had some absolute battles on that Centre Court. He's won one against me, and I've won one against him," Kyrgios said, and who is playing his first semi at a major. "Obviously, we know, two completely different personalities. I feel like we respect the hell out of each other, though. I feel like that (will) be a mouth-watering kind of encounter for everyone around the world. That would probably be the most-watched match of all time. I would argue that.
"There's a lot of work that needs to go in from now and tomorrow, then when I step out on that Centre Court again, I need to make sure my body's right."
Speaking of getting the body right leads to the big question about Nadal's ever injured physique. For the last few days at Wimbledon, he has been nursing an abdominal issue which was aggravated in the first set of his match with Taylor Fritz, and it looked like he was going to retire. 
His father and sister were signalling him to quit the match but that is not the type of reasoning Rafa has.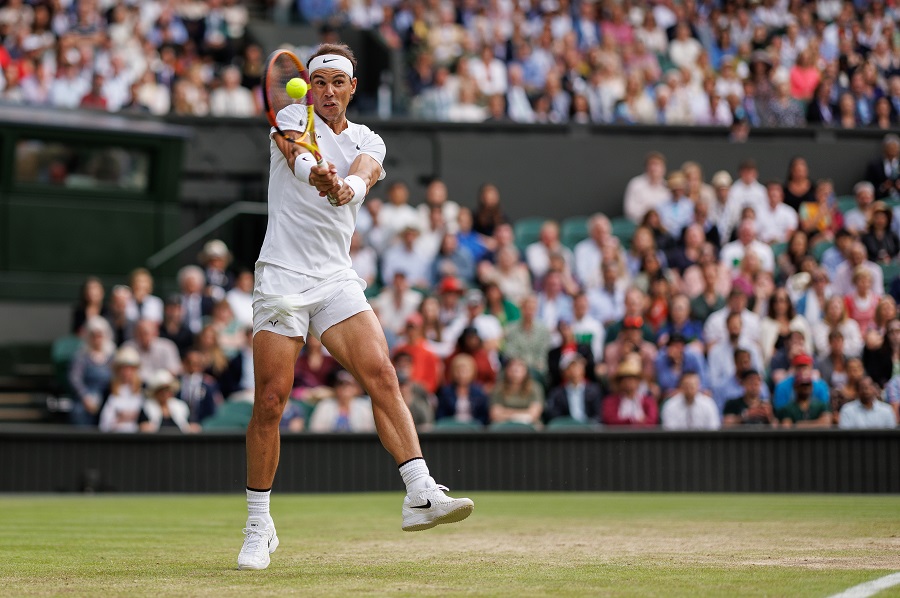 It is almost as if Fritz has jinxed Nadal's mid-body region. Their last match which was the final of the BNP Paribas which Fritz won but Nadal played that final in extreme pain. After the tournament examinations showed he was playing with a fractured rib.
However, with all he has been through with injuries, especially when you consider the on-going foot problems that were exacerbated at the French Open, you realise that he has a high pain threshold.
"It's obvious that I am not the kind of player that I didn't have a lot of things in my tennis career, so I am used to have things and I am used to hold pain and to play with problems," Nadal said. "Knowing that, when I feel something like I felt, that is because something is not going the proper way in abdominal, no?
"But let's see. It's obvious that this is nothing new. I had these feelings for a couple of days. Without a doubt, today was the worst day. Have been an important increase of pain and limitation. And that's it, yeah."
He does not know what his chances are on taking to the court to play Kyrgios but the end decision will be his after he receives the medical opinions. "That is even something more important than win Wimbledon, that is the health," he said.
Kyrgios too knows about injuries, he's had a few but this year it is a different Kyrgios at Wimbledon. He knew the opportunity was there to do big damage. This time around he has worked on his preparation and is keeping to a daily routine. He is eating better, enjoying down time with his group and getting the rest that is so crucial.
He was dealt a blow when he was charged with domestic abuse allegations by an ex-girlfriend which has led to a court hearing on 2nd August, and as much as he would like to publicly defend himself, he has made it clear that he cannot talk about it. He did a tremendous job of keeping it off his mind in his quarterfinal match.
"Obviously I have a lot of thoughts, a lot of things I want to say, kind of my side about it. Obviously, I've been advised by my lawyers that I'm unable to say anything at this time. Look, I understand everyone wants to kind of ask about it and all that, but I can't give you too much on that right now," Kyrgios said.
The crowd will be pro Nadal but it's not that they will be against Kyrgios who thought "my ship had sailed" in reaching the semis at such a tournament. There will be more civility compared to an outside court. This match promises to be memorable. That iconic line spoken by Bette Davis in All About Eve, is pretty apt for this match: "Fasten your safety belts …". This is going to be quite a ride.